(Game) Archero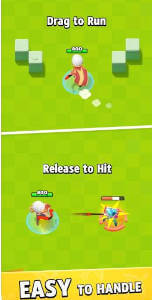 Game Description :
Archer Heroes!
Enter a world where existence itself is out to eliminate you! You are the Lone Archer, the only force able to resist and defeat the oncoming waves of evil.
Step up, stack up awesome skills and fight like your life depends on it, for the never-ending waves of enemies will never give up. And remember, once you die… the only way is to start all again! So be careful!
Enjoy creating countless combinations of unique skills all designed to help you survive. Crawl your way through different worlds facing relentless monsters and obstacles.
Game Features :
Random and unique skills to help you crawl these dungeons.
Explore beautiful worlds and hundreds of maps in this new universe.
Thousands of never-seen-before monsters and mind-boggling obstacles to defeat
Level-up and equip yourself with powerful equipment to increase your stats.
If you have any questions, feel free to ask us anytime at: archero[at]habby.fun
Details on Subscriptions
1. Subscription Pricing & Billing
You can subscribe within the game for 'Subscription Privileges', for $2.99 a calendar month.
2. Subscription Content
Subscribers can enjoy the following privileges during the period:
Daily Quick Raids +3
Daily BattlePass XP +50
Daily Bonus Gems +50
3. Auto Renewals
The App Store Subscription feature renews automatically via your iTunes Account. Users can manage the subscription through your iTunes/Apple ID Settings Manager. The subscription will auto-renew for the assigned billing period if the auto-renew feature is not turned off 24 hours before the current subscription expires.
4. User Agreement and Privacy Policy
User Agreement www.habby.com/termsOfSubscription.html
Privacy Statement www.habby.fun/privacyPolicy.html
5. Subscription Cancellation
If you would like to cancel your subscription, go to 'Settings' on your iOS device –> 'iTunes & App Store' –> tap 'Apple ID' and then 'View Apple ID'. Enter 'Account Settings', tap 'Subscriptions' –> 'Manage' and select the subscription for 'Archero' to cancel it.
Additional Information :
Size 315.4 MB
Requires iOS 10.0 or later.
User Reviews :
Highly recommend and addictive, although it needs some improvements.
I would highly recommend this game due to how you can never always get the same abilities as the leveling system is based on RNG, this makes the game more interesting as you have to choose between different abilities each you level up and always have a different way of shooting the monsters.

However, it does need some improvements. Firstly, for example, some abilities like the swords and floating orbs are currently very weak and unviable. This can be solved by adding more diversed swords and floating orbs and making a "melee" way to play.

Secondly, this game has a cooperative dungeon raiding feel to it but sadly this game is singleplayer and lost an opportunity to make the game better. What I am suggesting is to have two modes for the players to choose, "Singleplayer" or "Multiplayer" if they choose the "Singleplayer" it will just continue the normal playthrough but if they choose the "Multiplayer" option, they will be brought into a screen which gives them two options, "Create Lobby" or "Join Lobby" which the players can use to make lobbies and have their friends join and complete a separate playthrough. Everything is more fun with friends and I believe that if they add in multiplayer mode it can and will make this game more popular and fun.
Customize Hero Faces
<CUSTOMIZE HERO FACE/STYLE>

Can we customize the Hero Faces! im not gonna buy those expensive advance heroes because they have UGLY faces! can u make it like we just buy the "Stats of a Hero" but we can customize their looks afterwards ? that would be better

<REMOVE ENERGY FEATURE>

i like the game but the energy feature takes away the fun. After my energy is drain, i cant play anymore and i have to stop.. this loses my momentum of playing .. so i close the app and wait for about 20 minutes but this makes me forget about the game too. I know lots of game uses this kind of feature but generally i dont like it.. It feels like the user can only play the game for few minutes and not for long hours. So it doesnt make me addicted to the game. When i play games, i like to play for long hours.. not stop wait for energy to fill up then stop wait again…

Maybe you can be unique and take away the energy feature? Let the player play continuously.. You can revise the system abit.. Im sure the more users are addicted to the game, the more money u will earn also..

The game is like war game. People who likes war or attack likes to play for long hours as our outlet of our feelings. Other war games is like we can attack others unlimited.. Those waiting is only for upgrading buildings, research or troops.. But throughout the day, we can attack nonstop. The "nonstop/unlimited attack" is what makes people addicted or atleast open the game app multiple times a day.
Get Archero from App Store
What is your opinion about Archero
Bitcoin
Ethereum
MetaMask (ETH)
Xrp
Polkadot
Binance coin
Stellar
Dogecoin
Tron
Elrond
Donate Bitcoin to this address
Scan the QR code or copy the address below into your wallet to send some Bitcoin
Donate Ethereum to this address
Scan the QR code or copy the address below into your wallet to send some Ethereum
Donate Xrp to this address
Scan the QR code or copy the address below into your wallet to send some Xrp
Donate Polkadot to this address
Scan the QR code or copy the address below into your wallet to send some Polkadot
Donate Binance coin to this address
Scan the QR code or copy the address below into your wallet to send some Binance coin
Donate Stellar to this address
Scan the QR code or copy the address below into your wallet to send some Stellar
Donate Dogecoin to this address
Scan the QR code or copy the address below into your wallet to send some Dogecoin
Donate Tron to this address
Scan the QR code or copy the address below into your wallet to send some Tron
Donate Elrond to this address
Scan the QR code or copy the address below into your wallet to send some Elrond