(Game) Infinity Shooting Galaxy War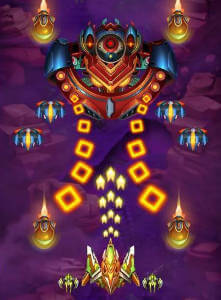 Game Description :
Are you fan of space shooting, bullet hell games and like to blast enemies for glory? If the answer is "HELL YES!" Infinite Shooting: Galaxy Attack will suit you best!
Our Solar System has been invaded by space enemies, but we still have you as our last hope! As a admiral of space defender, will be defeating them, so wait no longer, aboard your spaceship and annihilate your enemies, save our planet, destroy the enemy conquer plan! Burn them, till the very last of them falls.
Game Features :
Multiplayer mode: 1 vs 1, 1 vs 3
Simple controls with tap and hold that doesn't need a tutorial, so dive right in and shoot'em up!
Various spaceships with their own unique weapons, missiles & special abilities to help you defeat all of those bosses. Even the strongest enemy won't stand a chance!
Stunning graphics & exquisite sounds quality, like you have never seen before! Totally different from the old retro space shooter, play it and feel it!
Exciting Campaign with over 70 levels full of space enemies to let you see space from earth!
Superb game play mechanics with excellent progression system to keep you shooting non-stop for hours
Enjoy classic space combat – powered up. Download now!
Additional Information :
Size 505.9 MB
Requires iOS 10.0 or later.
User Reviews :
Best shooter yet!
I've got to say that this is a great, easy to pick up game. I appreciate all the extras this game has to offer. From the campaign to endless to pvp and to the arena. I love the upgrading system. Both main and tiny ships have a great variety so far. If I may make a suggestion though. Is there any way to add a place on the screen to show how many coins you've obtained for each level. It would help me out so much to know which stage is best for grinding for gold. Also it would be awesome if there was a way to set up your own premise ship, tiny ship, and core. It would make the pvp games more interesting in my opinion.

As far as crashing goes. I have yet to have any sort of problem with that. I wonder if it may have something to do with phones not having enough space or if the phone is out dated?

This is one of the very few games that I am willing to spend actual money on. Call me crazy, but the developers deserve that much from me at least. Keep up the great work and hope to see what else you may add to the game!
So fun, but needs more clarity.
The gameplay is really fun. The biggest problem I have with this game is being overwhelmed with a seemingly endless number of icons and options with pretty much zero clarity about what those options are. I upgrade my ship without really understanding what I'm doing. And there isn't a clear distinction between the ship types as far as the icons go (designs closely match), so it's not always clear when I'm accepting an icon during gameplay if that's going to be helpful…or if it's going to reaaaally mess me up. And the further you get into the game, the more likely it seems to be that ship offerings during the game will cause you to pretty much lose. Also, I like the magnet feature, but the coins very closely resemble torpedoes so I find myself maneuvering away from the coins, at time into the line of actual fire. So making items distinct is a problem with this game. And generally having too many options and icons with no explanation before you enter the game is a problem. Still, I enjoyed this game very much even though a lot of times WHAT I was getting into was a roll of the dice. So 4 stars from me. If they add clarity to the issues I addressed above, it would easily be 5 stars and I'd be much more obsessed with the game than I am/was. I know the issues can be fixed because there are similar games out there that do a better job as far as that goes.
Nice Shooter
For the record, the devs of this app (ABI Game Studio) have made several space shooters already, slightly improving their content with each new one. This is the first one that I've enjoyed for more than a few levels. I'd say it needs some bug fixes and more content (ships and, more importantly, levels), then it'll earn its 5th star from me. A lot of people have a problem with the grinding and ads, but I'm okay with it; I'm patient enough to grind, and I spent a buck on a starter pack, which disabled all forced ads.

My main complaint is that while most of the enemies have fairly manageable shooting patterns, some on higher difficulties (that one big red ship on level 3 hard mode that shoots a ton of shots all over the place, for example) are REALLY difficult to evade without a shield and, worse, they ALWAYS cause lag. To the best of my knowledge, there is no way to deal with these guys easily other than limited-use abilities that you must equip at the start of a level, which just feels unfair. This is not a bullet hell or at least it's not built like one, so I don't get why they're even in the game. I'd really like if the more spammy enemies like this were weakened so their shots were actually possible to dodge.

Thanks for reading.
Get Infinity Shooting Galaxy War from App Store
What is your opinion about Infinity Shooting Galaxy War
Bitcoin
Ethereum
MetaMask (ETH)
Xrp
Polkadot
Binance coin
Stellar
Dogecoin
Tron
Elrond
Donate Bitcoin to this address
Scan the QR code or copy the address below into your wallet to send some Bitcoin
Donate Ethereum to this address
Scan the QR code or copy the address below into your wallet to send some Ethereum
Donate Xrp to this address
Scan the QR code or copy the address below into your wallet to send some Xrp
Donate Polkadot to this address
Scan the QR code or copy the address below into your wallet to send some Polkadot
Donate Binance coin to this address
Scan the QR code or copy the address below into your wallet to send some Binance coin
Donate Stellar to this address
Scan the QR code or copy the address below into your wallet to send some Stellar
Donate Dogecoin to this address
Scan the QR code or copy the address below into your wallet to send some Dogecoin
Donate Tron to this address
Scan the QR code or copy the address below into your wallet to send some Tron
Donate Elrond to this address
Scan the QR code or copy the address below into your wallet to send some Elrond