(Game) Backgammon +
free games for iphone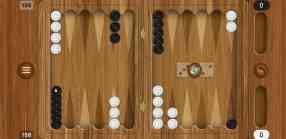 Game Description :
One of the oldest board games and the first ever Backgammon game for iPhone, is now available with more features and a very cool graphic design, soundtrack and awesome sound effects!
Playing backgammon has never been so fun and thrilling as it is now! – as seen on Huffington Post
Backgammon+ is probably one of the most entertaining backgammon games on the App Store – iOS Game of the Month on Intellectuapp.
Visually appealing. Great interface. Fast. Multiplayer mode. THIS IS THE BEST BACKGAMMON IPHONE APP – *Marco_Polo* user on the App Store.
ONE OF THE BEST FREE BACKGAMMON GAMES:
We worked really hard to put together new features and old AI we had built few years ago. That is why we truly think we have one of the best free backgammon games! The new Backgammon app offers the following features that enable you to get a better experience.
Game Features :
Single player mode – play on your own, against strong AI
Two player mode – play with friend on the same device
Online mode – play over the Internet with any other player
Easy checkers move – one tap per movement
Doubling cube – including the Crawford rule
Fast matchmaking
The Backgammon+ app guarantees a 100% fair dice roll since all dice are rolled completely randomly, regardless of the player and game conditions!
FREE BACKGAMMON PLAY
ALL features here are FREE without any purchase! Playing internet backgammon has never been easier! All features, Portrait and Landscape boards support all devices:
iPhone5S, iPhone 6, iPhone 7, iPhone 8, iPhone X
iPad, iPad Pro
Now that you know, just download and enjoy online backgammon free game!
Additional Information :
Compatible with iPhone, iPad, and iPod touch.
Requires iOS 11.0 or later.
Size 74.4 MB
User Reviews :
Other backgammon apps are widely believed to create roll scenarios based on profitability. This one provides truly random rolls. I have played online backgammon with this app for years and I find it reliable and fun. At all times, day or night, it hooks me up with a live player in less than thirty seconds. I have played people from all over the world which adds to the fun of this global and ancient game. Play against the AI (the computer) is fun too though it is not like playing a human. My only disappointment is that the game does not allow for a doubling cube. There are no matches, just single games. The developer says this is because most handheld online players only want to play one game but I have played on another app where 5-game opponents are readily available. Despite this, this is the best app out there. The other apps, including the one allowing matches, do not have truly random dice throws. You can have six doubles, one after another, or crazy inconsistencies with the other apps. It is believed that these other backgammon apps guide the rolls for increased profitability because they offer in-app purchases. This backgammon app is pure backgammon and is the IOS leader for good reason. Someday, someone will develop an honest app with match play and that will be the day I use another app; until then, this is my daily player.
Of the Backgammon apps, this one seems to be more random when playing against the app. But there are times when it goes into a crazy mode and makes rolls that seem impossible. And when playing other players online, the rolls seem pretty random until certain players are encountered. Those players seem to have the ability to make perfect rolls whenever needed. I just encountered one of those players. I know him or her well because he or she often pops up. Tonight, I finally had that player pinned down. That player literally had no moves left. That player still had two pieces in jail and could only get them out by rolling sixes. And that player then rolled sixes. But I continued and had that player in a position in which he or she could only roll double fours to advance. And that player immediately rolled two fours. I have faced off with that player many times now. It is impossible to beat that player because that player always has perfect roles. If that had only happened a few times, I would just think it is a coincidence. But it happens every time I play that person. That person is the luckiest individual in the world or he is the developer or a friend of the app developer. Sadly, this is still more fair than the other Backgammon apps. I am still amazed that no one seems to be able to create a Backgammon app that really has random roles. The more you play it, the more you realize it is not random at all and some players are favored.
Get Backgammon from App Store
What is your opinion about Backgammon
Get more free apps & games daily
Subscribe to our mailing list and get free apps & games daily to your email inbox.
Thank you for subscribing.
Something went wrong.
Summary
Reviewer
Review Date
Reviewed Item
Author Rating