Woodoku – Wood Block Puzzles game by Tripledot Studios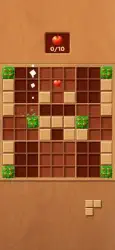 Game Description :
Woodoku: wood block puzzle games meet a sudoku grid. It's a calm but challenging puzzle that you'll be addicted to in no time!
Place blocks in the 9×9 board and fill rows, columns or squares to clear them from the game. Play for as long as you can without running out of space to beat your high score!
How to Play:
Drag shapes onto the board to place them in the grid.
Fill a row, column, or square to clear blocks from the board.
Clear multiple rows, regions, or squares to earn Combo points!
Clear blocks on every turn to earn Streak points!
Earn as many points as you can to beat your high score!
Have yourself a woody good time!
It's a quiet, zen game that's easy to learn, but challenging to master! Take your time and take it easy.
Game Features :
Beautiful graphics and satisfying sound effects
A tactile game experience with realistic wood tile design
Relaxing gameplay with no pressure or time limit
A light, small game that won't take space on your device
Playable offline so you can enjoy this classic anywhere
Additional Information :
Age Rating 12+
Size 249.5 MB
Requires iOS 13.0 or later.
User Reviews :
Even with the ads, it's fun, strategic, and good for the mind.
I've been playing this since December last year to now continuing, and even though it has its ads it has fun themes, great strategies for each puzzle, and fun badges to earn, as well as for fun daily challenges to earn gems. This is a puzzle game I highly recommend because it hasn't ever asked me for money nor has it ever made me bored. Here are more examples of why I suggest this from my experience playing this for almost a year now. First of all, The ads are only 5-30 seconds long. That's honestly not bad in my opinion or experience because I've seen games have ads have 1 minute ads or even a 2 minute ads before. But thankfully this game has blessed me as a player with short ads that have never given anything bad to my phone such as a virus or such. Secondly, the game is free. It's never asked me for money to get rid of ads, to help with hints, or anything in that category. This game makes me feel interested and ready for a challenge every day I play. These are the main examples of why I suggest this to anyone who plays puzzles. Developers, if you see this I congratulate you because as a player who has Autism you have pleased me with a great game that has great challenges! I'd like to hear from you soon. So yes this is a game I highly recommend!
Fun well-designed game, but has flaws
This is a really engaging game, fun to play, challenging and rewarding. I also really like the simple, clean design and aesthetic. It's quite attractive. Hence the four star rating. However, most annoyingly, there is no option to remove the ads from the game. I'd be more than willing to pay a fee for the game, whether one time or monthly, to avoid the obnoxious ads. Another flaw is it's a bit annoying that the groups of three block shapes provided at a time do not appear to be randomized, but instead seem to have an algorithm to provide block shapes that specifically DON'T fit in open blocks needed to complete squares and lines. The lack of randomization in block shape provided is also apparent in that, having played this game almost daily for months, not once has a diagonal block shape come up early in the game, and not once have I gotten a single block later in the game. This makes the single block completely irrelevant as it's never needed at the beginning of the game. Why include a meaningless shape? Finally, although I like the sub-games that make up the journeys, the journeys are much too long for the timeframe a player is provided for completion, and once the player has played a few journeys, they just get repetitive, and I find it boring to have to complete the same easy rounds over and over again to get to the more challenging rounds. Despite all these flaws, I do still enjoy the game and have recommended it to other folks.
Fun, yet frustrating
The game is fun and challenging. I just wish we could still attempt the daily challenge games if we miss days. I feel like that would be more fun. After reading some of the other reviews and see other players only have 45 levels to get through on their journey is a bit frustrating because every single journey I've had has had about 84 levels to get through in only 6 days. That's not enough time and it eventually gets boring.

The ads that advertised this game showed shapes you had to fill just right, but this game has absolutely no shapes. Add the shapes in. It'll make for a more interesting level/game.

I do wish there was an ad free option for this game because those do get annoying to watch every single time you want to go a new level after completion. I understand and appreciate that this game's revenue is made off of showing ads, but I also feel like the amount of ads shown between levels is a bit much. If a player is able to complete the level they should be able to go to the next level without seeing an ad. But if they fail, then an ad is appropriate. But the ads do make it annoying when you're trying to complete several levels at once in order to obtain as many rewards as possible within the six day journey period.
Get Woodoku from App Store
What is your opinion about Woodoku
Bitcoin
Ethereum
MetaMask (ETH)
Xrp
Polkadot
Binance coin
Stellar
Dogecoin
Tron
Elrond
Donate Bitcoin to this address
Scan the QR code or copy the address below into your wallet to send some Bitcoin
Donate Ethereum to this address
Scan the QR code or copy the address below into your wallet to send some Ethereum
Donate Xrp to this address
Scan the QR code or copy the address below into your wallet to send some Xrp
Donate Polkadot to this address
Scan the QR code or copy the address below into your wallet to send some Polkadot
Donate Binance coin to this address
Scan the QR code or copy the address below into your wallet to send some Binance coin
Donate Stellar to this address
Scan the QR code or copy the address below into your wallet to send some Stellar
Donate Dogecoin to this address
Scan the QR code or copy the address below into your wallet to send some Dogecoin
Donate Tron to this address
Scan the QR code or copy the address below into your wallet to send some Tron
Donate Elrond to this address
Scan the QR code or copy the address below into your wallet to send some Elrond