SnoreLab – Record Your Snoring app by Reviva Softworks Ltd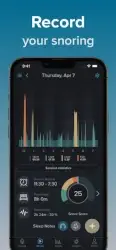 App Description :
The most popular and innovative app of its kind, SnoreLab records, measures and tracks your snoring and helps you to discover effective ways to reduce it.
SnoreLab has monitored more than 50 million nights of sleep and has helped millions of people to better understand or even eliminate their snoring problem.
The app is very easy to use: simply set SnoreLab running next to your bed whilst you sleep. In the morning you will discover your Snore Score, exactly when and how loudly you snored, and listen to some highlights!
SnoreLab lets you log and track lifestyle factors and any snoring remedies so you can see how they impact your snoring.
SnoreLab is attracting endorsements from doctors, dentists and users alike. The app can be useful in medical consultations when investigating sleep disorders such as sleep apnea.
Are you a room shaker or a snorter? A buzz saw or a whistler? Or do you just purr like a kitten? Discover the truth with SnoreLab! What's your Snore Score?
App Features :
Advanced snore detection algorithms
Records sound samples of your snoring
Measures snoring intensity (Snore Score)
Compares snoring across nights
Tests the effectiveness of any snoring remedies that you use
Measures the impact of factors such as drinking alcohol on your snoring
Records sleep statistics
Optional full-night recording mode
Email sound files
Provides information about snoring remedies
Easy to use, no calibration needed
SnoreLab can integrate with Apple Health to record your sleep statistics and body stats.
Top 10 Medical app in 30 countries
"What's Hot" medical app in 33 countries
Featured in Lifehacker, The Sunday Times, The Guardian, Quantified Self and others
Recommended by top US doctors on HealthTap
SnoreLab has an average rating of 4.7 stars from over 10,000 user reviews. Here is a selection of some of our favourite reviews:
"App is truly amazing, I think it is a must have for every fellow man :)"
"Fascinating and helpful – I learned what's going on when I'm sleeping."
"This app is wonderful in that not only does it work, but its ease of use. This is a simple, effective tool to better health."
"Excellent app. This helped me to reduce my snoring by applying some of the remedies listed. My wife and I thank you, especially my Wife!"
"Take it from an MD… This program works and is a very useful tool to share with your doctor."
"This app is a revelation. For the first time I feel in control of my snoring problem. Thank you SnoreLab!"
"SnoreLab is the best sleep recorder I have tried. My snoring is down 40 plus percent in just two weeks."
The SnoreLab app is not a medical device and does not claim to diagnose, treat, or cure any disease.
Extended features such as Full Night Recording, Trends, and Cloud Backup require a SnoreLab Premium subscription.
The subscription period runs for 12 months.
SnoreLab Premium subscriptions purchased through the app will be charged to your iTunes account.
Your subscription can be cancelled or managed via your iTunes account settings. Your subscription will automatically renew unless you turn off auto-renewal at least 24-hours before the end of the subscription period.
SnoreLab is not a medical device, nor is it intended to replace professional medical advice and/or diagnosis. SnoreLab is not intended to diagnose or treat sleep apnea or any illness/medical condition. Please consult with a licensed medical practitioner before making any decisions or taking any actions that may affect your health, safety and wellbeing. Do not disregard professional advice because of anything you have seen, heard or read in the app. Always consult with a healthcare professional if you have any questions or concerns about your snoring or general health.
Terms of Use: www.snorelab.com/terms-of-use/
Additional Information :
Age Rating 12+
Size 166.7 MB
Requires iOS 13.0 or later.
User Reviews :
For the Stubborn Snorer
I've been telling my husband for years he snores. It has gotten so bad in recent years that we sleep many nights apart. I always felt this impaired our relationship. Enter SnoreLab and SnoreGym.

He finally agreed to do some exercises with SnoreGym, the companion app. I bought it and once money was involved, he agreed to do the "silly exercises". I then urged him to try SnoreLab so he could see if the exercises made any difference. His first night of use he scored in the high 200s and was blown away. He went back and listened, surprised to hear how epic his own snoring is. I was exonerated from "crazy sensitive sleeper" status as he realized he is actually quite loud. A few weeks later with SnoreGym, his snore score is down to the 50s. We are able to sleep in the same room again! This is the fulfillment of the promise of technology improving our lives.

An added bonus: after buying pro, he realized that he is not getting as much sleep as he thought (it tracks your hours) and put that together with how drained he feels throughout the day. This has led to him making a real effort to get to bed earlier and truly wind down. All of this with minimal prompting from me because he can finally see on his phone how poorly he was sleeping. Amazing apps, worth every penny.
Scary accuracy
Well, first let me start by saying the only reason I even got the SnoreLab app was I was told by a friend that I snore and I told my friend they were crazy. I haven't snored a day in my life. Another friend told me about this app and I decided to try it out & yep I snore. Not only do I snore but I have a snoring pattern every night that I now chart & understand why I don't rest well. I'm not a epic snoozer. I'm usually on the scale of 1 to 4. which is pretty soft in comparison I guess to what it could register. I keep it right on my nightstand & it literally picks up if I roll over in bed and there's an very distinct difference between the snore and rolling over or moving around. It's actually help me understand also why I don't sleep well. I wake up on the hour every single hour because I gasp for air and I never knew I did that. So I probably should go in for a sleep study. Who knew, but I also found out I talk in my sleep. I wake up each morning and I find it comical and shocking to listen to my sleep recordings throughout the night. I highly recommend this app if you are trying to figure out your sleeping patterns or maybe why you're not getting good rest or just a chart how loud you actually do snore. I promise you your wife isn't lying to you!!! Lol or vice versa.

Good luck and happy snores!!!
Get SnoreLab from App Store
What is your opinion about SnoreLab
Bitcoin
Ethereum
MetaMask (ETH)
Xrp
Polkadot
Binance coin
Stellar
Dogecoin
Tron
Elrond
Donate Bitcoin to this address
Scan the QR code or copy the address below into your wallet to send some Bitcoin
Donate Ethereum to this address
Scan the QR code or copy the address below into your wallet to send some Ethereum
Donate Xrp to this address
Scan the QR code or copy the address below into your wallet to send some Xrp
Donate Polkadot to this address
Scan the QR code or copy the address below into your wallet to send some Polkadot
Donate Binance coin to this address
Scan the QR code or copy the address below into your wallet to send some Binance coin
Donate Stellar to this address
Scan the QR code or copy the address below into your wallet to send some Stellar
Donate Dogecoin to this address
Scan the QR code or copy the address below into your wallet to send some Dogecoin
Donate Tron to this address
Scan the QR code or copy the address below into your wallet to send some Tron
Donate Elrond to this address
Scan the QR code or copy the address below into your wallet to send some Elrond