(App) White Noise +
 iphone apps info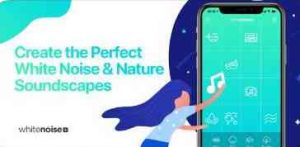 App Description :
White Noise+ is a better way to create the perfect ambient sounds for relaxing, meditation and sleeping.
Provides a nearly infinite amount of Variety -LifeHacker.com
How to use:
Simply drag a sound icon into the smart grid to begin. Drag icon to the left or right to change the sound complexity and drag up or down to change it's prominence in the mix. Save current mix or load a preset anytime in the preset panel.
App Features :
80 distinct sounds
Plays in the background
iOS10 Widget for quick play
Dark mode
Apple Watch support
iPad split screen multitasking
Set an alarm or sleep timer
Quick access to airplay
Additional Information :
Size 89.6 MB
Requires iOS 12.0 and watchOS 3.0 or later.
Compatible with iPhone, iPad and iPod touch.
User Reviews :
I have been using this app for a few years now. It is brilliant. I can customise the sound I want. I use it for getting to sleep and in work trying to drown out chatter from my open plan office. I have paid for the app and it downloaded to my phone as well as my iPad with no problems. I have since updated my phone and iPad again with no problems. The only thing that doesn't work is widgets. It fails to load into the widget. I hope the developer sticks with this app and continues to keep it up to date.
I've been using this app for a couple of months and liked it so much I purchased it from my iPad. It wouldn't unlock all the features on the version on my iPhone (despite tapping "restore purchases" as directed in the app). I emailed the feedback link a couple of weeks ago but still have not heard anything back. Disappointing – a good app but after sales support is poor.
This and active noise cancelling headphones brings some peace from noisy house mates. There is a wide range of sounds to choose from which can be combined into personal sound scapes. The UI is simple and intuitive yet allows the user to build complex sounds and vary the volume and complexity of each component.
This app has a great selection of calming sounds, although I'm a bit concerned why it requires mobile data – what is the app, or the developer is trying to gather? The developers website is also light on detail as to the owners and their details. Beware that this app might be phishing for your data – hopefully the developer can tell me why they require access to my mobile data, but I bet you I won't hear a thing!
Definitely the best app to date of its kind. I love the fact that you can play it over your own music. Works very well with a good ambient track. It would be nice if one could save external music tracks in your aural scenes but not sure if that is possible. Well worth the upgrade.
This is great to create some background noise (that's non-intrusive) to help relax or focus. IAP to unlock everything is very reasonably priced, all round good app that does what it says. Impressed! Having thunderstorm sounds on demand is something I didn't realise I needed until I tried this.
It's like GarageBand for the mindfulness. Simple iconic sounds which you can control the complexity and volume to suit. Very simple interface. I recommend it (especially if you can get it discounted) if you like to have few minutes of calming sounds or to help get to sleep. Cheers.
This is an amazing app, everything about it is incredible. It has some in app purchases such as sleep timers and alarms and some more sounds, but you do get about 5 sounds for free! The grid is really fun and it is just amazing! Great to play through headphones
Very nice app, never seen one that has this level of functionality, after using it for 5 minutes I bought the full version.
I love this, I'm often unable to sleep due to problems with my ears but this has allowed me to finally get a good nights sleep! My only problem, however, is that they should have more sounds and therefore have more available on the free version
Love the layout and design… sounds are very soothing. Highly recommended.
Get White Noise from App Store
What is your opinion about White Noise
Bitcoin
Ethereum
MetaMask (ETH)
Xrp
Polkadot
Binance coin
Stellar
Dogecoin
Tron
Elrond
Donate Bitcoin to this address
Scan the QR code or copy the address below into your wallet to send some Bitcoin
Donate Ethereum to this address
Scan the QR code or copy the address below into your wallet to send some Ethereum
Donate Xrp to this address
Scan the QR code or copy the address below into your wallet to send some Xrp
Donate Polkadot to this address
Scan the QR code or copy the address below into your wallet to send some Polkadot
Donate Binance coin to this address
Scan the QR code or copy the address below into your wallet to send some Binance coin
Donate Stellar to this address
Scan the QR code or copy the address below into your wallet to send some Stellar
Donate Dogecoin to this address
Scan the QR code or copy the address below into your wallet to send some Dogecoin
Donate Tron to this address
Scan the QR code or copy the address below into your wallet to send some Tron
Donate Elrond to this address
Scan the QR code or copy the address below into your wallet to send some Elrond