(App) WeatherBug – Weather Forecast
 iphoneapps info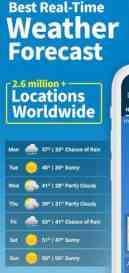 App Description :
Download the most popular free weather app powered by the largest professional weather network in the world!
WeatherBug is easy to use and provides forecasts for your every need, from storm warnings to pollen levels. Our weather network delivers the fastest alerts and the best real-time forecasts (current, hourly and 10-day).
The weather app has 18 different weather maps, including: Doppler radar, lightning, wind, temperature, alerts, pressure, and humidity.
Join the millions who rely on WeatherBug for weather forecasts every day!
I love WeatherBug! It's always accurate & is the first place I go for up-to-the minute weather! –iOS User
App Features :
YOUR WEATHER FORECAST
Real-Time Pinpoint Forecasts: Get the most accurate current, hourly and 10-day weather forecasts
Enhanced Interactive Map: Visualize weather conditions with 19 weather maps
Lifestyle Forecasts: Know how the weather will impact your trips, workouts, allergies, chronic pain and much more
Weather Widget: Customize your alerts and display with weather widgets
Weather Alerts: get alerted to weather conditions and storms
TRACK ANY CONDITION
North American Doppler Radar: Doppler radar across the US, Canada, Mexico, Alaska & Hawaii
PulseRad® Radar: radar for many international locations using patented Earth Networks Total Lightning Network® technology.
Spark Lightning Alerts: get minute-by-minute, mile-by-mile lightning proximity alerts
Hurricane Center: hurricane forecasts and changing conditions stay informed
Fire Center: global fire data to know when you are at risk
Winter Weather: Plan ahead with our 10-day snow depth forecast and stay safe in severe winter conditions with our real-time snow storm alerts
MORE THAN JUST RAIN
Pollen Count: Keep your allergies in check by knowing what the local pollen conditions are like
Real-Time Traffic Conditions: View local traffic conditions to better plan your day
Air Quality: Get an in-depth look at the air quality around you
Precise Weather Details: Wind speed, UV index, weather observations and more
LARGEST WEATHER NETWORK
Forecasts for 2.6 million+ locations worldwide
Largest total lightning detection network
10,000+ professional-grade weather stations
Live weather & traffic cameras
FASTEST WEATHER ALERTS
Get notified of severe weather 50% faster with our Dangerous Thunderstorm Alerts
Receive all NWS and NOAA watches and warnings
APPLE WATCH SUPPORT
Get vital weather information directly on your Apple Watch, including alerts, glances, and complications
CONNECT WITH US
Like us on Facebook – www.facebook.com/WeatherBug
Follow us on Twitter – @WeatherBug
Check us out on Instagram – @weatherbug
Check out WeatherBug's YouTube weather channel broadcast here: www.youtube.com/user/WeatherBugVideo
Download the weather forecast app used and loved by millions, awarded the "Best Weather App" in 2019 and 2016 by Mediapost Appy Awards. Also, voted the "Best Weather App for iPads" by AppPicker, and "Best App for Moms" by Parent Magazine: WeatherBug!
This app may include "Interest-Based Ads" (see www.weatherbug.com/legal/privacy#AC) for more information) and may collect or share "Precise Location Data" (see www.weatherbug.com/legal/privacy#PLD for more information).
Additional Information :
Size 242.3 MB
Requires iOS 10.0 or later.
User Reviews :
My favorite weather app is screwed up
This has been my go-to weather app for years. It gets used multiple times a day, and has never given a hint of trouble. Scratch the glowing praises now because with this last update the app crashes on start-up. I followed the developer's advice found in a response to someone else's recent complaint and deleted/re-downloaded the app. Bad idea. The app started up once, and then promptly stopped working again, and I lost all my settings for no good reason. Come on, guys. Don't let such a good app cause this much frustration. The second star I'm giving is based on my hope that you'll get this fixed ASAP.

Update: Shortly after I posted my review the app started working as expected. Then this morning, just 3 days later, it's back to crashing at startup. I do not want to uninstall/reinstall again, as I did that before you suggested it in response to my original review. It didn't work then. I hope this usually excellent app is mended soon.

Update #2: It's been about a week since my first update, and while the app is working better, it still occasionally crashes at startup. This happens about once every other day. I don't know if it's related, but the problem seems to occur when I first open the app and I'm not on wifi. Anyway, I've updated my stars accordingly.
Developer Response ,
Hi, We are really sorry to hear about your bad experience. We'd really appreciate it if you can send us an email to iphoneapps@weatherbug.com so we can understand the problem better and try to fix it! Thank you for your time. – WeatherBug Team
Best weather app i could download
First off I want to start by saying that this app is accurate. I live in a place that gets nasty snowstorms, and its nice to know in advance when I should be prepared to shovel the driveway or get out the snow gear. The radar is really good and I enjoy watching it while I watch the storm on my covered front porch. The one thing I'm not a huge fan of is the ads, but the makers of the app beed to make money somehow so it's understandable. But my favorite part is how you can customize the page so whatever you want to show up towards the top, will show up towards the top. I must say, i have had three other apps and with this one, the alerts are on parr with what the national weather service applies to your location. Last thing ( I promise !) Is that when an alert is issued to one of the locations i have set, it sends me a notification even if its not the location i have pulled up on the home page. So i get a LOT of weather notifications, once again, its manageable though and interesting to see what the weather is doing at the other locations! That you for taking time to read this and happy holidays!
Decent App
Weatherbug is a decent app and I can't decide whether to give it 3 or 4 stars. I guess I'll go with 4 because I have only 1 major complaint, though it does bother the heck out of me.

I use Weatherbug for my weather most of the time, but one of the biggest complaints I have is that it does not update throughout the day. For example if the forecast is 75 degrees and sunny but it's only 60 degrees and is raining, the app accurately displays the temperature and weather as of this moment, but the forecast doesn't update to take the changes into account. If it's 5:59pm and it's 60 degrees and raining, obviously at 6:00pm it's not going to be 75 degrees and sunny!

If the app would update with new data based on unforeseen weather patterns I would be much happier with it and would probably update to 5 stars. That, and if somehow they could figure out how to forecast more accurately! I know that is a bigger and more global problem to solve, and is not limited to this app, but here in Chicago the forecast is maybe correct (or close to correct) 50% of the time. I feel like it's gotten worse over the years, but that's probably just because our weather has gotten more erratic and is harder to predict now than it used to be.
Get WeatherBug from App Store
What is your opinion about WeatherBug
Bitcoin
Ethereum
MetaMask (ETH)
Xrp
Polkadot
Binance coin
Stellar
Dogecoin
Tron
Elrond
Donate Bitcoin to this address
Scan the QR code or copy the address below into your wallet to send some Bitcoin
Donate Ethereum to this address
Scan the QR code or copy the address below into your wallet to send some Ethereum
Donate Xrp to this address
Scan the QR code or copy the address below into your wallet to send some Xrp
Donate Polkadot to this address
Scan the QR code or copy the address below into your wallet to send some Polkadot
Donate Binance coin to this address
Scan the QR code or copy the address below into your wallet to send some Binance coin
Donate Stellar to this address
Scan the QR code or copy the address below into your wallet to send some Stellar
Donate Dogecoin to this address
Scan the QR code or copy the address below into your wallet to send some Dogecoin
Donate Tron to this address
Scan the QR code or copy the address below into your wallet to send some Tron
Donate Elrond to this address
Scan the QR code or copy the address below into your wallet to send some Elrond