(Game) Super Glitch Dash
 iphone games download free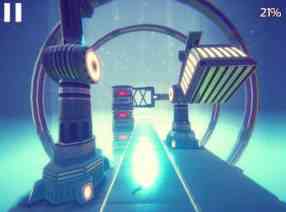 Game Description :
Crack your knuckles and take a deep breath because the ultimate twitch runner has arrived. That's right—we're talking about the long-awaited sequel to the amaze-fest Apple awarded Game of the Day and called "an atmospheric ride through trippy landscapes.
It's called Super Glitch Dash for a reason, people: because it's really, really super. It takes everything you loved about the acclaimed original and cranks up the volume to eleven.
Immerse yourself in jaw-dropping next-generation visuals that pulsate to the beat of the rhythm-driven gameplay. Feel the rush of your reflexes as you swipe your way past axes, hammers, lasers, meat grinders and spikes while trying to navigate the insane obstacle courses that comprise each stage. Grind rails, flip upside down, and scream into all-new indoor environments as the rollercoaster-like worlds unfold before your very eyes.
We promise: surviving has never been so much fun. So if you're looking for a really challenging impossible runner, then Super Glitch Dash is the game for you!
Game Features :
Simple controls, swipe to move
Spectacular twitch gameplay with unpredictable courses that zoom past you in the first-person
Incredible cutting-edge graphics take full advantage of powerful devices
Epic beat driven gameplay thumps to a grooving soundtrack
Make a Perfect Run and grab every collectible for the ultimate bragging rights
Play today and test your skills!
Already a fan of Hexaflip or David Marquardt's games?
Facebook:  www.facebook.com/davidmarquardtgames/
Twitter:  twitter.com/marquardtgames
Instagram:  www.instagram.com/marquardtgames/
Website:  www.marquardtgames.com
More Great Games by Rogue: bit.ly/RogueGamesApple
Privacy Policy:  rogueco.com/privacy-policy/
Terms of Service:  rogueco.com/terms-of-service/
Additionl Information :
Size 419.1 MB
Requires iOS 10.0 or later.
User Reviews :
Fun however…
Okay, this game was fun and trippy just as I expected it to be. However, there are only 6 levels and the levels are too short as well as too easy. On top of this, you only get to play through the levels in one difficulty unless you are willing to pay $5. To me, this seems like an excessive price. I get it, it's as free and you need to make money somehow but at least lower the price. Geometry dash is cheaper and has longer, more difficult levels. It even has more levels in general. All this being said, the game was enjoyable. It only takes a couple tries to perfect the run and this makes it not too frustrating to have to go back and do a thousand times. Sadly, the idea of perfect runs also leads me to another point of discussion. If someone were to perfect every level, me and everyone else who's probably played the game, I feel like they should be rewarded in some way. I feel that perfecting every level should at least unlock medium difficulty. Maybe even hard if you can perfect the medium difficulty as well. Even though there is a lot of criticism in this, I did enjoy the game. Definitely worth a try and the art design is amazing. If someone reading this has even made it this far thank you for sticking with this long paragraph.
Amazing
I have almost mastered all levels, I am not going to complain about the premium because I have read other reviews saying levels are too short, I have made a couple small games myself and they sometimes cost money. So don't complain, Now to the game, it's absolutely stunning the graphics and the mechanics are insane, all I can say is the nightmare difficulty is almost impossible. And other than that amazing game and I am looking forward to more levels!

I am also looking forward and hoping for a soundtrack on Apple Music
I love this
I love how beautiful the game is and how much it tries to fake you out into thinking that you should move out of the way when really nothing would harm you. It's definitely not low production cost, so I applaud them for making the game free to play, and making the premium a one time purchase, not a subscription as many other games would do. I would get the premium myself but I gotta get the money first lol
Developer Response ,
Thanks for playing and that you liked the decision to keep it free with just 1 purchase and no ads, I felt this game was best that way.
Get Super Glitch Dash from App Store
What is your opinion about Super Glitch Dash
Bitcoin
Ethereum
MetaMask (ETH)
Xrp
Polkadot
Binance coin
Stellar
Dogecoin
Tron
Elrond
Donate Bitcoin to this address
Scan the QR code or copy the address below into your wallet to send some Bitcoin
Donate Ethereum to this address
Scan the QR code or copy the address below into your wallet to send some Ethereum
Donate Xrp to this address
Scan the QR code or copy the address below into your wallet to send some Xrp
Donate Polkadot to this address
Scan the QR code or copy the address below into your wallet to send some Polkadot
Donate Binance coin to this address
Scan the QR code or copy the address below into your wallet to send some Binance coin
Donate Stellar to this address
Scan the QR code or copy the address below into your wallet to send some Stellar
Donate Dogecoin to this address
Scan the QR code or copy the address below into your wallet to send some Dogecoin
Donate Tron to this address
Scan the QR code or copy the address below into your wallet to send some Tron
Donate Elrond to this address
Scan the QR code or copy the address below into your wallet to send some Elrond