(App) The Weather Channel
 free apps for iphone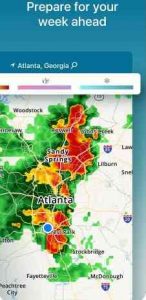 App Description :
Weather your way. Face the severe weather this summer with live radar maps, weather alerts and accurate storm trackers from the Weather Company: the world's most accurate forecaster.
Stay up to date and prepared no matter the weather with our live radar, weather maps and severe weather alerts. You can also manage personal weather alerts, so you receive notifications that are important to you. Plus, we've got a whole range of useful weather features for you to plan ahead with confidence.
App Features :
The Weather Channel – Our Top 3 Features
1. Up to two weeks in advance: Plan ahead and trust the current conditions card, with our Feels Like feature, local hourly & daily forecasts, and our Real-Time Rain alerts with radar.
2. Current conditions at a glance: get weather data that's relevant where you are.
 You can find local maps and forecast on your homescreen, and breaking news videos with closed captioning!
3. Track the risk for allergies with Allergy Insights with Watson. We help allergy sufferers predict the seasonal allergy risk in their area and understand what weather conditions can trigger future flare ups.
Our app is now Dark Mode compatible – turn on Dark Mode on your Apple device for a great viewing experience.
Plan outdoor activities with confidence.
Our Real-Time Rain notifications will help you plan for the way with confidence. Find the live radar directly on your home screen, so you know in a second whether to pack a light or waterproof jacket!
Want to enjoy a summer walk or run? Get detailed information on sunset times, allergies, pollen forecasts and much more.
Run smart with GoRun! Find the best possible running conditions and plan your perfect route.
Keep informed on the latest weather news.
Stay prepared during extreme weather events and earthquakes. We'll send you live alerts, so you'll always be aware.
Check out Warming Signs with Kait Parker every Tuesday in Apple Podcasts
Upgrade to Premium for exclusive access to premium features:
Premium Radar: The clearest way to visualize rain's potential impact on your precise location – now, and 6 hours into the future
Ad Free: Remove all ads from your weather experience
Extended Hourly: See 96 hours into the future
And more!
You can cancel your Weather Channel subscription anytime through your iTunes account settings, or it will automatically renew. This must be done 24 hours before the end of any subscription period to avoid being charged another fee. Subscription payments will be charged to your iTunes account at confirmation of your purchase and upon commencement of each renewal term. For more information, please see our Privacy Policy and Terms of Use.
Privacy & Feedback
Our Privacy Policy can be viewed here: weather.com/en-US/twc/privacy-policy
Our Terms of Use can be viewed here:https://www.weather.com/common/home/legal.html
If you have any questions or suggestions about our weather service, please do not hesitate to get in touch at iphonesupport[at]weather.com.
The Weather Company is the world's most accurate forecaster, according to the most recent, comprehensive study available (2010-2017) from Forecast Watch www.forecastwatch.com/static/Three_Region_Accuracy_Overview_2010-2017.pdf
App Annie: The Weather Channel app combined had over 50 million monthly active users worldwide each month from January through December 2019, over 2M total 5 star ratings and was downloaded 155 million times.
Comscore: Apps from The Weather Company, parent of The Weather Channel, are the most used weather apps worldwide based on average monthly active users via smartphone in 2019. Comscore Mobile Metrix®, Worldwide Rollup Media Trend, News/Information –Weather category incl. [P] Weather Company, The and [M] Weather Channel, The, Jan-Dec. 2019 avg.
Additional Information :
Compatible with iPhone, iPad, and iPod touch. Apple TV.
Requires iOS 12.0 and watchOS 4.0 or later.
Size 284.9 MB
User Reviews :
I'm sorry but I dislike the new update. It has made the app a lot less user friendly. It's difficult to navigate and to find specific information. I don't understand why you think people would like this? We want simple and convenient. If you fixed the small font and color schemes that alone would help drastically. The important information is almost hidden now. For instance the current temperature is so small I need glasses to see it. Also there used to be an option to toggle the tropical storm and hurricane paths on/off now I can't find that option anywhere. The issue is it covers the whole state days before the storm will arrive and I cannot see the radar. Then there's the adds. Out of the 50 apps on my phone I do believe this app is the worst for adds. They've been creeping in and growing for years. Basically since the app I paid for didn't work anymore and you went to a subscription app (which I should have received a refund for since I only had it for a year but I digress on that issue.) There is one add now even bigger then the radar! I'm not even getting started on the videos because everyone knows how bad they are, a 30 second add for a 20 second video speaks for itself.
I use to enjoy the app and most importantly the interactive map. I really like it because not only can you read the weather, but you can also visualize it and I think that brings a new way of informing someone when looking at the weather. I think this is important because it could possibly help someone better understand what they are looking at and it also serves for educational purposes and that goes a long way when helping someone understand the intended message that trying to be sent. You never want any miscommunications. Anyway, I like the app overall but with the recent update, the layers of the interactive map now cover the whole screen and I find that kind of confusing and bothersome. For example, the temperature layer now covers the entire map instead of just the land masses. I'm my opinion, I think it was better before when it only covered the land masses and that applies for all the other layers like UV index etc. So if you can change it back to that, that would be great. Thank you for your time and keep up with the great work. Go weather channel.
Get The Weather Channel from App Store
What is your opinion about The Weather Channel
Bitcoin
Ethereum
MetaMask (ETH)
Xrp
Polkadot
Binance coin
Stellar
Dogecoin
Tron
Elrond
Donate Bitcoin to this address
Scan the QR code or copy the address below into your wallet to send some Bitcoin
Donate Ethereum to this address
Scan the QR code or copy the address below into your wallet to send some Ethereum
Donate Xrp to this address
Scan the QR code or copy the address below into your wallet to send some Xrp
Donate Polkadot to this address
Scan the QR code or copy the address below into your wallet to send some Polkadot
Donate Binance coin to this address
Scan the QR code or copy the address below into your wallet to send some Binance coin
Donate Stellar to this address
Scan the QR code or copy the address below into your wallet to send some Stellar
Donate Dogecoin to this address
Scan the QR code or copy the address below into your wallet to send some Dogecoin
Donate Tron to this address
Scan the QR code or copy the address below into your wallet to send some Tron
Donate Elrond to this address
Scan the QR code or copy the address below into your wallet to send some Elrond