Water tracker Waterllama app by Vitalii Mogylevets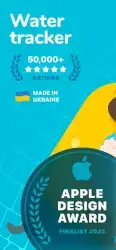 App Description :
APPLE DESIGN AWARD 2022 Finalist
You know you need to drink more water!
App Features :
Smart reminders during your day
Complete 9 fun healthy Challenges
Collect & fill up 45 cute Characters
Track water from anything you drink: 40+ most popular beverages
Handy Apple Watch app
Cool home screen Widgets
Monthly hydration In-App Events
Reach the longest hydration Streak
Celebrate your day with a shareable recap illustration
Calculate your daily water goal based on your weight, activity & weather
Create your own beverages
Hydration history calendar
Apple Health Sync
Oz/Ml measure units
Localised into 13 languages
All features are based on scientific studies of building healthy habits
Benefits of drinking water
Weight loss & healthy skin
Improves productivity & mood
Relieves fatigue & boosts energy
Healthier heart, immune system & brain
Regulates blood pressure & body temperature
Waterllama water tracker free app is simple & fun. Get reminder to drink water regularly. Join healthy challenges like Weight Loss Sloth which will motivate you to drink water only, help with intermittent fasting as your water fasting app.
Don't worry about being too busy, use drink water reminder free & don't just hydrate when you feel thirsty. Avoid dehydration by using my water app drinking reminders & never forget to drink water again. Apple Watch water drinking reminder included.
Waterllama water minder calculates how much do you need to drink water according to your activity level, body weight, climate & gender (male, female, pregnant or breastfeeding mom).
Hydration is essential for human body. Waterllama reminds you to hydrate properly & maintain the balance of your body fluids by drinking water.
Waterllama mywater tracker can help you have a better focus & concentration. Drink water to exercise more effectively. Water tracker can help you avoid fatigue, mood swings & low motivation. Managing your water intake can help with a weight loss since you will feel more full & avoid overeating. Daily hydration helps you restore energy & contribute to feeling happier. Water tracker can even help you boost productivity & reduce stress when used the right way. Building a new healthy habit can be much easier when all of your drinks are waterlogged. You can see all of your water log in the Waterllama water intake calendar.
Waterllama free water drinking app features: track water intake, smart reminders, water reminder apple watch app, streaks, water intake goal calculator, custom daily water goal, llama character, water intake calendar, lock screen widgets, water cup size, Oz/Ml units, Apple Health sync and more.
Waterllama drink water app premium paid features: 45 characters, 9 challenges, 40+ beverages, 6 reminder sounds, create custom beverages, personalized beverages panel, edit water intake history, change glass/cup size. Plus you'll be able to access even more Beverages, Characters, Challenges & features in future monthly updates.
Waterllama premium features are available as a monthly & annual subscription or as a one-time purchase. Your iTunes account will be charged at confirmation of purchase. The subscription will automatically renew unless auto-renew is turned off at least 24 hours before the end of the billing period. You can go to your iTunes Account Settings to manage your subscription & turn off auto-renew. To restore all your previous purchases use the "Restore Purchases" button located at the bottom of the Premium Features popup.
Stay hydrated & happy using Waterllama drink water reminder n tracker
Terms of use & Privacy policy
waterllama.com/privacy-policy-terms-of-use.pdf
Note: HealthKit integration is to sync Water & Caffeine data with Apple Health app
Additional Information :
Size 239 MB
Requires iOS 13.0 or later.
User reviews :
A simple and effective app
I never really paid any attention to how much water I was drinking and the negative effects of dehydration. It was brought up at almost every visit with my doctor. I acknowledged it but never took the step to see if I was getting enough hydration without having to give it any thought or attention. I found out using a body

composition scale that on a regular basis I was measuring below the minimum daily requirements and was effectively dehydrated on the regular. I looked at apps to help keep me on track and come to this one because of its simplicity and the way that it positively encourages you with these cute little characters. They make me laugh in a way that traditional feedback does not. The results almost immediately were amazing. My daily intake has almost doubled.

The other major reason I chose this app is that I couldn't believe, given all that's been happening in their country, the creators continue to produce and manage a tool that is meant to help others. I can't ignore the fact that their creativity and desire to help others breaks through what has to devastating to them on a personal level. If it helps them to continue to thrive and survive, using the app is a simple way to support them. While you're at it, and if you have the means, show your support by making a contribution to keep them going.
Developer Response,
Wooow, thanks a lot for such a warm message and supporting us during these times of struggle! 🇺🇦

Your support and kind words mean the world to our small but passionate team and help us stay strong and keep going despite everything that's happening now

We're super pleased that Waterllama brings you nothing but joy and helps you stay motivated to improve your hydration

Love to hear how you enjoy the design & simplicity. That was our main goal for Waterllama! So it helps you stay hydrated & happy in a simple and fun manner!

Do hope our app will further accompany you on the road to healthy hydration!

We'll do our best to continue building even more awesome features for you to enjoy

Stay hydrated & happy!
Very cool, very smart app. I love my WaterLlama!
This app really is well done on so many levels! It is also one of those rare apps that I actually have bought the full version of and that I am still happily using after many months! It still makes me happy to fill up that llama! I love getting it's toes wet at the beginning of the day, knowing I should be well into its belly during the bulk of my day, and the satisfaction of being up to my neck in sweet hydration at the end of my day. The apple watch complication is also designed well, reliable, and easy to use— which is quite a feat! The design is simple and colorful, but also so very smart and thoughtful. And the developers are very responsive and are still improving this already wonderful app. Just get it! The free version is great. The full version unlocks all the animals, all the drink types and the ability to customize drinks and do challenges. But honestly, I only use the llama, and the basic water, tea and coffee most days—I just WANTED to give the developers money for this app. And if you are serious about staying hydrated, they got your back with alcoholic drinks now actually triggering you to drink more (increasing your goal) to compensate for the fact that they actually dehydrate you. Very cool. Very smart. I love my WaterLlama!!
Developer Response,
Thanks a lot for your thoughtful review, kind words and supporting the app!

Also for so much llama love

We're working hard on more features, characters, challenges that will be coming in the next few months! So it can motivate you even further!

Stay hydrated & happy!
Get Water tracker Waterllama from App Store
What is your opinion about Water tracker Waterllama
Bitcoin
Ethereum
MetaMask (ETH)
Xrp
Polkadot
Binance coin
Stellar
Dogecoin
Tron
Elrond
Donate Bitcoin to this address
Scan the QR code or copy the address below into your wallet to send some Bitcoin
Donate Ethereum to this address
Scan the QR code or copy the address below into your wallet to send some Ethereum
Donate Xrp to this address
Scan the QR code or copy the address below into your wallet to send some Xrp
Donate Polkadot to this address
Scan the QR code or copy the address below into your wallet to send some Polkadot
Donate Binance coin to this address
Scan the QR code or copy the address below into your wallet to send some Binance coin
Donate Stellar to this address
Scan the QR code or copy the address below into your wallet to send some Stellar
Donate Dogecoin to this address
Scan the QR code or copy the address below into your wallet to send some Dogecoin
Donate Tron to this address
Scan the QR code or copy the address below into your wallet to send some Tron
Donate Elrond to this address
Scan the QR code or copy the address below into your wallet to send some Elrond