Hide N Seek game by SUPERSONIC STUDIOS LTD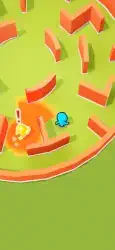 Game Description :
The good old classic hide & seek. Play either as a seeker or as a hider and build your shelters from cars or office desks, hide in the water, in the hay pile, in the cornfield, in the boss' office and most importantly, push others in the seeker's vision field. Try to be kind though.
Game Features :
Beautiful and unique 3D visuals
Play either as seeker or hider
Complete freedom to play however you like
High performance
Fun, relaxing and addictive
Additional Information :
Size 239.5 MB
Requires iOS 10.0 or later.
User Reviews :
It's really fun but I have a few suggestions
It is a very great game. I like how you get to choose if you want to hide are be the person who finds you. I like all the different levels. There is basically no adds. There are different skins that you ether earn it or you work up your game money. It's really easy to earn the game money you can ether watch adds or get the game money while you play which is very simple. You also have pets.

My suggestions are more characters there are very few that I like. I also think we should be able to change our seekers outfits instead of just our hiders outfit. The next idea is to make the levels bigger and more fun. The last idea is get more pets I really want one but none of the I like. It's only birds that look mythical and horses white a unicorn squirrels I think and some wolfs. I want more animals like maybe a bear dear bees monkeys dogs cats hamsters parrots just any animals will do and maybe not so mythical looking.

Anyways this app is very good and I highly recommend it. Besides my suggestions this is a five star.
Awesome and ADDICTING
When I saw my cousin playing this game I was like, "I HAVE to try this!" So I downloaded it for myself and I have to say that it's AMAZING!!! I can tell that a lot of hard work went into this and it was well worth it. I love both hiding AND seeking. It's not one of those games where you only want to hide or only want to seek, I look forward to BOTH! This game is also an amazing way to pass time. Or if you have a few extra minutes in class, this is the game to play.

The only thing is the adds and how there should be more to it. Don't get me wrong, I ADORE this app, but the adds do get annoying. I know that you have to have adds for money and stuff but sometimes I just don't think it's fair. Also, I wish there was more to do. Maybe like, as you are seeking, you collect a special item that makes the other players blind for a few seconds (I get that this is an .io type game so it doesn't have real people) Or maybe even make it to where there is some lava on the ground and jumps that you have to jump onto to get certain places.

Overall, this game is the best. There is not a better way to kill time with this app and it is sooooo addicting that I MAY have stayed up too late playing it a few times Haha! But, there is still more features to add that I think would make this app shine!

-Me
Really cool game, just too manny adds.
there's an add after each, reasonably short round, though besides for that, this game is really fun to play. So in the beginning, you get to choose if you want to be, a seeker, or a hider, and I'm glad it lets you choose, because I thought in the beginning that it might be like, if you lucky, you'll be it, I'm just glad it's not like that. And in the game, if your a hider, your invisible to the seeker, so that comes to your advantage, though it's a small playing area, and that's what makes the portals that put you on the other side of the game area so perfect! So if you've got the seeker on your trail, that's a good way to get away. And I love that you can have your own pets, I mean that's perfect! And you have all these different avatars to choose from too. And when your the seeker, you chase the hiders, who you still can't see, but now and then you might see the doors move, or dust, it's like little clues! And you have this different avatar on when your a seeker, which I don't really like, but it's not that big of a deal. But after all, this is a really good game, and I think if you don't mind an ad after each round, this is the game for you. Thanks for reading
Get Hide N Seek from App Store
What is your opinion about Hide N Seek
Bitcoin
Ethereum
MetaMask (ETH)
Xrp
Polkadot
Binance coin
Stellar
Dogecoin
Tron
Elrond
Donate Bitcoin to this address
Scan the QR code or copy the address below into your wallet to send some Bitcoin
Donate Ethereum to this address
Scan the QR code or copy the address below into your wallet to send some Ethereum
Donate Xrp to this address
Scan the QR code or copy the address below into your wallet to send some Xrp
Donate Polkadot to this address
Scan the QR code or copy the address below into your wallet to send some Polkadot
Donate Binance coin to this address
Scan the QR code or copy the address below into your wallet to send some Binance coin
Donate Stellar to this address
Scan the QR code or copy the address below into your wallet to send some Stellar
Donate Dogecoin to this address
Scan the QR code or copy the address below into your wallet to send some Dogecoin
Donate Tron to this address
Scan the QR code or copy the address below into your wallet to send some Tron
Donate Elrond to this address
Scan the QR code or copy the address below into your wallet to send some Elrond