Virtual Families 3 game by LDW Software, LLC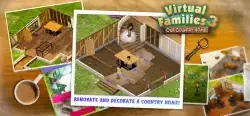 Game Description :
The sequel to the smash hit mobile game "Virtual Families 2" is here!
A note from the developer:
Hi, and thanks for taking a look at Virtual Families 3! We have been working on it for quite a while, and we're very happy to be able to finally share this new chapter with everyone.
Game Features :
With Virtual Families 2 being downloaded over 40 million times, we are so grateful to our dedicated fans and humbled by all your kind words and support! You are the reason we set out to make the third chapter of Virtual Families! We spent years crafting an experience would live up to your expectations, and we plan to continue to listen to all your feedback to make it better with every update!
Before you skip down to the bullet points and screenshots, let me say a few quick words about this game, and life simulations in general: I love life simulation games. I have always been passionate about designing them, and almost everything that comes out of Last Day of Work is a life sim of some kind. This one, in particular, thrills me so much because it is designed to have a life of its own: unpredictable and so different each time I play it, and each time another player plays it. I love that the story unfolds differently for everyone who plays it, and your experience with the game might be wildly different from your friends' experiences.
Designing this type of game, however, has its own special challenges. The main challenge is that EVERYTHING in life is a great idea to add to a game like this. There are SO many great ideas, and we simply cannot put them all in at launch. So, while I hope the game captivates you as much as it does us, there will inevitably be things that you feel are missing and you would love to see added (tell us!).
We plan to update the content in this game. We want to add improved pets that are more like real life, more storyline, more events, tons of new things to buy, and the list goes on and on. We will also continue to tune and deepen all the game's inner workings that control happiness, health, and everything else. While the game has been balanced to be playable for free and without purchasing anything, we hope that you will find something compelling enough in the game to give us support so that we can continue to create fun new updates.
Enjoy Virtual Families 3! Please visit our Facebook page and our forums to give us your own amazing ideas and suggestions, and don't forget to check in on your little family or they will get very sad. 🙂
With sincere gratitude,
Arthur Humphrey
Lead Designer, Last Day of Work
Virtual Families 3 has all this and more:
Adopt a little person and start a family. Make babies and pass the house on to the kids!
Train your little people to behave as you wish by praising and scolding them.
Create your family the way you choose, with the same diversity that you would expect in real life!
Your little people will send you messages, thanking, pleading, and praising you for caring for them.
Runs in True Real Time. Your little people continue to live, eat, grow, and work when the app is switched off.
Your little family is in your time zone! Is it getting dark where you live? Your little family is probably getting ready for bed then…
Highly varied, unpredictable game play. No two games run the same.
Make babies. Cure illnesses. Help nurture and guide generations of your family.
Restore the house. Remodel rooms and add new ones. Shop and decorate.
Recommended for people who enjoy Virtual Villagers and other life simulation games!
Visit our Official Virtual Families site at www.VirtualFamilies.com for instructions, strategy guides, and much more!
LDW games have been awarded with:
Sim Game of the Year – Game Tunnel
The Zeebys – Gamezebo
Parents Choice Recommended Award
iParenting Media Award
Check out our other hit games like Virtual Town, Fish Tycoon, Virtual Villagers, and more at itunes.apple.com/us/developer/ldw-software-llc/id297606729
Additional Information :
Size 248.4 MB
Requires iOS 13.0 or later.
User Reviews :
Read this if you want to know what you are getting
I love everything that has been added and am happy you added same sex marriage. I do know that they have to adopt so I was disappointed when I found out how much it costs to adopt! The last games it was way less expensive and I want to be able to adopt kids if I do a same sex marriage. You could maybe lower it for people who do a same sex marriage so they're family keeps going! Overall though I love this game. I just want to add one more thing. I am having trouble getting money. I have four rollers right now and I tried to reset it but couldn't get more money and I seem to not have a free coins choice while my sister seems to have an unlimited free coin thing. I would be happy if we got free coins like we did in VF2. by watching adds. I do like that we can change the names of our people. I changed my mom's name to my favourite actor and my father's name to a Canadian hero. This is a fun game and I suggest to people looking to get this game that they should. Update I now have 12 children?!?! I didn't expect that many lol  My people are now fifty(the parents) So my family has died because I wasn't paying attention to them for weeks. I have too much stuff on my plate, I sometimes have 2 different activities after school on the same day so I don't have time to take care of my family.
Love
I absolutely love this game. I've been playing Virtual Families 2 for as long as I can remember, so I was very excited for this new game! I do have a few complaints/suggestions. If I leave the app and don't completely exit out of it, I get an error message when I try to reopen it. So to fix this I have to completely exit the app on my device by swiping it out of the open tabs frame, and then I can play again. It's also INCREDIBLY hard to earn coins. I like how the collectibles are worth a good amount and I like the "watch videos" option, but it's still hard. I don't like how when it's time to look through marriage options, I can't go back after I skip over someone. I didn't realize I wouldn't be able to go back the first time, and missed out on good options. I like how the characters are diverse, but I wish there was more of a variety. I had 6 kids and 4 looked exactly the same. I also wish there was more variety in the furniture. There's a lot of furniture from the first game, and I wish there were more types and COLOR options. I like games that I can spend about 30 minutes to an hour on, but this game makes that difficult. There's not much to do after making sure all the characters are taken care of. But overall, I really like the game! I also forgot to add in that it can be frustrating to have to perfectly place characters on collectibles in order to grab them. I wish they didn't have to be placed DIRECTLY on top, because it's hard to do.
Developer Response,
Hi there! We're sorry to hear about your experience with the game on your device. Please contact our Customer Support Team by tapping the 'Contact Support' button in the Settings menu or email support@ldw.zendesk.com and provide them with details about your issue – they'll be happy to discuss this with you!
Get Virtual Families 3 from App Store
What is your opinion about Virtual Families 3
Bitcoin
Ethereum
MetaMask (ETH)
Xrp
Polkadot
Binance coin
Stellar
Dogecoin
Tron
Elrond
Donate Bitcoin to this address
Scan the QR code or copy the address below into your wallet to send some Bitcoin
Donate Ethereum to this address
Scan the QR code or copy the address below into your wallet to send some Ethereum
Donate Xrp to this address
Scan the QR code or copy the address below into your wallet to send some Xrp
Donate Polkadot to this address
Scan the QR code or copy the address below into your wallet to send some Polkadot
Donate Binance coin to this address
Scan the QR code or copy the address below into your wallet to send some Binance coin
Donate Stellar to this address
Scan the QR code or copy the address below into your wallet to send some Stellar
Donate Dogecoin to this address
Scan the QR code or copy the address below into your wallet to send some Dogecoin
Donate Tron to this address
Scan the QR code or copy the address below into your wallet to send some Tron
Donate Elrond to this address
Scan the QR code or copy the address below into your wallet to send some Elrond