Variety app by PMC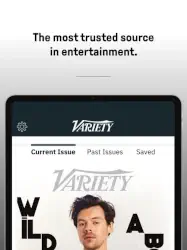 App Description :
Variety is the premier source of entertainment news. Since 1905, the most influential leaders in the industry have turned to Variety for timely, credible, and straightforward news and analysis, covering film, TV, digital, music, and theater.
The new app also includes the latest offering from Variety, Variety Intelligence Platform (VIP). VIP's content is tailored to senior executives in the media industry and explores trends and issues that matter most to the c-suite, including market trends, earnings reports, product innovations, and emerging technology.
App Features :
TOP HEADLINES:
Quickly browse the TV, film, music, tech, theater, and awards sections with improved navigation and article search.
CUSTOMIZABLE HOMEPAGE: Immediately access the stories that matter most to your business with an article feed tailored to your preferences.
SAVE ARTICLES:
Save articles to read later in a single tap, and access easily on your personalized home screen.
REAL-TIME NEWS ALERTS: Keep up with breaking stories as they happen with push notifications, easily toggled on or off in the app settings menu.
VIP:
Explore media business trends and issues with Variety Intelligence Platform, the latest offering from Variety.
E-EDITION:
Variety Magazine presented in an easy to read format and at your fingertips.
pmc.com/privacy-policy/
Additional Information :
Age Rating 4+
Size 65.7 MB
Requires iOS 13.0 or later.
User Reviews :
Much Improved – fast and user friendly
Variety is my go-to for entertainment news. This update is a big improvement, it's faster, easier and has new features. I love that I can customize my newsfeed.
MISSING: Real Time Alerts Feature
The app states there are real-time new alert push notifications you can turn on via the settings menu. This is 100% false. There is absolutely no way to do this. There is actual absolutely no alert feature at all. I've emailed support 5 times with no response, so I've decided to leave a review to inform others that are expecting this feature. If I'm incorrect, please reply to this review with instructions on how this can be done & I will revise the content. Below is what they state, but the feature is completely nonexistent. "REAL-TIME NEWS ALERTS: Keep up with breaking stories as they happen with push notifications, easily toggled on or off in the app settings menu. " In fact the screenshots show a "bell" icon next to the "gear" icon, which does not exist in the actual app. Please respond with how to active the real-time news alerts. Please. Thank you.
Redesign removed any and all usefulness
I simply can't understand why the app would be redesigned to just have one general feed without any option to read by topic (TV, Film, Digital, Business, etc.). As someone who works in the media industry and reads Variety daily, it's incredibly sad and I have deleted this app from my phone.

Instead, I have to use my mobile browser to read articles from the web page.

This is literally the first app review I have ever written but this UI/UX is so poor that I felt compelled to do so. Whoever is the CTO should immediately implement changes – I would imagine app engagement has totally collapsed. This is digital media 101 and calls into question Variety as a leading player in media itself.
It works for reading the articles. That's about it.
The main attraction of the Variety app is to be able to read Variety. And that works just fine.

But nothing else works. You can't share, videos never work, photos rarely load, and the galleries tab has never worked. Every time I click it..the apps crashes and goes back to my home screen.

Also…they should bring back comment sections.
App needs lots of work
This app needs lots of work, I'll start with the fact that if you try to share a story to Facebook or Twitter, it takes you to a page that tells you to download them and there is no way yo tell it you already have them. I see this a lot on apps on the iPhone. Frankly it's just plain stupid to not have the app go straight to the Facebook or Twitter app and Apple should be enforcing this.
Not a fan of the new format
Always loved the Variety app but not a fan of the new look/format. Used to be able to see snapshots of 10 or so top stories and now, with larger previews, you can only see 1 or 2 when you first open the app. Much more difficult to get a quick look at stories and decide which ones you want to read more about.
So Disappointed
I've rarely been so let down by an app redesign. Variety used to be the only news app that properly functioned for offline reading – once refreshed the latest news downloaded automatically, everything would load. Now nothing is automatic and stories take forever to load. It's now a worse version of every other junky news app. So sad to see an essential part of my commute gone.
Get Variety from App Store
What is your opinion about Variety
Bitcoin
Ethereum
MetaMask (ETH)
Xrp
Polkadot
Binance coin
Stellar
Dogecoin
Tron
Elrond
Donate Bitcoin to this address
Scan the QR code or copy the address below into your wallet to send some Bitcoin
Donate Ethereum to this address
Scan the QR code or copy the address below into your wallet to send some Ethereum
Donate Xrp to this address
Scan the QR code or copy the address below into your wallet to send some Xrp
Donate Polkadot to this address
Scan the QR code or copy the address below into your wallet to send some Polkadot
Donate Binance coin to this address
Scan the QR code or copy the address below into your wallet to send some Binance coin
Donate Stellar to this address
Scan the QR code or copy the address below into your wallet to send some Stellar
Donate Dogecoin to this address
Scan the QR code or copy the address below into your wallet to send some Dogecoin
Donate Tron to this address
Scan the QR code or copy the address below into your wallet to send some Tron
Donate Elrond to this address
Scan the QR code or copy the address below into your wallet to send some Elrond