Triple Tile – Match Puzzle Game by Tripledot Studios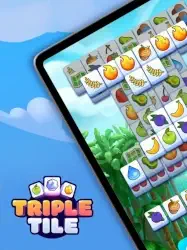 Introducing Triple Tile, the ultimate mahjong triple match puzzle game!
Immerse yourself in hours of fun and challenging gameplay as you match tiles to progress through the brainteaser levels. Solve the puzzle and become the ultimate tile master. With its easy-to-learn mechanics and addictive gameplay, Triple Tile is the perfect game for triple match puzzle enthusiasts of all ages.
Play Triple Tile's relaxing puzzle games. As you play the matching games, you'll be tasked with matching three or more tiles of the same color to clear them from the mahjong inspired board. But be careful! The match game levels get progressively harder as you advance, and you'll need to think strategically to overcome obstacles, solve the puzzle, and be the tile master
Triple Tile Puzzle Game Features:
 FIND YOUR ZEN WITH RELAXING PUZZLE GAMES: Tap, match and repeat. Unique 3D puzzle game with beautiful tiles.
 SOLVE THE PUZZLE TO TRAIN YOUR BRAIN: Each tile game level is a complex 3D puzzle, ready for you to unwind and solve.
 TRAVEL THE WORLD: Track your progress and reach new locations as you play tile games – from Greek seasides to amazonian forests
 HUNDREDS OF RELAXING PUZZLE GAMES AND TILE GAMES: Play through many exciting chapters, with more match games added monthly
Start playing Triple Tile's match game today – tap, match and relax with modern mobile mahjong. The Triple Tile matching games bring together the relaxing game elements of mahjong and beautiful 3D tiles four hours of fun
Solve 3D tile puzzles and mahjong inspired matching games. Clear the board by matching 3 tiles. Unlock beautiful chapters with the help of boosters. Visit scenic landscapes and reach the top of the saga map to become the ultimate tile master.
Start your relaxing journey today – take a scenic walk and escape from reality with the Triple Tile match game.
With hundreds of relaxing puzzle game levels to play through, you'll never run out of new tile puzzle challenges to conquer. And with new levels added regularly, you'll always have something new to play.
So what are you waiting for? Download Triple Tile's matching puzzle game now and start matching three tiles today! Solve the puzzle. Whether you're a triple match puzzle game pro or a newcomer to the genre, the Triple Tile matching puzzle game is sure to provide hours of entertainment. With its fun and challenging mahjong gameplay, you'll be hooked matching three tiles in no time!
Download the Triple Tile matching puzzle game today!
Additional Information :
Age Rating 12+
Size 289.8 MB
Requires iOS 13.0 or later.
User Reviews :
Fun game to many ads
The first 100 levels were really fun after that the tiles get harder to match so you're constantly needing to use the options at the bottom like shuffle and you have to watch an ad to do it. You are constantly watching ads. On top of that it keeps glitching and will freeze so you have to swipe out of the app only to start that level all over again. I currently have done level 127 four times and it glitched out again. I don't know if that happens when there's no ads available to watch but it is frustrating.
Sad
So I would have actually liked this game, except there was so much glitching and crashing and freezing, I got this game to complete an offer and it would be a good game for kids to do this to play this game for like puzzle solving and what not but you have to watch so many ads sometimes the ads won't load they don't give you like rewards quickly enough like it should be every 10 levels not 100 levels, and then they decrease the reward as you go up like if they gave you five awards atAt level 300 and they only gave you fourAt level 400. Sometimes the game would freeze and lag and make you lose and the games ads wouldn't loadWhich was extremely frustrating. The entire screen would freeze and he couldn't finish the level even when you were on the last one I wanted to like it, but it made me so mad because I did it for an offer. I ended up almost not completing it on time, and I barelySlept for days in order to finish it on time, it would've been a good game and it could still be a good game. If they fix this I don't know what the issue is but it always runs better without Internet for some reason. Hope that helps I wasn't trying to be mean.
Would be good but for…
two major drawbacks. First off, at least on my phone, it's pretty glitchy. It will be going fine and it just restarts and you have to go back to the beginning of the level. Far worse than that though is the just crazy amount of ads. You have an ad between every level, you have an ad if you want to use any of the buttons of which you will be doing constantly at the higher levels, and you even have ads during each level. oh, and also the banner at the top all the time. They're not too bad at the lower levels but the higher, the worse the ads get. Some are pretty quick, most are pretty long and there's one ad for some story app that must be close to five minutes each time. you end up spending as much time on the ads as you do playing the game. I can understand the need for ads to pay for the game but when there's so many that you can't even enjoy the game then I, and I would think most people, will just find another game. A lose lose for everyone.
Nice Game, however
I like this game it is fun and nice to play. I read the reviews about the bombardment of advertising and I thought how bad could it be. Well in the beginning the advertisement across the top didn't interfere with game so I thought ok I can do this however as you progress in the game you realize it's easy to play but the advertisement starts as soon as you complete a level every single time. There is no way to stop it you are forced to walk away or tolerate it and if you manage to bypass it you don't move to the next level. After a while the "x" doesn't show up and you have to click a arrow which takes you to the advertisement. There must be a great deal of money in trying to push other games on players. If I wanted to play other games I would play them. I'm playing your game so if money is a issue then charge for it. If I like it I'll pay if not I'll leave. Now I'm deleting your game because your just not satisfied with me playing your game.
Great game! Though not perfect…
It's s great matching puzzle game with neat little aesthetics, but there are some things that could be improved on…

 The game lags a good bit at times, especially when loading in advertisements or if there's a lot on screen. It especially gets annoying when your inputs don't register and you end up selecting a tile you didn't want by accident and end up failing.

 The game doesn't save your progress on a level when you close out of the app. It's especially annoying since…

 The game crashes frequently enough to be irritating. I could get maybe three or six tiles away from completing a puzzle and have to start all over because of a game crash.

 The reliance on ad-given abilities to solve puzzles without resetting breaks the flow of the game- especially since people are more than likely to put their phone down and ignore the adverts altogether. It just becomes a waiting game at that point- which isn't fun. I understand ad revenue lets the app devs earn money, but it gets aggravating after a time.

Overall it's a relaxing game, but having your games be interrupted so often can get annoying. Other than that, it's cute and I like it.
Triple tile
Triple tile would be a great game if you would fix the glitches, freezing, or giving rewards when it supposed to, and to many adds every time you shuffle or go to the next level way to many adds. Let me know when you fix all the freezing and skipping blinking in and out and less adds I will be very interested in downloading this game again. This is a great game very challenging and stimulating to the mind , I would definitely give a 5 star rating but there's to many glitches and adds. Thank you Maria R.
Get Triple Tile from App Store
What is your opinion about Triple Tile
Bitcoin
Ethereum
MetaMask (ETH)
Xrp
Polkadot
Binance coin
Stellar
Dogecoin
Tron
Elrond
Donate Bitcoin to this address
Scan the QR code or copy the address below into your wallet to send some Bitcoin
Donate Ethereum to this address
Scan the QR code or copy the address below into your wallet to send some Ethereum
Donate Xrp to this address
Scan the QR code or copy the address below into your wallet to send some Xrp
Donate Polkadot to this address
Scan the QR code or copy the address below into your wallet to send some Polkadot
Donate Binance coin to this address
Scan the QR code or copy the address below into your wallet to send some Binance coin
Donate Stellar to this address
Scan the QR code or copy the address below into your wallet to send some Stellar
Donate Dogecoin to this address
Scan the QR code or copy the address below into your wallet to send some Dogecoin
Donate Tron to this address
Scan the QR code or copy the address below into your wallet to send some Tron
Donate Elrond to this address
Scan the QR code or copy the address below into your wallet to send some Elrond