(App) USAA Mobile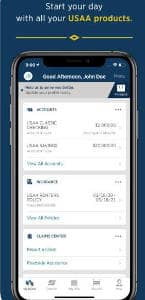 App Description :
The USAA Mobile app gives you convenient and secure account access from your mobile device.
Manage your finances, investments, insurance, and much more.
USAA is an organization founded by military members for military members and we understand the unique needs of U.S. Military servicemen and women and their families.
With just a few clicks, you can transfer funds, pay bills, deposit checks, and place trades.
App Features :
Banking: Pay Bills, Send Money with Zelle®, deposit checks, calculate your loans, and locate an ATM.
Insurance: Get an Auto ID card, request roadside assistance, and report a claim.
Secure: Use a PIN or biometrics to quickly log in to the app.
Digital Assistant: Access EVA, our digital voice assistant, at any point within the app to answer your questions.
Widget: View your accounts and balances on your device widget without the need to log in each time, thanks to the help of our secure authentication infrastructure.
Additional Information :
Size 174.1 MB
Requires iOS 14.0 or later.
User Reviews :
Customer service
It seems that somehow, USAA just hires people that are kind and actually, genuinely try to care. I sound like a marketing commercial, but really in 17-ish years, it's always been whoever answers the phone is just nice or having a good day already. I doubt that that is something that can be trained into your average telephone-job employee if they don't already have that sort of aptitude or demeanor. I've also discovered that if I happen to be having a bad day myself, (and I can be talkative with things like that unfortunately), they always seem to be generous with listening, being kind, patient and agreeable. Woah. It makes me want to buy them a celebratory beer or send them a Christmas or Birthday card or something. Hahaha I think at least one call center is in Pennsylvania? Go PA! 😀 Or Texas? Go TX! Hahaha

Plus, USAA has a killer website, an awesome array of online or over-the-phone services, but especially they have, I think, nearly the best rates offered by any bank in the country. I don't know what bank the President or Congress might have, but I wouldn't be surprised if they use USAA. I'm confident the commanders of each branch of our military and most if not all other higher ranking officials use USAA. I don't know the facts, but I am speculating with confidence, so forgive me if I'm wrong. I hope this shows how much I love my bank. It's aaaaall good.
Pretty good app, but one piece of feedback
I have been using the USAA app for a decade. In the bill pay section. I list my bills, some of which over time I delete when I don't have a relationship with the biller anymore, some of which I hide so I can reuse them next year for an annual tax payment or such, but some I don't hide and keep visible although I set up autopay through the biller for things like phone service, a mortgage, internet service, etc. I still want to know about the bill and the amount and due date, but I have no intention of paying the bill through USAA, so I don't remove the biller info. For those bills, I get the monthly payment info in the app and then it turns red as overdue when I don't pay it through USAA, even though it was debited or done through my credit card, but then I have to go through an onerous bill filing process to reconcile the monthly bill and the list of options to o reconcile is dated and doesn't even include autopay/debit. Can USAA make that easier by allowing the biller settings to account for autopsy through the biller so I don't have to do so much legwork? This part of the app has not changed since the app launched. It needs a revamp. Other than that, I live in this app. USAA has the best banking app out there. I have seen and used others and they fail to stack up against USAA.
USAA app
Constantly improving & very customer friendly! I recently bought a different car and borrowed part of the cost from my USAA life insurance policy with every intent of paying off the loan at the rate of several hundred $ a month, and made several payments. Then I received a notice on my USAA website that this was temporarily not possible. I called and learned it is a computer problem which was expected to be resolved in 1 week. This has been 2 or 3 weeks ago. The small amount of extra 5% interest that will accumulate is not the problem. Although most of my life insurance is not with USAA, many members may have most of their life insurance with you. Please check to be sure that the computer glitch is not delaying payment of death Benefit payments. If a delay for death benefits is in effect, it may cost USAA another large government fine such as the $130 million one of a few years ago. It would be customer friendly to send msgs to your life insurance customers to advise them about the loan glitch and to reassure them there is no delay in payments of death benefits. You should also consider suspending interest charges on life insurance loans until you fix your computer. Surely you do not intend to earn millions of extra $ because of your own computer problem!
Get USAA Mobile from App Store
What is your opinion about USAA Mobile
Bitcoin
Ethereum
MetaMask (ETH)
Xrp
Polkadot
Binance coin
Stellar
Dogecoin
Tron
Elrond
Donate Bitcoin to this address
Scan the QR code or copy the address below into your wallet to send some Bitcoin
Donate Ethereum to this address
Scan the QR code or copy the address below into your wallet to send some Ethereum
Donate Xrp to this address
Scan the QR code or copy the address below into your wallet to send some Xrp
Donate Polkadot to this address
Scan the QR code or copy the address below into your wallet to send some Polkadot
Donate Binance coin to this address
Scan the QR code or copy the address below into your wallet to send some Binance coin
Donate Stellar to this address
Scan the QR code or copy the address below into your wallet to send some Stellar
Donate Dogecoin to this address
Scan the QR code or copy the address below into your wallet to send some Dogecoin
Donate Tron to this address
Scan the QR code or copy the address below into your wallet to send some Tron
Donate Elrond to this address
Scan the QR code or copy the address below into your wallet to send some Elrond