Trivia Crack 2 game by Etermax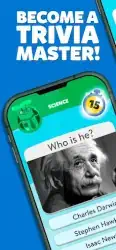 Game Description :
Sharpen your mind with Trivia Crack 2, the brain game now FULL OF TOPICS!
Test your knowledge on your favorite TV shows, movies, books, artists and more! And the brain test continues: answer fun general questions in classic categories: Art, Science, History, Entertainment, Sport and Geography. Ready to become a trivia star?
Challenge your friends and family to a trivia competition and prove how smart you are! What are you waiting for? Show off your smarts in this brain test.
Game Features :
COMPETE IN REAL TIME!
Mystery Doors will blow your mind! Can you answer challenging questions correctly and be the last player standing? Lots of CROWNS await!
Tower Duel is full of adrenaline! Snatch categories from your opponent and stack them! Whoever builds the highest tower wins… will that be you? Let's go!
PLAY AND PICK A PRIZE. How lucky are you?
Time to get a lot of prizes with this brain game! Unlock hidden rewards and take all the accumulated prizes. Be careful! If you pick the wrong token you'll lose everything you got.
RANK AND FAST. Prove you are a trivia star and reach the top!
Collect as many crowns as you can during the week to achieve the best possible position on theranking. The league will offer incredible prizes for the top 20 players!
THEMATIC WHEELS
Are you a true collector? Get them all! All you have to do is play to get chests. They will provide you with different pieces you'll need to unlock new wheels. And best of all: you can set them as an avatar frame to show off to your fellow players!
JOIN A TEAM AND OUTSMART OTHER PLAYERS!
You are not alone during this brain test. Teams can have up to 50 members. You can create your own too! What's the point? Send or request lives to other members and play Tower Duel together against other teams!
… MORE FEATURES AND FUN GAME MODES!
Tic-Tac-5: answer questions in classic mode and get crowns and gold bars.
Rescue Rush: show you are a trivia star who can save our game's characters!
Pirate Battle: answer questions, bring down your opponent's ships and win gold bars.
Lucky Spin: get different prizes randomly such as PowerUps, lives, gold bars or a chest with amazing rewards!
Missions: complete them and claim your special prizes.
Collections: obtain crowns in the different game modes and win characters to collect.
Chat: communicate with other members of the same team through the chat.
Trivia Pass: do you want better prizes? You can get the VIP Membership and acquire the Trivia Pass.
What are you waiting for? Download the game now and become the smartest in town!
For more information, visit www.triviacrack2.com
Have questions? Find help at triviacrack2.help.etermax.com or write to us triviacrack2.help[at]etermax.com
Join our community!
Facebook: www.facebook.com/triviacrack
Twitter: @triviacrack
Instagram: instagram.com/triviacrack
YouTube: www.youtube.com/channel/UC-TLaR04Abrd7jIoN9k0Fzw
Terms of Service: etermax.com/terms
Additional Information :
Size 487.6 MB
Requires iOS 11 or later.
User Reviews :
Frustrated.
So at first when I downloaded this app I was super excited and really liked it. But as I continue to try to do the daily challenges I become more and more frustrated. There are questions that have completely wrong answers but you can't flag them because as soon as you get it wrong (by selecting the CORRECT answer), there is a pop up and if you just close it out it gives you your percentage of "right" answers. It doesn't let you actually flag the question as having an incorrect answer. On the same side of the coin there are questions in the daily challenges that have answers that are so long, wordy, and grammatically incorrect that you just have to pick one before time runs out not knowing if you picked the right answer. Again just frustrating, I understand they are supposed to be rapid fire questions, but there should still be away to "report questions" like you can in the first one so more people don't get frustrated and just delete the app and spread the word that a trivia game has incorrect answers and no way for players to try and fix them.
Too many ads
I love the actual content of the game. The different game modes are fun and there are a lot of them to choose from. The questions are usually good. However, the game suffers from having WAY too many ads. I completely understand that the developers want to monetize the game through ads, that's completely fine. But this game is completely jam packed with them! Alongside banners, there are ads every single time you exit a portion of the game (when you get a question wrong and lose your turn, when you win a game, when you exit back to the main menu). This gets old pretty quickly, especially when the ads are 30 seconds long and usually not skippable. Sure, you can swipe away from the app, but that gets rid of any positive progress you made (winning, getting questions right, etc) and saves any negative progress you made (losing, getting a question wrong). I got extremely fed up with this when i started getting ads for no reason every 5 questions in the middle of a game.

I get the need to monetize the game. But I think the developers should either reduce the number of ads or at least offer a payment option to get rid of them (like was present in trivia crack 1)- a small payment rather than an expensive subscription. The excess ads cover up what is a really good game underneath.
Get Trivia Crack 2 from App Store
What is your opinion about Trivia Crack 2
Bitcoin
Ethereum
MetaMask (ETH)
Xrp
Polkadot
Binance coin
Stellar
Dogecoin
Tron
Elrond
Donate Bitcoin to this address
Scan the QR code or copy the address below into your wallet to send some Bitcoin
Donate Ethereum to this address
Scan the QR code or copy the address below into your wallet to send some Ethereum
Donate Xrp to this address
Scan the QR code or copy the address below into your wallet to send some Xrp
Donate Polkadot to this address
Scan the QR code or copy the address below into your wallet to send some Polkadot
Donate Binance coin to this address
Scan the QR code or copy the address below into your wallet to send some Binance coin
Donate Stellar to this address
Scan the QR code or copy the address below into your wallet to send some Stellar
Donate Dogecoin to this address
Scan the QR code or copy the address below into your wallet to send some Dogecoin
Donate Tron to this address
Scan the QR code or copy the address below into your wallet to send some Tron
Donate Elrond to this address
Scan the QR code or copy the address below into your wallet to send some Elrond