Epoch Times – Live & Breaking app by Epoch Usa Inc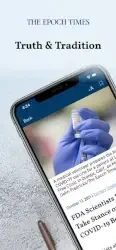 App Description :
The Epoch Times, as a thoughtful alternative to your daily news stream, puts the most recent authentic news in your hands. Using The Epoch Times app, you can stay up to date on world events wherever you are, even while driving or waiting.
The Epoch Times app serves you with trusted news wherever you are. Get instant access to award-winning journalism, breaking, political, US, China, and world news, as well as stories on arts and culture, and more.
With The Epoch Times app you will have access to all of our digital content, including in-depth coverage of China, reporting on US politics. You will also get access to our premium shows such as American Thoughts Leaders, Crossroads, China in Focus, China Insider, as well as commentaries and documentaries on issues that matter.
Download The Epoch Times app to experience our digital publishing platform.
App Features :
Top Section: See all important events and hot topics in the US, China, and around the world at a glance.
Breaking News alerts: Get the latest news in a timely manner as they occur.
Livestream Notification: Watch live broadcasts of major events in the US and around the world.
Video Section: Enjoy exclusive, original series, inspiring videos as well as documentaries.
Opinion: Read political, social, and personal commentaries.
Save articles into your personalized reading list.
Easily share stories on all major social media platforms such as Twitter and Facebook as well as via email or text message.
Adjust font size in articles.
Dark mode.
Terms of service: www.theepochtimes.com/terms-of-service
Privacy policy: www.theepochtimes.com/privacy-notice
TECHNICAL HELP AND ASSISTANCE:
We are working hard to ensure our readers have an excellent experience using our app. If you have any questions about how the app works, want to provide us with insightful feedback, or experience any technical difficulties such as crashes, please contact us at in-app.feedback[at]epochtimes.com. This way our developers can identify and resolve issues in a timely manner.
Additional Information :
Age Rating 4+
Size 188.7 MB
Requires iOS 11.0 or later.
User Reviews :
Truth reporting
Picked up my subscription around the 2020 election and have monitored Epoch's articles and investigative reports over the span of 3 years. What I have found is that Epoch does honest and fair reporting. When MSM and Social Media were driving narratives put out by one party and branding those that differed as "conspiracy theorists" or "Misinformation,I found that Epoch was in search of the truth, and in the long run they were found to be correct. I will need EVER believe the MSM or those who are swayed by Social Media (who we now know) were working in conjunction with corrupt government officials. When everyone else is getting people upset over how they interpreted a videos, Epoch dig deeper, did actual investigative reporting, and uncovered what the truth was. Other outlets provided what they accuse the Epoch Times of, misinformation and conspiracy theories (ie: Nick Sandman, Rittenhouse, Trump Russia Collusion, COVID, Hunter Biden Laptop, etc…). Too many to count. I encourage others to subscribe and read/listen to what the have to say. Keep it for a year or two, because that is sometimes how long it takes courts and investigations to complete their official investigations, and see if you are not convinced. I will always be watchful, but Epoch has never let me down.
One of the Few Media Outlets still Telling the Truth
In my mid fifties now, and I've been reading newspapers for the past forty years. The local edition got so biased over time that I couldn't get through it without getting angry over the way everything was skewed to the left. I couldn't stand it anymore and cancelled my subscription. That was a number of years ago, and I started looking for online platforms. I found a few, but none had what I was really looking for in a newspaper. I bit the bullet and paid for a subscription. At $10 a month for a weekly copy and daily news I couldn't be happier about it. Because I was so impressed I gave a copy to a friend and he said he read it cover to cover. You just cannot find the articles that are in the Epoch Times anywhere else. The other day I was reading the Epoch Times online and noticed that so many articles were dedicated to finding the truth about the election and the fraud that went on. Then for kicks I looked at MSN, and there was not a word about the election. It was like the left and right in this country are living in alternate universes. All I can say is it is like reading a newspaper from 30 years ago when reporters were solely interested in getting to the truth wherever it took them.
Reintitutibg age old habit of reading the news
After a decade of no social media accounts or use and a visceral responses to all network television, ALL, I found an outlet of truth and news and world happening and unbiased straightforward reporting from which I can discern my own thoughts and beliefs as well as be inspired to research more if I am so intrigued. Our family reads the newspaper again! My three teenage kids are getting better news and more global truth in one issue of Epoch Times than in years of public school history and social studies (JOKES). This news outlet is honest and I love how so few people they interview know what the Epoch Times is so their responses appear more genuine and open than when the respondent has a preconceived notion about the media reporter. The breadth of news is wide reaching and personal. When was the last time a newspaper actually cared about the nuclear family and issues we face and how important we are to preserve not only a culture but liberty long fought for? The Epoch Times has valuable reporting and is not pushing any objective than reporting the news to people and perhaps trying to encourage good people to keep being good people and to believe there is still good.
Get Epoch Times from App Store
What is your opinion about Epoch Times
Bitcoin
Ethereum
MetaMask (ETH)
Xrp
Polkadot
Binance coin
Stellar
Dogecoin
Tron
Elrond
Donate Bitcoin to this address
Scan the QR code or copy the address below into your wallet to send some Bitcoin
Donate Ethereum to this address
Scan the QR code or copy the address below into your wallet to send some Ethereum
Donate Xrp to this address
Scan the QR code or copy the address below into your wallet to send some Xrp
Donate Polkadot to this address
Scan the QR code or copy the address below into your wallet to send some Polkadot
Donate Binance coin to this address
Scan the QR code or copy the address below into your wallet to send some Binance coin
Donate Stellar to this address
Scan the QR code or copy the address below into your wallet to send some Stellar
Donate Dogecoin to this address
Scan the QR code or copy the address below into your wallet to send some Dogecoin
Donate Tron to this address
Scan the QR code or copy the address below into your wallet to send some Tron
Donate Elrond to this address
Scan the QR code or copy the address below into your wallet to send some Elrond