(App) Bakugan Champion Brawler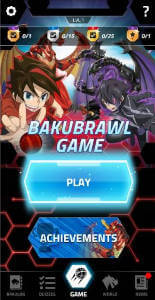 Game Description :
Welcome to the one and only official Bakugan Fan Hub app, your primary destination for all things BAKUGAN! Stay up to date with the latest news and information about upcoming toy releases, the TV show, videos & events. Be the first to know about upcoming promotions and tournaments. Build your team and ascend the ranks in the Bakubrawl mini game! Earn achievements and test your knowledge of the Bakugan universe. Join us on a journey and experience the excitement of the all-new Bakugan!
Game Features :
The Bakulog: Collection Tracker of your favorite Bakugan plus stats, including 250+ Bakugan!!
Bakubrawl Mini Game: Mini-game with a whole lot of Baku-fun, now featuring Armored Alliance Baku-Gear!
Bakugan News: Updates regularly, keep coming back!
TV Show section
Quiz Section: Impress the community with your Baku-knowledge
Achievements: Rewards for your allegiance
Visit our official site at: www.bakugan.com
ADVICE TO PARENTS
This is a FREE to Play Game. NO Additional in game purchases are required.
SUPPORTED DEVICES
This app supports these devices running iOS 10 and above:
iPhone 5S and above
iPad 4 and above
iPad Mini 2 and above
iPod Touch 6th Generation
*Updates may affect compatibility
Additional Information :
Size 331.4 MB
Requires iOS 10.0 or later.
User Reviews :
Awesome app with an even better game!
This is a fantastic app if you need to get a quick fix for Bakugan. It's got news, info on the characters in the new Battle Planet reboot, and a lot of cool stuff, but where it REALLY shines is the Bakubrawl game.

The Bakubrawl game is exactly what I was hoping for: a straight game of Bakugan with no pay-to-win garbage, everything is unlocked by just playing the game. And it's a pretty addictive one, too. It'd be cool to see new modes based on the Simple and Hardcore rulesets of the TCG once that fully releases, but still keep another mode that's just Bakubrawl as it is now (maybe call it "Quickburst" later on?).

My only criticism is to not lock the entirety of the app behind the need for an internet connection, mostly since Bakubrawl doesn't have any multiplayer right now, and you don't really need internet for a simple quiz. Maybe just load the app like normal, and when you don't have an internet connection you can't get to the news tab, but are still able to play the games in singleplayer? That's just my suggestion. All in all, though, this is an awesome app.
Incredible app, but one problem I want fixed.
I think this app is amazing, I appreciate the effort that went into this app! However there is this one thing that's been bothering me ever since I first got this app. In the bakulog, say, dragonoid for example. When I get to him from scrolling down in the bakulog, I see ALL the different factions and core and ultra forms of him! It is a pain looking through all of them trying to find the one I need to see. Just put dragonoid as one thing in the bakulog, and people can click him, and THEN select the kind of dragonoid they we're looking for from there. Don't make them scroll the bakulog, trying to find an ultra ventus dragonoid, just put dragonoid as one thing in the log, and make people select from there. I hope this made sense, and I really hope you see this at some point! Keep up the incredible work! Thank you! (P. S., go easy with the bakugear in battle planet, adding all those huge plastic pieces onto the battlefield is what made battle brawlers die. Keep it simple.)
A major Bug
So I've really enjoyed the app when it came out and I love the new reboot. Tho with this latest update I haven't been able to play it due to the download error. It seems the app will only go to 65% but then stop and pop up an error message. It's gotten worse so now when I click download it just turns black into a black screen. I've deleted it and redownloaded it to see if that would fix the issue but it did not.

Now that I'm done with the Bug issues I was wondering if we could make our own profiles that way if you can have a lot more control over it. Say like you get a new phone well then you're going to have to restart form the very beginning. Also battling other people in the app would be great. I got my sister to get the app too and she loves it.

Now that I got
It's great! Only missing a few things!
Basically, to keep this short, a pros and cons list. I love this app, and would love to keep using it

Pros:

Can keep track of the Bakugan you have and the Bakugan you want

Detailed information about the show and the characters

A play mode in the app so you can play the game without having to get the toys right away

News + media to see the latest developments and watch the new show when it comes out

Cons:

What is all this tied to? Just my Apple ID? What if I have other people on my account who want to use the app their way? There needs to be a profile that I can link social media accounts to, and while we're at it, let's add a create your own avatar to have with it!

The game only has the dumbed down version. You roll, you land, you open up and hope RNGesus blessed you. We need the mode with ability cards

Also, I'm reeeeally hoping there will be daily rewards or something, or grinding XP will prove tiresome and not worth it

Still overall a great app and I can't wait to see what else gets added to it. I was feeling really bad about the reboot but this app put my faith back. Let's hope it stays
Get Bakugan Champion Brawler from App Store
What is your opinion about Bakugan Champion Brawler
Bitcoin
Ethereum
MetaMask (ETH)
Xrp
Polkadot
Binance coin
Stellar
Dogecoin
Tron
Elrond
Donate Bitcoin to this address
Scan the QR code or copy the address below into your wallet to send some Bitcoin
Donate Ethereum to this address
Scan the QR code or copy the address below into your wallet to send some Ethereum
Donate Xrp to this address
Scan the QR code or copy the address below into your wallet to send some Xrp
Donate Polkadot to this address
Scan the QR code or copy the address below into your wallet to send some Polkadot
Donate Binance coin to this address
Scan the QR code or copy the address below into your wallet to send some Binance coin
Donate Stellar to this address
Scan the QR code or copy the address below into your wallet to send some Stellar
Donate Dogecoin to this address
Scan the QR code or copy the address below into your wallet to send some Dogecoin
Donate Tron to this address
Scan the QR code or copy the address below into your wallet to send some Tron
Donate Elrond to this address
Scan the QR code or copy the address below into your wallet to send some Elrond