Thief Puzzle – to pass a level game by TapNation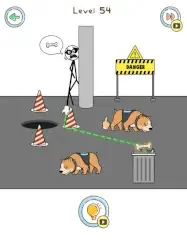 Game Description :
Thief Puzzle is a fun and addictive hyper casual brain test puzzle game. You have to solve challenging puzzles and get your hands on valuable items. Just like brain puzzle games, solve the riddles and steal the treasures you want. A smile will appear on your face every time you pass a challenging puzzle level. Each level is a different challenge, your task is to steal the item you want just like in sneak thief games.
Various puzzles, Trivia games and difficult tests will challenge your mind games. Train your logic, memory, intelligence, and use problem solving skills. Think you're smart enough to solve all these tricky puzzles. Steal the most expensive jewels and avoid getting caught. Train to become a master thief and get ready to steal the valuables you want.
As you progress through the puzzle game, the levels become more and more challenging and it gets harder to steal. Simple and easy to play swipe controls with addictive gameplay. Steal valuable items like gold, diamonds, jewels, money and valuables to win the level and become a master thief.
Game Features :
Easy and simple but humorous gameplay
Fun for All Ages
Enjoy this fun-filled brain test.
Endless fun and brain test challenges.
Great exercise for the brain puzzle game.
Simple and highly addictive gameplay.
Funny sounds and witty game effects.
Additional Information :
Age Rating 12+
Size 519.4 MB
Requires iOS 12.5 or later.
User Reviews :
It's good but too many ads
You should try it out I don't know if it's for everyone but it's a pretty good game it doesn't take up a lot of storage you should definitely download it and try it out for yourself not trying to force you to download it just I think you should and it's a four stars because there's way too many ads it's like ads every second it's too many ads still a pretty good game at the beginning it gets it's pretty easy you still have control when you first download it do you have a lot of fun there's just the ads are not the best in the ads repeat the same exact ads not just one ad the same exact ad and it's usually fill the fridge for me but I've got only one other ad and it was for coffee stack you should download coffee Stack to but I think there's way too many ads but it's still a pretty good game to play hope this helped
Download now!
OMG this game is so fun. You should really download this game it's like the funnest game ever! My sister wanted this game and I got it so I'm really happy. You literally get to steal stuff and it's just really fun because I don't know it's just really fun! So today I got like five new games and this is the last one I got and it is really fun and the reason I give it a five star is there's really no ads and there's a symbol where it says you don't need to have any ads and I thought that it wouldn't work and it actually did it so I really want you guys to download this. I like the The level where you have to try to take their basket of like food or something! And oh yeah let me tell you the rest the reason why I want I am giving it a five star so I already said I like how there's no ad but I really like the game umm… yeah so I got super slime simulator I got a Rope Rescue I got school simulator and I got this game that I've been talking about so yeah that's really all I have to say about it and I hope you have fun playing this game and I hope you download it I hope you give it a four or five star because I just really love this game and yeah. I also love it because my sister is probably gonna get it and we can play together it'll be really fun because we could probably do a race on who can get to the highest level in one day so that's really all I have to say about this game and yeah bye peace out! im a girl and this was written on Friday February 18
Love it!
This is one of the funnest games I've played, sure, it was a little tricky at times, but I got past it. And real quick, to those who think this game is teaching kids that "stealing's okay" im not trying to attack any of you or anything, your allowed to have your opinions, but this is just a harmless game that's supposed to be fun, i hardly think that the developer would purposely make a game to teach kids that stealings ok, so, again your allowed to have your opinions, but, you guys should think about it before saying its teaching kids that stealings ok, it's no reason to freak out at the developer. Again, this is just a harmless, fun game that's meant to entertain, and I really don't think that kids would think it teaches them that stealings ok, if parents saw their kids playing it and thought it wasn't ok, they can take it away, but I don't think the parents would freak out over a harmless game, and if they thought it would be a little problem, then they can just have a talk with the kids, it's that simple. Wow, I said this would be quick, but it's anything but quick lol. Well, I definitely recommend downloading this game,
Stay safe!!!
Good, but I really want to make some suggestions
Make more dimension can you please make it harder and make sure you know that someone's played this before so that they don't need a tutorial on everything that's really annoying and I just want to say can you make some more cute faces and cute animals? Oh and also, can you make a mold where you can be an animal because that would be pretty cool and it might sound like a totally different game but you're trying to steal from other animals to survive and you can choose your animals so you're just not some sort of cat or dog what is your parrot person that would be just annoying so this is just my first time reading. Is it review I didn't even know I could do this, so could you please take my ideas you don't have to make everything like dimension or animals the animal thing but I would just really love it because I have it so please please please I hope anyone who gets this loves it because I do
Get Thief Puzzle from App Store
What is your opinion about Thief Puzzle
Bitcoin
Ethereum
MetaMask (ETH)
Xrp
Polkadot
Binance coin
Stellar
Dogecoin
Tron
Elrond
Donate Bitcoin to this address
Scan the QR code or copy the address below into your wallet to send some Bitcoin
Donate Ethereum to this address
Scan the QR code or copy the address below into your wallet to send some Ethereum
Donate Xrp to this address
Scan the QR code or copy the address below into your wallet to send some Xrp
Donate Polkadot to this address
Scan the QR code or copy the address below into your wallet to send some Polkadot
Donate Binance coin to this address
Scan the QR code or copy the address below into your wallet to send some Binance coin
Donate Stellar to this address
Scan the QR code or copy the address below into your wallet to send some Stellar
Donate Dogecoin to this address
Scan the QR code or copy the address below into your wallet to send some Dogecoin
Donate Tron to this address
Scan the QR code or copy the address below into your wallet to send some Tron
Donate Elrond to this address
Scan the QR code or copy the address below into your wallet to send some Elrond