MyQuest for Patients app by Quest Diagnostics, Inc.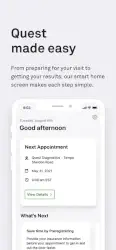 App Description :
Take control of your health.
App Features :
With the MyQuest app from Quest Diagnostics, all your lab results and appointments are at your fingertips – so you have the information you need to stay healthy:
View your lab results securely and quickly
Find nearby Quest locations that are convenient for you
Schedule and manage your appointments
Manage the health of your loved ones with MyCircle
Browse and buy your own tests with QuestDirect
Share your health information with your healthcare providers
Integrate your results with Apple Health
Did you know that people are more likely to know their WiFi password than important health information, such as their blood type, cholesterol, and blood sugar levels? Take control of your health with the MyQuest app, and view your lab results, manage appointments, and more, all in one place.
Download MyQuest today to get access to an all-new way to manage your healthy journey with Quest.
Additional Information :
Age Rating 12+
Size 28.7 MB
Requires iOS 13.0 or later.
User Reviews :
Better than Mayo Clinic portal!
QUEST has does an excellent job reporting lab results, with useful information about the meaning of the values. I just noticed a somewhat hidden feature: tap on any value and you'll get a graph of all your history at Quest — this helps you to detect a trend, if your lab tests have been done by Quest. A trend are much more meaningful than a simple "H" or "L" (high or low). Doctors usually scan your most recent lab report, only looking for an H or L — few doctors will also study your last three or four lab reports — they will miss a trend. The AMA, the CDC, the NIH — everyone is now recognizing that YOU are better off when *participating* in your healthcare. So help your doctor, by looking to see if any of your lab values show a trend (for better or for worse) instead of waiting until a value is outside the reference range. Btw, I'm director of a nonprofit medical research institute — and am writing this review to congratulate Quest and to help you help yourself by looking for trends.
It only takes one person to make the experience uncomfortable
I have always have no problem at my every 12 weeks appointment but in this case it was a late doctor appointment and I needed to get my blood drawn but it took this one rude nurse to make my experience unhappy and a bit angry when she told me after a few hours being here as a walk in. This time it was different I know I was a walk in but I needed to have my hemoglobin checked because if it was even lower I would have to go to the hospital and get a couple of pints of blood. I wanted all day that they were open to find out because of them being behind they where behind schedule Finally at 20 minutes to 3 one of the other nurses explained to me that they need that extra 20 minutes to finish paperwork to get blood samples out. That I understood but the nurse that was so rude and kept saying that they are not taking any walk ins. So she could have explained this and what they had to do then I wouldn't have spent about 6 hours there. But I didn't have to spend my entire day there without eating and just sips of water. I don't know her name but she has red hair and freckles and fair skin, so I would like to know her name. They have been always good with no complaints and that is why this is my favorite quest in Ellenton florida
Quest Website Review
I like the fact that I can make appointments online. I often need to make several appointments (sometimes daily or weekly). I can't find an easy way to push one button and see a list of all the appointments I have lined up. Or push one button from the home page to make appointments. I expand the 'Appointments' section and expect to see a list there or an option to create one there. I normally go to a location page, select the lab I go to and then get a button to schedule an appointment. One comment about the 'appointment only' policy. For those of us that have blood drawn frequently but not on a set schedule, the Dr sees the results after a blood draw, changes meds according to the results and then wants a blood draw in 2 days or a week but it is not 'Stat' and we can't get an appointment on that short of a notice. How should we (the patient) handle that? In addition to the comments previously input (above), there is a step that is easy to miss when scheduling an appt. The user fills in all the info and gets a 'Review' screen. It's easy to think you're done and exit the app. User must scroll down to click 'schedule appointment'. On the other hand, frequent fliers only make that mistake once or twice.
Get MyQuest from App Store
What is your opinion about MyQuest
Bitcoin
Ethereum
MetaMask (ETH)
Xrp
Polkadot
Binance coin
Stellar
Dogecoin
Tron
Elrond
Donate Bitcoin to this address
Scan the QR code or copy the address below into your wallet to send some Bitcoin
Donate Ethereum to this address
Scan the QR code or copy the address below into your wallet to send some Ethereum
Donate Xrp to this address
Scan the QR code or copy the address below into your wallet to send some Xrp
Donate Polkadot to this address
Scan the QR code or copy the address below into your wallet to send some Polkadot
Donate Binance coin to this address
Scan the QR code or copy the address below into your wallet to send some Binance coin
Donate Stellar to this address
Scan the QR code or copy the address below into your wallet to send some Stellar
Donate Dogecoin to this address
Scan the QR code or copy the address below into your wallet to send some Dogecoin
Donate Tron to this address
Scan the QR code or copy the address below into your wallet to send some Tron
Donate Elrond to this address
Scan the QR code or copy the address below into your wallet to send some Elrond