(App) Themify – Widget & Icon Themes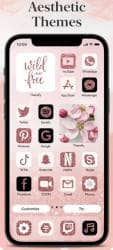 App Description :
Aesthetic themes for iPhone: widgets, icons, still and live wallpapers!
СOMPLETE MAKEOVER of your device! Easy setup and regular updates!
Themify gives you a wide range of tools to express yourself. With our app, you can enjoy state-of-the-art content and unleash your creativity.
App Features :
3-in-1 Themes
Want to marry convenience and aesthetics? Themify has your back. Perfectly matched iOS 14 app icons, widgets, and wallpapers will make your iPhone look neat and stylish. Explore an abundance of themes to choose the one you like most and set it up on your Home Screen with a few taps.
Theme Customizer
If you'd like to add a personal touch to your Home Screen theme, use our Theme Customizer. Change everything you want and create a truly one-of-a kind design for your device.
Vast Widget Collection
Time, clock, calendar, quotes, weather, countdown, mixed—pick any widget and get the info you need right from your Home Screen. You can also create your own unique widget by adding photos and changing backgrounds, fonts, and colors.
10,000+ Icons
For those who are bored of bog-standard app icons, we have an array of custom icon packs. The best part is that you can install the whole pack at once! Just follow the simple and clear instructions.
Still And Live Wallpapers
Anime, Animals, Urban, Nature, and more—we have wallpapers for every taste. Liven up your screen with awesome live wallpapers. And if you love classics, try our still wallpapers and see for yourself how irresistible they are.
UNLIMITED ACCESS MEMBERSHIP SUBSCRIPTION
You can subscribe for unlimited access to all features within Themify.
Subscriptions are billed weekly, monthly, quarterly or annually at the rate selected depending on the subscription plan.
All personal data is protected in accordance with the Terms of Use and Privacy Policy:
aiby.mobi/widget/terms/
aiby.mobi/widget/privacy/
Additional Information :
Size 233.5 MB
Requires iOS 14.0 or later.
User Reviews :
Great! People are Stupid
So I have been looking in the Reviews and people are saying you can't use it without paying? THAT IS NOT TRUE! When you first open the app, YES is says you can get premium but OPEN YOUR EYES there is an X in the upper left corner! Anyway, Amazing App! People are saying that you can't get any good ones without paying, But there are several AMAZING free ones if you ACTUALLY bother to scroll for one.

Oh and the creator should be VERY proud as it actually connects to the settings on your device and as long as you only remove the normal apps from your Home Screen and won't delete them, you can access all the apps! I love having an Aesthetic background and this really took it to a whole new level where I can change what my apps look like! I HIGHLY recommend unless you depend on the apps having different colors so you can find them quickly, but even THEN there are several options that are very colorful! Anyways, NOT A SCAM and don't listen to the Reviews that say you gotta Pay, THERES AN X IN THE CORNER WHERE YOU CAN ACCESS THEM! Sorry if this Review is long, but I definitely give 5/5 also, It's fun just looking through the options
Seriously
First of all you have to pay for it like why why do we have to pay for it like it's just to decorate your apps or whatever I don't get it but I mean it's the person that made the app decision and I totally respect it but I rate this app a two but if you want to like decorate your apps probably try widgetSmith it's a really good App decorating app so I recommend that not being rude to this app but I really do recommend widget Smith so yeah that's basically why I write this a 2 i'm sorry that I don't like your app but a little advice if you're going to like get an app then make sure to look at the reviews because if there's a bunch of bad reviews but no good ones then don't get that OK so that's my opinion I'd totally respect it if you have a different opinion so yeah I just I don't not like your app I don't like it but it would be nicer if we didn't have to pay for it because kids want to decorate their phones and iPads and they don't wanna pay for it and they might not have the money to pay for it so yeah but that's just my opinion I totally respect it if you have a different one as I said and I'm really sorry that I don't like your app but yeah that's my opinion and have a great day and I don't recommend this app like seriously like the title says it all by that was my opinion hope you look at reviews on all the apps that you want to get by thanks for looking at my review I appreciate it bye
Get Themify from App Store
What is your opinion about Themify
Bitcoin
Ethereum
MetaMask (ETH)
Xrp
Polkadot
Binance coin
Stellar
Dogecoin
Tron
Elrond
Donate Bitcoin to this address
Scan the QR code or copy the address below into your wallet to send some Bitcoin
Donate Ethereum to this address
Scan the QR code or copy the address below into your wallet to send some Ethereum
Donate Xrp to this address
Scan the QR code or copy the address below into your wallet to send some Xrp
Donate Polkadot to this address
Scan the QR code or copy the address below into your wallet to send some Polkadot
Donate Binance coin to this address
Scan the QR code or copy the address below into your wallet to send some Binance coin
Donate Stellar to this address
Scan the QR code or copy the address below into your wallet to send some Stellar
Donate Dogecoin to this address
Scan the QR code or copy the address below into your wallet to send some Dogecoin
Donate Tron to this address
Scan the QR code or copy the address below into your wallet to send some Tron
Donate Elrond to this address
Scan the QR code or copy the address below into your wallet to send some Elrond