(App) theCHIVE
 iphone apps info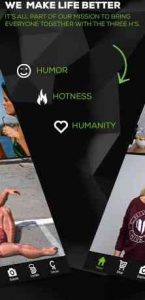 App Description :
theCHIVE App is the most-downloaded humor app in iOS history. The content variety is a unique mix of Humor, Hotness, and Humanity. No long-winded articles, just your daily dose of the most amusing photos and videos the internet has to offer.
App Features :
Content curated to be a happy escape
No politics or snarky humor
A little cleavage never hurt anybody
No news! We're here to entertain not inform
Additional Information :
Size 79.8 MB
Requires iOS 13.0 or later.
Compatible with iPhone, iPad, and iPod touch.
User Reviews :
As a long time Chiver, I have bought hundreds of dollars worth of Chive merchandise, donated plenty to their charities, enjoying their website for many years, and was thrilled when the first app appeared. I have always enjoyed the content… funny and uplifting threads, cat Saturday (where'd that go?), cute girls, interesting knowledge, comical gifs, interesting talent, and a general collection of everything you want to see online without all the crap and politics. Changes and updates to the app made some versions tough, but the Chive always redeemed themselves with fixes and better content. Until now. Every update is greeted with more ads, more merchandising, and so many more crashes… all with less true Chive content. And their only solution is to sell me an overpriced subscription that includes a coin, fewer ads, and random discounts from their store… golly gee, mister, wow that's awesome…. I'm quite sad this will be the last month I'll suffer through the frustration, as I feel the Chive served me greatly through the years and has ultimately let me down. As I delete the app, I can't help but wonder if those two brothers even care anymore.
John…Mac…and the rest of the guys and ladies that power the Chive machine, you have failed us. I personally chose the Chive back in 2013 so that I could have a positive perspective on the goings on around the world. I was turned on to you guys by a fellow medic and it was an immediate love. I have seen your move to Austin and was filled with the warm feels when I see what is being done for my fellow vets and also those who are in need. But you have FAILED US. You stood tall when there needed to be a voice for net neutrality as well as the blue grinch known as Facebook…BUT YOU HAVE FAILED US. We, the Chive Nation, use your app as a get away or as a substitute for social media, we come to you to get away from the constant bombardment from ads and the mainstream chase of the almighty dollar. With the app in its current iteration, I can't even sit for longer than two minutes without have to cut off intrusive ads. There has to be a better way. PLEEEEASE for the love of all that is holy…cut it out. Get back to what made you the Chris Farley's of this world, and quit using us, the Chivers and Chivettes as your ad guinea pigs.
Please don't get me wrong, because I love the Chive, the content they provide, what they stand for, and for all they do in providing to people and communities in need. However, the app itself does not work the best for me. It's constantly being bogged down or freezes completely to the point where I often need to restart it, or just can't use it period. Also, "pop-up ads" constantly cause the App Store to open on my phone, which I can not get to stop myself but rather have to let it run its course and hopefully be able to run the Chive app hours later. I'm not sure if it's an issue with my phone (iPhone 6) or the ads they allow to run in their app. But, seeing as how I have other apps that do not have this issue I don't think it's my phone. For the reasons above though, I've decided to delete the app from my phone and plan on just viewing their web page on my down time. It's too frustrating to be in an app where ads work phenomenally, but you can barely view the actual content the app was intended for. I mean this as constructive criticism because, as I said, I love the Chive. I hope that this review gets to them and they consider it wholeheartedly because I'm going to miss it on my phone. But, I'll be enjoying their posts on Instagram and on their website from here on out.
Get theCHIVE form App Store
What is your opinion about theCHIVE
Get more free apps & games daily
Subscribe to our mailing list and get free apps & games daily to your email inbox.
Thank you for subscribing.
Something went wrong.
Bitcoin
Ethereum
MetaMask
Xrp
Polkadot
Binance coin
Stellar
Dogecoin
Tron
Elrond
Donate Bitcoin to this address
Scan the QR code or copy the address below into your wallet to send some Bitcoin
Donate Ethereum to this address
Scan the QR code or copy the address below into your wallet to send some Ethereum
Donate Xrp to this address
Scan the QR code or copy the address below into your wallet to send some Xrp
Donate Polkadot to this address
Scan the QR code or copy the address below into your wallet to send some Polkadot
Donate Binance coin to this address
Scan the QR code or copy the address below into your wallet to send some Binance coin
Donate Stellar to this address
Scan the QR code or copy the address below into your wallet to send some Stellar
Donate Dogecoin to this address
Scan the QR code or copy the address below into your wallet to send some Dogecoin
Donate Tron to this address
Scan the QR code or copy the address below into your wallet to send some Tron
Donate Elrond to this address
Scan the QR code or copy the address below into your wallet to send some Elrond