(Game) The Battle of Polytopia
 iphone games download free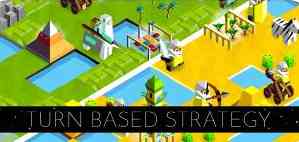 Game Description :
Pocket Gamer – Mobile game of the year
The Battle of Polytopia is an award winning and unique turn based strategy game about controlling the map, fighting enemy tribes, discovering new lands and mastering new technologies.
You take on the role as the ruler of a tribe and attempt to build a civilization in a turn based competition with the other tribes. It can be played offline line. Perfect for traveling.
AWARDS:
IMGA award for excellence in gameplay
Gold Winner – Lovie Awards
MENTIONS:
If you ever wanted the feeling of a classic Civilization game on your iPhone, The Battle of Polytopia is a worthy contender – PCMag.com
This brightly-colored turn based strategy game is difficult to put down – Mac World
With millions of players, this game has quickly become one of the most popular civilization style games for mobile and has been acclaimed for its sleek user interface and great depth in game play.
Game Features :
Free turn based civilization strategy game.
Single & multiplayer strategy.
4x (eXplore, eXpand, eXploit, and eXterminate)
Exploration, strategy, farming, building, warfare and technology research.
Wide range of different tribes with unique nature, culture and game experience.
Auto generated maps make each game a new experience.
Allow offline game play.
Gameplay in portrait and landscape mode.
Strategy multiplayer & Pass & Play.
Leader board with top scores for the best civilization builders.
Really Cute low poly graphics.
Additional Information :
Compatible with iPhone, iPad, and iPod touch.
Requires iOS 8.0 or later.
Size 48.3 MB
User Reviews :
Hello, I like to start just by saying what a great game. This game is packed with hours of fun. I would like to make a recommendation for the third Special Tribe: The Engineers. Like in the Alien movies the engineers should be master creators. I will go over each special tab and then I will recommend some units. The hunting and fishing research tabs should enable the consumption and convert into a little amount of stars instead of xp so that you can create more units. You should be able to now farm these animals or upgrade them like the second special tribe, but no dragons. The riding tab should be a cloning tab so instead of more quality you get more quantity. Though the clone will be weaker and you can't clone a clone. The engineer tab should give you something cool and the sailing tab enables ports. You should be able to upgrade a battleship to an airship. Everything else is up to the developer(s) for the tabs. Some units I recommend are healer and builder. The healer is obvious, but the builder should be able to construct walls that act like mountains and can construct bridges to go over water. The art for the temples should be exclusive. I know it's a young idea, but I think it has potential. I understand the dev(s) might not even read this, but personally think something like this would be awesome.
Firstly, let me just say that I can't wait for the PC version of this. You can take my ten dollars for that. Anyways, back to the mobile version. It's really good, but as of now, there is a lot that could be added since really the only way to win is to take over everything and that gets repetitive after a while. A diplomacy system of some sort would really help in that arena. Second, I keep getting the Luxidoor in my game even though I haven't bought them. Another thing I don't like (I don't know if this is a bug or not) is that you can upgrade a city, choose to get a giant, and if your city is being invaded it will simply push the invading unit out of the way. It's very annoying when the AI does this constantly. Also, I think it would provide more variety for those who don't want to buy tribes if you included Kickoo in the free tribes, because it starts at the base level of the tech tree as well. Now, onto some suggestions. Perhaps a separate branch of the tech tree for diplomacy would definitely provide more depth. Another thing to add could be 'dissent' in recently taken over cities. It would impair the production and max troops of that city over time, and eventually lead to rebellion. This would make it harder to win by simply killing everything, because it would make it necessary to secure captured cities before moving on to the next. Finally, it would be nice to have an upgraded version of the Archer, maybe a Crossbowman?
Get The Battle of Polytopia from App Store
What is your opinion about The Battle of Polytopia
Get more free apps & games daily
Subscribe to our mailing list and get free apps & games daily to your email inbox.
Thank you for subscribing.
Something went wrong.
Bitcoin
Ethereum
MetaMask
Xrp
Polkadot
Binance coin
Stellar
Dogecoin
Tron
Elrond
Donate Bitcoin to this address
Scan the QR code or copy the address below into your wallet to send some Bitcoin
Donate Ethereum to this address
Scan the QR code or copy the address below into your wallet to send some Ethereum
Donate Xrp to this address
Scan the QR code or copy the address below into your wallet to send some Xrp
Donate Polkadot to this address
Scan the QR code or copy the address below into your wallet to send some Polkadot
Donate Binance coin to this address
Scan the QR code or copy the address below into your wallet to send some Binance coin
Donate Stellar to this address
Scan the QR code or copy the address below into your wallet to send some Stellar
Donate Dogecoin to this address
Scan the QR code or copy the address below into your wallet to send some Dogecoin
Donate Tron to this address
Scan the QR code or copy the address below into your wallet to send some Tron
Donate Elrond to this address
Scan the QR code or copy the address below into your wallet to send some Elrond