(App) Alarmy – Morning Alarm Clock
 iphone apps info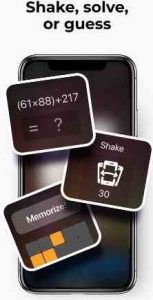 App Description :
World's Most Annoying Alarm App, featured by Cnet, Gizmodo,Huffington post etc.
#1 in the category in 80 countries, including Germany, France, and South Korea. (Appstore)
Features "Photo Mode" (Get out of bed and take a picture of registered place to turn off alarm)
Also support "Shake Mode" (To turn off alarm, shake your phone), "Math problem mode" (To turn off alarm, solve the math problem) and "Memorize Game mode"
Tired of "Shake Mode" and "Math Problem"? "Typing" and "Walking" are here. *Alarmy Premium Only*
No more late mornings for you
How to turn off the alarm ? (Picture dismiss mode)
Register a place where you want to turn off the alarm.
When alarm starts ringing, you will have to go to the registered place and take a picture.
If bathroom is the registered place, wake up and take a picture of the bathroom.
Tip
good place to register : bathroom sink, front door, shelf, desk, specific object, far from bed
bad place to register : brightness changes frequently, close to your bed, cealing, floor
If the currently registered alarm picture is too easy or too difficult to turn off, please register a new place 🙂
App Features :
Alarmy (Sleep If U Can) is the innovative solution for those who just can't seem to get up on time, even with an alarm clock. This app has been cleverly designed to force you to get out of bed. You set it up by registering a photo of an area or room in your house. Then once the alarm is set, the ONLY way to make it stop ringing is to get out of bed and go take a photo of the registered area.
The World's Most Annoying Alarm
Dubbed as "the world's most annoying alarm", Alarmy has quickly become a favorite mobile app among users. It has been featured in Gizmodo, Cnet, and at Huffington Post, and is currently Number One in its category in 70 countries, including France, Germany, and South Korea.
Users are truly enjoying this app and many have devised their own unique methods around the alarm's requirements. For instance, you could register the foot of the bed as your location, then you would only need to wake up enough to take a pic of the foot of your bed and then go right back to sleep. Of course, this totally circumvents the whole purpose of the app but has become a fun pastime for many users.
Works Better Than Other Alarm Clocks
Other creative locations that users have come up with include the ceiling of their room, a nightstand, or the floor. If you're more serious about really getting up on time, then how about registering the bathroom sink or an item in the kitchen?
Though the app has sparked lots of interest and has proven to be really entertaining, it will definitely get you out of bed. If you absolutely MUST get up on time for an important appointment or job interview, then this would be the perfect solution.
Enable All Feature with *Alarmy Premium*
Low, monthly subscription enables a variety of all Alarmy Premium features
Wake up DEFINITELY with "Typing" and "Walking"
Never late again! "Wake up Check" keeps you from snoozing again
Additional ringtone features – "Time Pressure" and "Backup Sound" – will make your morning worry-free
More and more premium updates are coming
Payment will be charged to your Apple ID account at the confirmation of purchase. The subscription automatically renews unless it is canceled at least 24 hours before the end of the current period. Your account will be charged for renewal within 24 hours prior to the end of the current period. You can manage and cancel your subscriptions by going to your App Store account settings after purchase.
Read more about our terms and conditions here:
Terms: www.websitepolicies.com/policies/view/mRJu35V7
Privacy policy: alar.my/privacy_policy_global.html
Additional Information :
Compatible with iPhone, iPad, and iPod touch.
Requires iOS 11.0 or later.
Size 196.6 MB
User Reviews :
I'm so happy I found this app! I'm not a morning person and I always hit the snooze button. I realized that I needed to make some changes first starting with getting up earlier to be able to complete tasks before the kids wake up. I tried this before but it never stuck since I loved hitting the snooze button. I found Alarmy and it changed my life. I started with the memory game just because I struggle with remembering things at times so I thought that would be helpful for me. When I tell you, no matter what time I went to sleep, once Alarmy went off and I completed my memory mission, I was wide awake and ready to start my day. I felt good about myself and started seeing a difference in my life in general. I make sure I go to be at a decent hour because I can now count on Alarmy to wake me and my brain up. I now use the math mission and it works just as well. I also set it up on my 1st grade son's tablet because he struggles with math at times. He loves it! I let him pick the tone and I hear when he wakes up counting aloud and actually completing the problems. He even asked if I could make the problems a little more difficult! Sorry for the long review but I love this app and not just for the alarm but also the sleep music option. I used to use you tube for sleep meditation music but now I don't have to. The creator of this app is a genius. Thanks so much!
I never write reviews but this app has seriously changed my life and I wanted to share my views on it. I'm the deepest sleeper you'll ever meet. My mom gets so frustrated with me for school or whenever I have to get up early. I'm ALWAYS late to everything because I can't wake up. Whenever I would set a regular iPhone alarm full blast I still wouldn't hear it in the slightest. I sleep right through it without even realizing that it's going off. This alarm is LOUD and WILL NOT STOP GOING OFF until you complete an action. I noticed that regular iPhone alarms also stop ringing after a while. This one will literally ring forever. It is so persistent. I just use the free version of the app and for me personally, it does wake me up. But if you're like me and you sleep like the dead and have the money to spend on premium, go for it. It isn't that expensive and I think it's a smart purchase. Premium will only make it better better, not worse. As far as the alarm itself I would give 5 stars. The only reason I gave 4 is because the whole app can be hard to navigate sometimes and it's a little dated. I feel like the layout of this app is very 2013 and the creators should consider a new, modern design. I don't think the appearance would have an impact on the effectiveness of the app but I definitely think more people would be inclined to download it if it had a fresh modern layout. Definitely give this app a try!
Get Alarmy from App Store
What is your opinion about Alarmy
Get more free apps & games daily
Subscribe to our mailing list and get free apps & games daily to your email inbox.
Thank you for subscribing.
Something went wrong.
Bitcoin
Ethereum
MetaMask
Xrp
Polkadot
Binance coin
Stellar
Dogecoin
Tron
Elrond
Donate Bitcoin to this address
Scan the QR code or copy the address below into your wallet to send some Bitcoin
Donate Ethereum to this address
Scan the QR code or copy the address below into your wallet to send some Ethereum
Donate Xrp to this address
Scan the QR code or copy the address below into your wallet to send some Xrp
Donate Polkadot to this address
Scan the QR code or copy the address below into your wallet to send some Polkadot
Donate Binance coin to this address
Scan the QR code or copy the address below into your wallet to send some Binance coin
Donate Stellar to this address
Scan the QR code or copy the address below into your wallet to send some Stellar
Donate Dogecoin to this address
Scan the QR code or copy the address below into your wallet to send some Dogecoin
Donate Tron to this address
Scan the QR code or copy the address below into your wallet to send some Tron
Donate Elrond to this address
Scan the QR code or copy the address below into your wallet to send some Elrond