TBR Bookshelf app by TBR – Bookshelf, LLC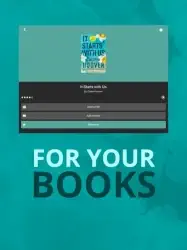 App Description :
We've officially reached 500k downloads! Thank you for all the support and happy reading 🙂
Have an everflowing TBR list? See any good book recommendations and forget about them? Introducing the TBR – Bookshelf app!
Track books that you want to read in the TBR, track books you've read, and track books you're currently reading! (No book limits)
Rate your books once you've read them and log your favorite moments with our quick and easy log rating system. Finding books is easier than ever with our public ratings so you can easily see what pov a book is in, what tropes it contains, reread rate, and 4 genre specfic ratings (Example: Romance has Spice, Fluff, Humor, and Tear ratings). Your ratings will be kept anonymous so that you can be honest with your book review.
App Features :
Within our rating system, you can log:
Your reading book format,
5 Star Rating (Half Stars Now Available!),
Up to four genre ratings,
If you'd reread or not,
If you DNF the book,
Favorite Characters,
Favorite Quotes,
Pro Quotes and Annotations (Paid Subscription Required)
and
Any additional thoughts about the book
We also have a Pro Rating Feature (Subscription Required)
Within the pro-rating screen you can log:
Book Tropes,
Book Playlists, (These are to keep track of songs, they cannot be played within the app)
POV format and amount,
TV Show and Movie Adaption Ratings,
and
4 Seasonal Ratings
Make your own custom reading goal for the year! When you finish reading a book it will automatically get placed into your yearly reading goal bookshelf.
TBR – Bookshelf is here to help you keep track of your evergrowing TBR list while making it more fun along the way!
TBR – Bookshelf is free to download and use. No online account or sign-up is needed. TBR – Bookshelf Pro includes a 7-day free trial period and then you change choose between the monthly plan ($4.99 a month), 6-month plan ($19.99 every 6 months), or the yearly plan ($29.99 a year). All the other features will remain free to use indefinitely.
A monthly, 6-month, or yearly purchase will be applied to your iTunes account at the end of your 7-day free trial period. Subscriptions will automatically renew unless canceled within 24-hours before the end of the current period. You can cancel anytime with your iTunes account settings. Any unused portion of a free trial will be forfeited if you purchase a subscription. For more information, see our Terms of Service and Privacy Policy.
These prices are for United States customers. Pricing in other countries may vary
Note: This is an app to track your reading journey. Reading is not available within this app.
Privacy Policy: jordanpetersonstudio.com/tbr-bookshelf-privacy-policy/
Terms of Service: jordanpetersonstudio.com/tbr-bookshelf-terms-of-service/
Additional Information :
Age Rating 12+
Size 24.8 MB
Requires iOS 14.0 or later.
User Reviews :
Favorite Book Review App!!
I've been using TBR for over a year now and I absolutely love it! I have a few suggestions tho. I would really like a way to log in or save my data. I would be seriously upset if my phone broke and I lost all my notes and reviews and what not. Another thing I keep accidentally doing is when I look at my reading goal I keep trying to click on the titles to open up the reviews and thats not how it works. Maybe that could be a feature in the future?? I really like how each book has its own color when you log it. When I'm looking at my read section I wish there was a way to organize it. Right now its every single book I've ever logged and if I wanted to find a book review for a book I read say in May of 2021 I would have to scroll all the way down. I would like if there was a way to sort by year or month. Over all though I am the biggest fan of this app. Especially with how much content you can access with just the free version. I am looking forward to buying the premium version and updating all my reviews! I feel like the app is simple enough that adding a review doesn't feel like a chore (like on other tracking apps). Though it would be cool if there was a way to share your reviews with friends/be able to view other peoples reviews.
Developer Response,
Thank you so much for writing such a detailed review!

We recently released an update that allows you to sync between devices and backs up your data with iCloud sync in case of accidental deletion.

If you're searching for a specific book you can search at the top of the read book page. We will be looking into a filter/search by date option as well!

We love all your ideas and we will be looking into them all! Thanks again
Love!
I've already left my raving review and now I have some constructive criticism for the developers! #1 For a series I'd love for there to be an options for putting the whole series in your TBR and/or read list with one button and to somehow keep them in order when looking at them so it's prettier and more organized! #2 I would love a way to see other peoples reviews on books! #3 I would love some sort of sign in option so I don't have to worry about losing anything if my phone breaks. #4 I love to genre option but most of what I read is fantasy/romance and thriller/romance. When reviewing I'm only given an option to choose one genre and I would love it if I could pick multiple! And lastly I'd like to say that for the app being so new it's still a hit! And I understand all of what I've said above is probably being worked on for future updates! I'll just be here patiently waiting :)! Great work!!
Developer Response,
Hi! Thank you so much for writing this detailed review! We love hearing all your suggestions on how to make the app better and more enjoyable for our users! We will be looking more into these suggestions to see if we can add them into the app!
Get TBR Bookshelf from App Store
What is your opinion about TBR Bookshelf
Bitcoin
Ethereum
MetaMask (ETH)
Xrp
Polkadot
Binance coin
Stellar
Dogecoin
Tron
Elrond
Donate Bitcoin to this address
Scan the QR code or copy the address below into your wallet to send some Bitcoin
Donate Ethereum to this address
Scan the QR code or copy the address below into your wallet to send some Ethereum
Donate Xrp to this address
Scan the QR code or copy the address below into your wallet to send some Xrp
Donate Polkadot to this address
Scan the QR code or copy the address below into your wallet to send some Polkadot
Donate Binance coin to this address
Scan the QR code or copy the address below into your wallet to send some Binance coin
Donate Stellar to this address
Scan the QR code or copy the address below into your wallet to send some Stellar
Donate Dogecoin to this address
Scan the QR code or copy the address below into your wallet to send some Dogecoin
Donate Tron to this address
Scan the QR code or copy the address below into your wallet to send some Tron
Donate Elrond to this address
Scan the QR code or copy the address below into your wallet to send some Elrond