Dot Knot – Line & Color Puzzle game by Inspired Square FZE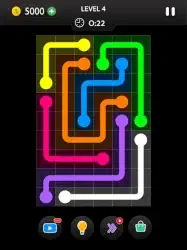 Game Description :
Play the Most Relaxing & Fun Puzzle Game for Free.
Creativity is just connecting things. Steve Jobs.
Connecting Dots Puzzle Game: Minimalistic & Elegantly designed Game which lets you think out of the box and sharpen your mind.
The Goal is to connect the same color dots until the entire board is filled with beautiful color lines. The challenge increases gradually with harder levels & new twists like bridges between the flow.
Game Features :
THRILLING LEVELS
Over a 1,000 elegantly designed Levels which people of all ages can enjoy for FREE.
DAILY CHALLENGES
Exciting NEW challenges are offered DAILY. Try to solve these in the shortest possible time. See where you stand in rankings against your friends and globally.
TOURNAMENTS
Time Limited Tournaments which you can play to compete against the World and your Friends. Huge Rewards are waiting for the winners at the end of Tournaments.
PLAY WITH FRIENDS
Playing with Friends is always FUN: Login with Facebook & Compete with your friends.
FEATURES
Minimalistic & Elegantly designed Game.
Check-in every day to earn more DAILY REWARDS.
Send GIFTS to you friends to help them solve difficult levels.
Use "Hints" to solve a difficult level. Each Hint connects two matching colors.
Complete Achievements to gain Huge Rewards.
Multiple Themes to choose from and play in your favorite environment.
Music adds fun to the whole gaming experience.
Privacy Settings to keep your game Data Protected and Safe.
So let's smile & celebrate the colors of life with KNOTS
JOIN US ON FACEBOOK
www.facebook.com/InspiredSquare
FOLLOW US ON TWITTER
www.twitter.com/InspiredSquare
FOLLOW US ON INSTAGRAM
www.instagram.com/SquareInspired
DON'T FORGET TO RATE US
Send us your suggestions and feedback as we are always looking to add new levels and features!
So what are you waiting for? Download KNOTS for Free and PLAY Now!
PRIVACY POLICY
www.inspiredsquare.com/games/privacy_policy.html
TERMS of USE
www.inspiredsquare.com/games/terms_service.html
Enjoy,
KNOTS TEAM.
Additional Information :
Age Rating 9+
Size 228 MB
Requires iOS 12.5 or later.
User Reviews :
Intriguing, no-pressure puzzle game
The point of each puzzle is to connect colored dots and fill in all the spaces with connecting lines. That's it. No time limit, no character in peril, no competition (unless you really want to be on the leaderboard and practice each puzzle over and over). You can pause the timer on a puzzle and come back to it, so it's great for entertainment when you're waiting somewhere. You can "buy" a clue with in-game coins, and you get free coins when you check in each day and more if you watch an ad. For a very low price you can get an ad-free version. Remembering that you have to fill in all spaces as well as connect the dots can also be a clue, because sometimes a line connecting two dots can wind around other dots. One question for the developers, though: the game awards "diamonds" for sharing it. What are they for?
Knot Dot
I just came across your game. I play this for a special and logic work out for the brain. Kind of like my visual tracking that I needed to go through after a stroke. But this game is much more fun. But this game is not easy. This game is a workout for your brain…visually, visual tracking visual logically, problem solving. I think any one from 8 to 108 will benefit in multiple brain ways when playing this little masterpiece. If you have a few minutes between meetings, while waiting for you child to come out of school, or wanting a relaxing brain teaser few minutes or a longer time frame. I've even played with my grandson where we are both trying to find the correct path together. Whenever we solve one, we both look at each other and say "just one more."
Great game and fun way to pass time
It has a mix of easy levels and very difficult ones. There were a lot of ads and they did get annoying so I paid for ad free and I am so glad I did! It is worth it for how much I play (daily, right before bed to relax). On that note: the daily challenge for June 22, 2020 level 2 froze every time I solved it. I could not move on to level 3 of the daily challenge. I looked at the leaderboard to see how everyone else did but I got a "no data available" message for it. Could be a glitch? Other than that it has been a great game.

Update (Aug 2020): 2100 levels and the game ended. Please consider creating more levels. I loved playing this game. It helped me relax but also made me think.
Developer Response,
Hi,

Firstly, thank you for liking the game. It truly means a lot to us that you like playing our game.

As for the daily challenge issue, it has been resolved. We are so sorry that you had to face an issue playing the game. You should be able to play them and see the leaderboards as well.

Thank you again for your kind and thoughtful review.

Keep playing and enjoying KNOTS.

Warm Regards: KNOTSTeam.
Good Game But Has A Downside
This game is pretty good and competitive. It has so many levels so you don't have to end so soon. Plus the timing also brings out the competition to players to test themselves on how fast they can complete the level.

The game is good. However, it does come with a flaw, especially on Mobile.

The swiping is what I'm annoyed with. It is difficult to swipe where you want to go at a fast pace. Like literally, when I try to connect one point to another, the connecting stops and will take more time to just complete that one segment. I try to beat the records but because of the swiping, it's impossible. I hope you devs can do something about this, otherwise I might not be playing the game anytime soon if this keeps up.
Developer Response,
Hi,

Thank you for your kind feedback. We will forward your invaluable input to our development team and see if they can do something about it in our new update.

If you have any more suggestions on how we can improve the game, please email us from inside the game or at: games[at]inspiredsquare.com.

Thank you.

Warm Regards: KNOTS Team.
Get Dot Knot from App Store
What is your opinion about Dot Knot
Bitcoin
Ethereum
MetaMask (ETH)
Xrp
Polkadot
Binance coin
Stellar
Dogecoin
Tron
Elrond
Donate Bitcoin to this address
Scan the QR code or copy the address below into your wallet to send some Bitcoin
Donate Ethereum to this address
Scan the QR code or copy the address below into your wallet to send some Ethereum
Donate Xrp to this address
Scan the QR code or copy the address below into your wallet to send some Xrp
Donate Polkadot to this address
Scan the QR code or copy the address below into your wallet to send some Polkadot
Donate Binance coin to this address
Scan the QR code or copy the address below into your wallet to send some Binance coin
Donate Stellar to this address
Scan the QR code or copy the address below into your wallet to send some Stellar
Donate Dogecoin to this address
Scan the QR code or copy the address below into your wallet to send some Dogecoin
Donate Tron to this address
Scan the QR code or copy the address below into your wallet to send some Tron
Donate Elrond to this address
Scan the QR code or copy the address below into your wallet to send some Elrond