Sweatcoin Walking Step Counter app by Sweatco Ltd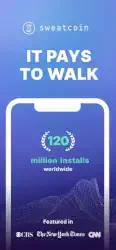 App Description :
The AppStore №1 and top-rated for your iPhone and Apple Watch, Sweatcoin app converts your steps into gadgets, sports and fitness kit, services and experiences.
Such a great concept and executed excellently. Gets me walking and rewards me for it too! by Woo123789
Basically pays you to move and exercise, and it costs nothing to use.
Men's Journal
The easiest way to make some side cash by doing what you already do naturally — walking.
TheNextWeb
New UK health app Sweatcoin launched in the Apple app store this week and has been an instant hit.
Forbes
New Apple app launches in Britain that pays people to get fit
Reuters
The app that PAYS you to get fit: Sweatcoin rewards people for the number of steps they make every day
Daily Mail
If ever you've needed an incentive to exercise, a new app could give you a much-needed boost to get active.
Telegraph
App Features :
Sweatcoin converts your steps into currency units called, as you might have guessed it, sweatcoins. You can then spend them on goods, services and experiences on our market place with our partners or exchange them with your friends and family for whatever you fancy. The fitter and healthier you become the wealthier you get. Movement has value!
Sweatcoin uses your HealthKit step history data to continuously improve our algorithms and provide you with better offers at the right time.
If you're on iPhone 6S or lower, we will need your consent to use your GPS location, so we can verify your steps and award you sweatcoins for them.
You can find Sweatcoin Terms of Use here: sweatco.in/tnc
Additional Information :
Size 128.8 MB
Requires iOS 12.1 or later.
User Reviews :
Not the best
This app is great and all , but it cheats you . Like everyday I walk at least 3,000 steps and it gives me like 21 cents when I should be getting 3 dollars/sweatcoins. Also the prizes may be cheap but some items have shipping and that shipping is like 6-20 dollars which is not reasonable , in amazing I pay like 3.00 dollars shipping. I shouldn't be paying over 4.00 dollars for shipping for something that cost 1 dollar/sweatcoin . If this app does it fix its issues I will delete the app . Also sometimes for the daily reward videos , the videos won't always come , it will say "there are no more daily reward please come back later and try again" and I will go in the app 5-15 times a day and it's will still stay the same exact things . So I will have to wait for the next day . 2 more things you have to make your prices for prizes cheaper , I really wanted a iPhone XR and I was walking for 6 months and only make 500 dollars and then the offer goes away , this is honestly a waste of time and storage. Last thing if anyone is cheating on the app it's you , you guys own me over 50 dollars due to your dumb algorithm and setup to see that all of the steps were made in a fair way. Please fix these issues and I will gladly keep the app and use it and recommend to people , I am currently telling people to get it because of these reasons , if you don't want to fix these issues , I will also gladly delete the entire app and never get it again.
Developer Response,
Thanks for your review!

Could you please ensure that you have updated to the latest update, where we have a brand new algorithm to fix any step conversion issues and even support indoor steps!
Walking sweats = money… WORTH IT!!!!
I read reviews of others and to be honest I kinda find some of their negative review very hard to believe. I find this app worth it! I am lazy person. I'm gonna be honest with that. And I'm not a big fan of exercise and always find a excuse to not exercise. Because I have no motivation at all. Until this app. When I see that It "just earning money by making sweat and walk outdoor." All I see is Motivation so I tried it at 2019 August. I could clearly tell I'm seriously out of shape after first couple days with it. So I stick with it and sure enough I earn more that 100$ in less than 2 months. And not just I have good money. It also keep me in shape! I like to exercise and it been helping me to lose weight! And getting my body healthier! now thanks to this app. I haven't make any purchases yet but I'll purchase the gift cards or some product when I'm ready. but Where is the negativity of this app? Because I don't see it! This app is worth it for lazy people like me who have no motivation and interest in exercise. This is big boast for us to get back on feet and being active again. I believe that this Sweetcoin will be huge business in future! And yes more bonus and more products in future. My Advice is just try this app! It worth it! It might not be perfect in your opinion but it is constantly upgrading so it might meet up your expectations one day! Just Try it! You'll love it!
Developer Response,
Seeing that you enjoy Sweatcoin is the best thing we could hope for! Your review means a lot to us! Your Sweatcoin team
Get Sweatcoin Walking Step Counter from App Store
What is your opinion about Sweatcoin Walking Step Counter
Bitcoin
Ethereum
MetaMask (ETH)
Xrp
Polkadot
Binance coin
Stellar
Dogecoin
Tron
Elrond
Donate Bitcoin to this address
Scan the QR code or copy the address below into your wallet to send some Bitcoin
Donate Ethereum to this address
Scan the QR code or copy the address below into your wallet to send some Ethereum
Donate Xrp to this address
Scan the QR code or copy the address below into your wallet to send some Xrp
Donate Polkadot to this address
Scan the QR code or copy the address below into your wallet to send some Polkadot
Donate Binance coin to this address
Scan the QR code or copy the address below into your wallet to send some Binance coin
Donate Stellar to this address
Scan the QR code or copy the address below into your wallet to send some Stellar
Donate Dogecoin to this address
Scan the QR code or copy the address below into your wallet to send some Dogecoin
Donate Tron to this address
Scan the QR code or copy the address below into your wallet to send some Tron
Donate Elrond to this address
Scan the QR code or copy the address below into your wallet to send some Elrond