Collect Em All – Clear the Dots game by Voodoo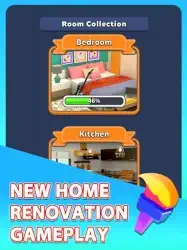 App Description :
Connect balls from the same color to crush them! Make the longest chains and break them to get the fever!
Easy to control, simple tap on the block and swipe across the adjacent same-colored blocks! Watch out your moves, you need to achieve the objective before you run out!
Use boosters to help you clear the board and climb up the leaderboards to become the number one in the world!
App Features :
Original concept and gameplay
Colored balls
Boosters including; bombs, rockets and shuffle!
Leaderboards
Saga map with thousands of levels
Loads of fun!
And much more!
Additional Information :
Size 398.5 MB
Requires iOS 11.0 or later.
User Reviews :
Annoying ads are too long and loud; override phone silencer
I absolutely love this game but I am about two seconds away from uninstalling it and never playing it again because I'm not willing to pay $10 to stop the ads. I often pay real money on this game and I'm not paying for your advertisement too. The Project Makeover ads and all ads from that company are annoyingly loud and there is no option to silence them. These ads override the phone's ability to silence them and that is extremely rude of any company to do that. We don't get options of which ads play, and if you already own the game in the ad you still cannot fast forward through it or silence it. These ads that sponsor this game need to be told that they are actually turning at least one person off. I refuse to download or play any game from any company that overrides one's ability to silence their ads. Continue using to have ads such as these run on your game site makes your game not safe to play in a setting with other people around. Everyone around is forced to hear the sounds and music and it's especially annoying when you have to watch the entire ad and then try it and some of them are longer than 90 seconds before the X shows up. Sometimes the same long ad plays several times in a row between levels, and it's enough to make me shut off the game completely. Not paying $10 for ad free version…Otherwise I would give this game a 5 star review.
Addictive…..BUT
This is a fun game that has you planning sequence moves several steps ahead! For me I find it relaxing enjoyable. However, there are a couple things that are really annoying! Especially for a person who paid the $9.99 to remove the very long depressing ads! Once I did all of a sudden I was unable to complete a level. Which means either you watch an ad, pay 100 coins or start over!! Very suspicious. AND, receiving free helps (rocket,etc.) seem to have been reduced. LASTLY…ESPECIALLY since I paid for this game, why do I have to pay for the coins in the "piggy bank" since I'm the one that earned the coins by playing your game?!?! I find this a little greedy on your part! Perhaps, you could change the piggy bank that once a certain amount of coins (like 1200, seems fair) are earned the player automatically receive half and then have the option to purchase the balance. Then the bank goes back to zero whether balance purchased or not and the player starts filling it again. It would be a satisfying goal for the player and you can still have the satisfaction that some players will purchase the balance at a lower price. The piggy bank idea should be used across the board with all of your games. Oh, one more thing, how do I add my name to the game board? Settings is very basic and doesn't even have a way to contact for help. Thank you for listening!
Keeps blacking out ! ! !
Love the game but when I reached levels above 90 screen started randomly blacking out & when I restarted game I not only last my life but had to start all over again ! Also have bought lives AT LEAST FOUR times & because of above issue I have lost ALL of my lives after closing out & NEVER EVEN GOT TO MAKE ONE MOVE ! Would like my coins or lives back PLEASE. Would NOT recommend this game until it is FIXED really too bad because I really enjoyed this game until this all started happening! VERY FRUSTRATED Country Lady Seems as though somebody was paying attention to emails because WITHIN MINUTES THE PROBLEM SEEMED TO BE FIXED ! Hope it remains as such. Big KUDOS to whomever addressed the problem & a HUGE THANK YOU ! I LOVE YOUR GAME A VERY, VERY HAPPY Country Lady

NEW REVIEW !!! Very UNHAPPY I've been trying ALL day off and on and I can't get game to load ! ! ! UNFORTUNATELY if someone doesn't get this FIXED I will be forced to DELETE your app. I really like the app but there's no sense keeping if I CAN'T PLAY IT ! ! !

PLEASE HELP ME and RESTORE the app so I once again can enjoy your app. Thank you for your time A VERY UNHAPPY Country Lady
Get Collect Em All from App Store
What is your opinion about Collect Em All
Bitcoin
Ethereum
MetaMask (ETH)
Xrp
Polkadot
Binance coin
Stellar
Dogecoin
Tron
Elrond
Donate Bitcoin to this address
Scan the QR code or copy the address below into your wallet to send some Bitcoin
Donate Ethereum to this address
Scan the QR code or copy the address below into your wallet to send some Ethereum
Donate Xrp to this address
Scan the QR code or copy the address below into your wallet to send some Xrp
Donate Polkadot to this address
Scan the QR code or copy the address below into your wallet to send some Polkadot
Donate Binance coin to this address
Scan the QR code or copy the address below into your wallet to send some Binance coin
Donate Stellar to this address
Scan the QR code or copy the address below into your wallet to send some Stellar
Donate Dogecoin to this address
Scan the QR code or copy the address below into your wallet to send some Dogecoin
Donate Tron to this address
Scan the QR code or copy the address below into your wallet to send some Tron
Donate Elrond to this address
Scan the QR code or copy the address below into your wallet to send some Elrond