SuperStar YG app by Dalcomsoft, Inc.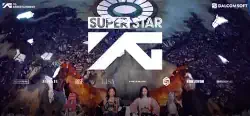 App Description :
YG official rhythm game SuperStar YG!
App Features :
Features world-class YG artist songs
All the latest hits by YG artists!
Play various songs in SuperStar YG 🙂
Collect YG artist cards
Collect various artist cards and upgrade to more beautiful and powerful ones!
Collect fabulous cards in various themes!
Weekly League competition
Rewards to rain according to your Weekly League ranking!
Reach higher score with matching theme and high-grade cards!
World Record competition with global fans
Be the best player in the world, among YG fans worldwide!
Go for the top 100 for each song.
Various daily missions
Clear missions to level up!
Clear various missions and get many rewards.
Application Permission Usage Notice
We are requesting for access permissions to provide services as below.
Required Access Permissions
Camera/Storage: For saving the game data in your storage
Read, write on external storage: For saving settings and music data cache
Device ID and phone calls: For tracking and analyzing advertisement records and creating tokens for push notifications
Wi-Fi connection information: For sending guide messages upon downloading additional data
ID: For creating and confirming user accounts
Access Permission Revoke
Settings > SUPERSTAR YG > Access Agree or Access Revoke
Visual Setting
If you experience lags in the game you can change your visual setting to low resolution for better performance.
While SuperStar YG is available for free, you will get charged upon purchases of certain paid items.
If you have any inquiries or require any further information, please contact us at.
E-MAIL: support.superstar.yg[at]dalcomsoft.com
SuperStar YG Dalcomsoft Contact Information
Email: support.superstar.yg[at]dalcomsoft.com
Call : +82 02-548-9531
Additional Information :
Age Rating 4+
Size 376.6 MB
Requires iOS 11.0 or later.
User Reviews :
Finally
I have been waiting for a superstar YG forever and now we finally have it! And ever since I downloaded it yesterday I've been excited. There are some critics on it which I will get to, but first I wanna talk about the positives and stuff I like.

First of all, the background music when you're navigating the app? 10/10. It's so much better than that annoying music in the other superstar games. I literally cannot stand the music in the other games. But besides the music, I love that you have to work for the mission awards. Though I was frustrated with it last night, I like it. That you do one thing and boom award. No, you have to work for it.

Now onto things I have a problem with. I don't think the touch sync is very fair and needs to be tweaked a bit, I've noticed other people saying how they touch on the beat, but they only get a perfect or a simple good, and I agree with them. Next is that I was kinda sad not to see 2NE1 in the artists category. I'm hoping this changes in the future since 2NE1 has lots of songs that fans hold dear to their hearts. I know 2NE1, Lee Hi are not part of YG anymore but it would be nice to see them.

I'm hoping in the future we get even more things and this game really comes together like SM, JYP, PLEDIS, STARSHIP, GFRIEND, BTS, etc. Thank you
Global Battle Feedback
SSYG is yet another fantastic SuperStar game, and I'm having a wonderful time playing it.

As for the Global Battles, however, I feel that better cards are rewarded over better gameplay. Often, I find myself still losing matches despite a near perfect hit score (and often a better hit score than my opponent), yet they win because their cards were higher level and scored more points even if there were more misses total.

This type of gameplay makes sense for the SuperStar League featured in other SS games, but I find myself feeling a bit disheartened at the way this is implemented for Global Battles. If the point of the duel is to play well, why is it that the better player still loses? You may as well just make it a 1v1 league and remove the attacks and shields entirely; it wouldn't change anything. Right now, it's only punishing newer players who haven't had time to grow their teams.

To make this more fair, I think the game should try to match players who have similar team levels so that a player with a full "B" level team isn't facing off against someone with a full "R" team (which is basically a guaranteed loss before the match even begins). In addition, I think the game could reward better hit scores with additional RP, headphones, small amounts of diamonds, cards, etc. This encourages players to try to play better rather than to rely on having higher level cards.
Get SuperStar YG from App Store
What is your opinion about SuperStar YG
Bitcoin
Ethereum
MetaMask (ETH)
Xrp
Polkadot
Binance coin
Stellar
Dogecoin
Tron
Elrond
Donate Bitcoin to this address
Scan the QR code or copy the address below into your wallet to send some Bitcoin
Donate Ethereum to this address
Scan the QR code or copy the address below into your wallet to send some Ethereum
Donate Xrp to this address
Scan the QR code or copy the address below into your wallet to send some Xrp
Donate Polkadot to this address
Scan the QR code or copy the address below into your wallet to send some Polkadot
Donate Binance coin to this address
Scan the QR code or copy the address below into your wallet to send some Binance coin
Donate Stellar to this address
Scan the QR code or copy the address below into your wallet to send some Stellar
Donate Dogecoin to this address
Scan the QR code or copy the address below into your wallet to send some Dogecoin
Donate Tron to this address
Scan the QR code or copy the address below into your wallet to send some Tron
Donate Elrond to this address
Scan the QR code or copy the address below into your wallet to send some Elrond