SuperStar JYPNATION game by Dalcomsoft, Inc.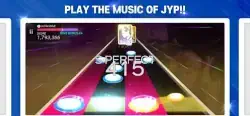 Game Description :
The rhythm game of JYP.Ent! "SuperStar JYPNATION" is officially released!
# Artist & Music
21 groups of JYP.Ent
Over 213 songs from JYP.Ent artists
# Collectable Artists Cards
Make your own card deck!
Collect and Upgrade
Challenge the league!
Weekly / SUPERSTAR League: Compete against players worldwide!
Upgrade your cards for higher game scores!
# Daily Missions & Various In-game Events
Clear All Missions! Get Massive Rewards!
Also, many more in-game events start with JYP.Ent artists comeback!
Game Features :
# Featured Artists
J.Y. Park
Wonder Girls
Sunmi
2AM
2PM
miss A
GOT7
Baek A Yeon
15&
TWICE
GOT7
Day6
Stray Kids
[Access Permission Rights For Smart Device App]
SuperStar JYPNATION hereby asks you to grant permission to access specific apps in smart devices to provide the Service as set forth in these Terms of Service.
*Required Access Rights*
Picture (Photos / Gallery) / Video / File: To save a game data
Read, Record and Save at External Storage: To save sound source data cache and game options
Device ID and Call Information: Advertising Tracking Research and Token Generation For The Push Notification
Wi-Fi Connection Information: To send a message about Wi-Fi connection when there is an additional data download
ID: Required for 'User Account Generation and Check'
Apple
[Access Permission Revoke] Settings > SuperStar JYPNATION > Access Agree or Access Revoke
"Visual Setting" of the game
If beatmap notes are not coming down smoothly,
[My Info] – [Visual Setting] – check "Low Resolution"
While SuperStar JYPNATION is available for free, you will get charged upon purchases of certain paid items.
Should you have any further questions or requests, please do not hesitate to contact us through support.jypnation[at]dalcomsoft.com
SuperStar JYPNATION Dalcomsoft Contact Information
Email: support.jypnation[at]dalcomsoft.com
Call : +82 02-548-9531
Additional Information :
Age Rating 4+
Size 348.3 MB
Requires iOS 11.0 or later.
User Reviews :
Game not workinf
I'm crying and here is why I'm crying right now:

So I just had my iPhone updated since iOS needed to be updated I updated my iPhone and these three games which are Superstar BTS, superstar SM, and superstar JYP will not work now but the wierd thing is after my update these three games were gone so I re downloaded them and am trying to get back in and nothing is working I'm crying a lot right now I love these games a lot and I normally play in the afternoon but after the iOS update and me re downloading the games and tried going back into them it will not work. I worked so hard on these games and had a lot of cards too. But now I can't even get into the game to play it and I saw other people were having problems but idk what they did because I saw it in the comments of the app store. Can someone please help me please I really want to play them again. I don't think I'm still signed in after they were mysteriously deleted after I updated my iPhone and I think maybe I also lost everything in them too
LOUD Cards and Challenges
I've played 5 of the Superstar apps so far (SM, JYP, YG, Starship, and Brand New) and this is one of the best of the 5. I only have one complaint, and that's with LOUD. It's not that I dislike having them in the app – no, their music is great and I'm glad I've been able to find something so wonderful through this app. However, one of two things needs to happen: either their cards need to be made readily available, or they need to be removed from any challenges dependent on scores. I keep getting score challenges on their songs, but they're physically impossible to beat without cards – but I can't get cards because they're completely unavailable to players. Please, put their cards on the generic card packs that can be bought in the shop, or if you're not willing to do that, make it so that LOUD songs can't be chosen for score-based challenges.
Events
This game is great I find it very entertaining and I love playing it. I just have one thing that bothers me a lot. There are events that you can do that occur about once in 2-3 weeks and you can collect pictures for your background. Everything all okay but the Event missions are extremely hard unless you have really really good cards which is hard to have. Every single Event (that has a picture award) has a mission where you must pass 2 Million (I think) points. That is really hard because in the event, you need a special kind of card that is not powered at all. With normal cards, or no cards at all in the event slot, u cant even make it to 500,000 so how 2M? And u have to Get every single special event card? No that's too much they should make the events easier and the pictures easier to obtain.
Get SuperStar JYPNATION from App Store
What is your opinion about SuperStar JYPNATION
Bitcoin
Ethereum
MetaMask (ETH)
Xrp
Polkadot
Binance coin
Stellar
Dogecoin
Tron
Elrond
Donate Bitcoin to this address
Scan the QR code or copy the address below into your wallet to send some Bitcoin
Donate Ethereum to this address
Scan the QR code or copy the address below into your wallet to send some Ethereum
Donate Xrp to this address
Scan the QR code or copy the address below into your wallet to send some Xrp
Donate Polkadot to this address
Scan the QR code or copy the address below into your wallet to send some Polkadot
Donate Binance coin to this address
Scan the QR code or copy the address below into your wallet to send some Binance coin
Donate Stellar to this address
Scan the QR code or copy the address below into your wallet to send some Stellar
Donate Dogecoin to this address
Scan the QR code or copy the address below into your wallet to send some Dogecoin
Donate Tron to this address
Scan the QR code or copy the address below into your wallet to send some Tron
Donate Elrond to this address
Scan the QR code or copy the address below into your wallet to send some Elrond