(App) Photo Widget – Aesthetic Icons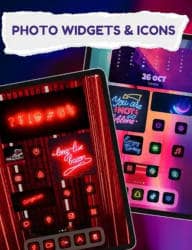 App Description :
Themes, icon sets, time & date and photo widgets, wallpaper maker; add frames, filters, stickers and text to photos and crop images. Endless possibilities to customize your home screen, super easy to use. Be creative!
App Features :
Icon changer:
Choose from available themes including icons, wallpaper, widgets, lock screen wallpaper and watch faces
Choose from hundreds of icon sets in the icon gallery. Like your favorite sets so you can find them easily
Or customize the icons by changing their colors
Photo widget:
Select the photos you want to display and save them in photo widget albums
Create multiple albums in any widget size
Crop the images: Decide what you want to see in the widget
Apply filters: Be creative
Frame your photos: Choose the color of some of the frames
Add text to your photos: Multiple fonts and colors available
Add stickers
Calendar widget, time & date widget, text widget, event widget & weather widget:
Display time & date in all three widget sizes
Display a calendar in all three widget sizes
Display text in all three widget sizes
Background: choose a color or a photo from your camera roll or the app gallery
Font: choose from many different fonts, change font color
Wallpaper maker:
Create your own wallpaper. Use one color or a combination of two colors
Save as many different wallpapers as you want
Change the wallpaper in Settings
Color picker:
With this color picker which you can pick any color of a theme or icon kit. The color will be added to your color palette and can be used to create widgets. That way the color of the widget matches the icons and/or wallpaper.
Terms of Use: laidbacklionapps.com/terms-of-use/
Privacy Policy: laidbacklionapps.com/privacy-policy/
Additional Information :
Size 229.1 MB
Requires iOS 14.0 or late
User reviews :
Definitely using this.
I LOVE this app. No joke. I won't lie it's quite nice to use and not complex and I adore the little icons. I actually used this app for my phone and people have complimented it <3. I recommend using this easy system for your phone. And if your willing to pay, pricing is decently cheap for an app. Definitely sending this app to my friends/family to use. Thank you!
Developer Response ,
Hello! Thank you so much for your review! We're very happy to hear that you like the app!

Thanks so much and have a wonderful day!
it's ok but, I think it would be better with more free options
I think the apps great it has cool features and selections but, theres not a lot of free options. And if you want a good selection of wallpapers,widgets,and app icons you'll have to pay money. I personally didn't buy the subscription because Maybe I would forget about the app and be paying money for it. I get that the app operators need their pay check and all that but, I think if they had more free options the app would be better and it would attract more people because (lets be honest here everybody loves free stuff) the app is great but it's expensive. You can decorate your own home screen for FREE but it takes a long time, this app shortcuts that time and saves the headaches of decorating your home screen yourself. It's a really great app but needs a lot of updating.
Developer Response ,
Hello,

Thanks for your review! We understand that you would be happy if more features were for free. However, we're always working on updating the app and adding new features which is very costly. In order to continue to improve the app, we need to charge a small amount so we can cover the development costs. I hope you understand.
It's needs a little work but it's ok
Hello,This app is good but I do not get why you have to pay to try it out I understand that you have funds to pay but why,I have tried this app with a icon and wall paper but you have to pay for it's all this app gave me great ideas for my phone this app cost money and that's just not what I am looking for in this app I hope in other updates to this app more this will become free and the more special thing will cost money for ideas for you phone this app is great but not to put the icons and the wallpaper on the phone I think it's need work for the apps and wallpapers thank
Developer Response ,
Hi,

Thanks for the positive review. We're always working on updates and we'll add more free options soon. You can also sign up for the free trial so you can try everything for free.
Get Photo Widget from App Store
Leave your feedback regarding Photo Widget
Bitcoin
Ethereum
MetaMask (ETH)
Xrp
Polkadot
Binance coin
Stellar
Dogecoin
Tron
Elrond
Donate Bitcoin to this address
Scan the QR code or copy the address below into your wallet to send some Bitcoin
Donate Ethereum to this address
Scan the QR code or copy the address below into your wallet to send some Ethereum
Donate Xrp to this address
Scan the QR code or copy the address below into your wallet to send some Xrp
Donate Polkadot to this address
Scan the QR code or copy the address below into your wallet to send some Polkadot
Donate Binance coin to this address
Scan the QR code or copy the address below into your wallet to send some Binance coin
Donate Stellar to this address
Scan the QR code or copy the address below into your wallet to send some Stellar
Donate Dogecoin to this address
Scan the QR code or copy the address below into your wallet to send some Dogecoin
Donate Tron to this address
Scan the QR code or copy the address below into your wallet to send some Tron
Donate Elrond to this address
Scan the QR code or copy the address below into your wallet to send some Elrond