SongPop Classic game by FreshPlanet Inc.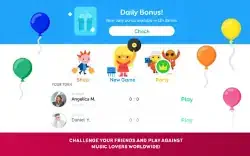 Game Description :
Guess the song with SongPop Classic!
Game Features :
Take this musical quiz and play online with people from all around the world. Challenge your friends with trivia that includes songs from all musical styles. If you love trivia and music, you will love SongPop, the most famous song trivia game!
Additional Information :
Age Rating 12+
Size 60.8 MB
Requires iOS 11.0 or later.
User Reviews :
Used to be a great game til they made it all about money
I've been playing this game since this one started and the original years before that. It can be a great game other than throwing french or other songs not from your country in the mix and screwing up the whole game. You tell them where you live so that they can cater your playlists and opponents to your country and then they throw these other songs into the mix that a lot of times are not even your language. It makes no sense. The worst now though is the last update they took away just about everything from the original game so there is no free game. You have to be vip which is a monthly charge. Don't even sign up unless you want to pay because these gameowners are all about money and if you don't pay and play the free game you are playing against the paying vip's so the scales are always tipped in their favor. So sad the owners got so greedy and ruined this game
Boring Now, Cheap and Money Hungry makes for a poor experience
It's become quite pointless to play; at no point in time has a song playing app ever been or will ever be worth the price they keep trying to charge for their monthly VIP 'Membership'. The tight 30 person opponent limit, inability to master playlists quickly and efficiently unless you get all 5 songs in a row right every time (which is obviously impossible), now they've made the party mode disappear so you can only enter after you've played opponents, the ridiculous amount of ads, begging you to buy a monthly VIP Membership and trying to force you to download whatever this party app thing is they have going on when they can't even make playing the original worthwhile; this App is PAINFUL to use and play. Haven't even fixed basic bugs in years such as actually playing a playlist when you watch and AD instead of tricking you into watching it for nothing in return but you're wasted time and not ordering your mastered playlists so they're at the top meaning the more you master the longer you have to scroll to get to the rest of them (is this not common sense bad programming??) At this point I solely play out of familiarity and extreme boredom. If anything else changes/gets worse yet AGAIN I'll be gone
3 Stars but two fixes will bring me back to 5
I have to say I am rather disappointed to see the change in the point system that recently took place. Before if I guessed all 5 songs in my game I earned 17 points. Now I only earn 11. As a result it takes 9 players with full answers to earn 99 points. Before I was able to reach 100 points for every 6 games. Why would you change that? Please adjust that back. Or even better allow us to earn 20 points so I can knock out playlists quicker

And please please PLEASE fix the glitch that sometimes occurs when you select to view an add while collecting the monthly pass rewards. If I have to sit through another repetitive ad please make it so I can click the X every time. On occasion it will become a play button and there's no way to get back to the game without closing/reopening.

Also if the 15 is seconds just let it be 15 seconds. Why penalize us with an additional 15 seconds because the company who made the ad can't figure an additional 15 seconds of copy? That's on them and you. Not us.
Developer Response,
Hi Scremped! It sounds like you may have run into a bug. The points issue you've run into is unintended. If possible, can you please write into support with your issue? You can do so via settings within the SongPop 2 App, and by clicking "Report an Issue". Doing so will allow us to more quickly determine and diagnose the bug you've ran into.

Thank you very much for bringing this to our attention!
Get SongPop Classic from App Store
What is your opinion about SongPop Classic
Bitcoin
Ethereum
MetaMask (ETH)
Xrp
Polkadot
Binance coin
Stellar
Dogecoin
Tron
Elrond
Donate Bitcoin to this address
Scan the QR code or copy the address below into your wallet to send some Bitcoin
Donate Ethereum to this address
Scan the QR code or copy the address below into your wallet to send some Ethereum
Donate Xrp to this address
Scan the QR code or copy the address below into your wallet to send some Xrp
Donate Polkadot to this address
Scan the QR code or copy the address below into your wallet to send some Polkadot
Donate Binance coin to this address
Scan the QR code or copy the address below into your wallet to send some Binance coin
Donate Stellar to this address
Scan the QR code or copy the address below into your wallet to send some Stellar
Donate Dogecoin to this address
Scan the QR code or copy the address below into your wallet to send some Dogecoin
Donate Tron to this address
Scan the QR code or copy the address below into your wallet to send some Tron
Donate Elrond to this address
Scan the QR code or copy the address below into your wallet to send some Elrond