(App) Sling – Live TV, Shows & Movies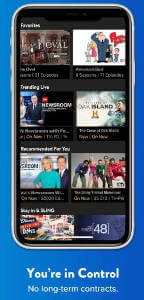 App Description :
SLING is a streaming service with the best of live TV, both free and paid, streamed to you on any device. And with 200+ channels, SLING has something for everyone. It's the live TV you love for half the cost of cable. Plus, watch over 85,000 movies & shows on demand.
App Features :
Programming Available From SLING TV:
With free channels like ABC News Live and premium cable networks such as CNN and FOX News, Sling keeps you informed while you stay safe inside. Entertainment networks like Lifetime, Food Network, and HGTV mean SLING TV has something for everyone
NEWS | Stay up-to-date and informed with plenty of news channels like CNN, FOX News, and Bloomberg.
ENTERTAINMENT | Stay in & SLING in with entertainment for the whole family. Sign up and get Freeform, A&E, TBS and TNT.
LIFESTYLE | With SLING TV, you can get your DIY fix with HGTV and satisfy your cravings for new recipes on Food Network. Plus, we have plenty of other lifestyle channels like Hallmark and Cooking Channel.
KIDS' SHOWS | Keep the kids happy and the Saturday morning cartoon tradition rolling with Disney and Cartoon Network.
SPORTS | Catch the latest news, analysis and feature films of your favorite sports on ESPN, ESPN2, TNT, and a whole lot more.
INTERNATIONAL | SLING TV is one of the best international streaming services in the U.S., offering programs in 22 languages including Spanish, Hindi & Arabic.
So what's the hold up? Download the app today and start SLINGing.
Please note: This app features Nielsen's proprietary measurement software that will allow you to contribute to market research, like Nielsen's TV Ratings. Please see www.nielsen.com/digitalprivacy for more information.
Additional Information :
Size 165.5 MB
Requires iOS 11.0 or later.
User Reviews :
Pretty much flawless
So first of all I just don't write reviews. But I just had to do it because the app deserves it. It's really good. Second I was skeptical about the services they provide. I didn't know much. But once I found out more and signed up for it, it's what they advertise. It is tv a la carte. I signed up for the Spanish channels and I even get an Argentinian channel I can't get anywhere else. When it comes the app, it is flawless. It simply never crashes. Regardless of what channel I watch it always comes up without any problems. Once you choose the channel, you have to option to watch the program that's on form the start, to start it over, or to watch it live. Once you stop watching, you can always come back to the same spot. It saves your programs so you can come back later and pick right up where you left off. You can do that with countless shows. You can also watch from a different source. If I'm watching on my phone, and stop watching, I can watch from the iPad or the Apple TV app and watch it also without any problems. Tv quality is fantastic too. You also don't have to sing on every single time. I haven't to sing in or log in since I first logged in months ago. This service along with the apps in the different platforms are simply seamless. It's really one of the best, if not the best I have on all platforms. It's literally fantastic. 10/10.
VERY Happy
Oh my gosh …when SlING first came out I wasn't very happy, I told em an I canceled …then sometime later they actually sent me an invite to give em a try again & I did an I was impressed…now I been back for a while, but didn't realize I hadn't updated my review/comment & I feel bad…cuz they have grown WONDERFUL, I have ZERO complaints! for an App they have a good TV an movie selection that changes & rotates, yes there r some commercials but I don't mind …SLING is not the big name cable company (thank god), & if ya can afford THEM then more power to ya, I can't, I love the History Channel an I can access w/ SLING that's my big happy…also their viewing selection is a nice buffet it's great for me also an included w/ price is "100%" hours of record time I LOVE IT the whole

"30 buck" pkg is perfect for me, disabled, SSI, an all I have to view on is an IPad…it's GREAT and even better I HAVE NO COMPLAINTS

SO Thank You SLING

PS

I have Apple iPhone an iPad I have ZERO connection problems Apple has Sling app for iPad an that's shared to my iPhone ..once in awhile the only problems I ever have has been w/ Cox WiFi that I been stuck having to use an that's been once in awhile I tex em they fix it
Great potential, horrible results.
The concept of sling is great. An app that allows you to watch your favorite shows live and on demand, where ever and when ever, without all the equipment, hidden fees and insane contracts that regular cable a satellite providers are know for. It's a great concept, if sling was able to deliver. They don't though. There's still many channels that sling doesn't offer, like spike and TLC. They also don't offer the big channels like CBS,NBC, ABC, Fox, etc. The on demand shows rarely work, the app usually crashes. Often times it will crash in the middle or towards the end of a show, and the only way to ever see the end is to restart it from the beginning and pray you make it to the end before it crashes again. There are symbols that you'd assume were fast forward/rewind/pause buttons, but they don't do anything when you press them. Sometimes the pause button works, but the app crashes when you try to resume. So if the app crashes 5 minutes before the end of your show, you can either restart it from the beginning, or move on with your life and never see the ending. Take my advice, spend the extra money and go with a provider like dish or direct TV. Sling may be cheaper, but it's not worth $20-$40 a month considering it barely works. Spend the extra money of a different tv provider, at least their products and services function properly and you get all the channels you want and not just a few.
Get Sling from App Store
What is your opinion about Sling
Bitcoin
Ethereum
MetaMask (ETH)
Xrp
Polkadot
Binance coin
Stellar
Dogecoin
Tron
Elrond
Donate Bitcoin to this address
Scan the QR code or copy the address below into your wallet to send some Bitcoin
Donate Ethereum to this address
Scan the QR code or copy the address below into your wallet to send some Ethereum
Donate Xrp to this address
Scan the QR code or copy the address below into your wallet to send some Xrp
Donate Polkadot to this address
Scan the QR code or copy the address below into your wallet to send some Polkadot
Donate Binance coin to this address
Scan the QR code or copy the address below into your wallet to send some Binance coin
Donate Stellar to this address
Scan the QR code or copy the address below into your wallet to send some Stellar
Donate Dogecoin to this address
Scan the QR code or copy the address below into your wallet to send some Dogecoin
Donate Tron to this address
Scan the QR code or copy the address below into your wallet to send some Tron
Donate Elrond to this address
Scan the QR code or copy the address below into your wallet to send some Elrond