(App) Empower Retirement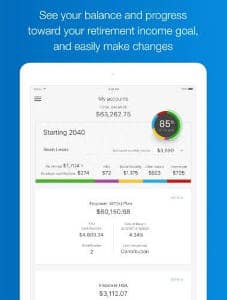 App Description :
Empower's award-winning mobile app can help you take control of your finances today. You can easily register an account, proactively manage your money, access intuitive resources to build your financial confidence—and so much more.
App Features :
PERSONALIZED VIEW OF YOUR ENTIRE FINANCIAL PICTURE
At Empower, we want to make it easier to manage your finances and give you right the tools to take smart steps toward your goals. With the Empower mobile app you can manage all your Empower accounts—anytime, anywhere—including your retirement plan, investment accounts, health savings accounts and more.
ENHANCED PROTECTION WITH EXTRA LAYERS OF SECURITY
Biometric identification and multi-factor authentication provide added security to help protect your identity, privacy, assets and data. And Empower will never sell your personal information to third parties.
OPTIMIZE YOUR EXPERIENCE WITH INTEGRATED FEATURES
Connect your app experience with Siri and the Apple Watch to track your accounts—and your progress—while you're on the go.
The images provided are for illustrative purposes only.
Securities offered and/or distributed by GWFS Equities, Inc., Member FINRA/SIPC. GWFS is an affiliate of Empower Retirement, LLC; Great-West Funds, Inc.; and registered investment advisers, Advised Assets Group, LLC and Personal Capital. This material is for informational purposes only and is not intended to provide investment, legal or tax recommendations or advice.
Unless otherwise noted, investments are not deposits, insured by the FDIC or any federal government agency, or bank guaranteed and may lose value.
Additional Information :
Size 161.7 MB
Requires iOS 12.1 or later.
User Reviews :
Great job
I was a state employee for 30 years and have been enrolled with you guys since you came on board with the Commonwealth of Pennsylvania

I retired almost 20 years ago and have been very happy with my account management.

I used to be able to call and check my balances but that has stopped since I enrolled online I still would like to be able to call but otherwise I am totally happy with your service

Since I am retired and only have a pension and Social Security for an income I thought I should talk to someone about reassigning my investments. I appreciate your knowledge and help in this matter thank you for all you do in protecting us retirees.
Lacking in features – now can't login
I wish I could go back to voya. Ever since my company changed to empower – I've felt so much less empowered managing my 401k.

This app has always been flawed but now I can't even login after the last update. 1) Prior to this issues logging in seemed to take a solid 30 seconds after entering credentials – now it won't log in at all. 2) Having the ability to see a graph / multiple types of bar/line graphs on month over month or year over year progress with different colors for each fund is important but extremely lacking. 3) Also being able to compare on a table available mutual funds to invest in to and history of possible fund performance on a birds eye view for the last 30 days, ytd, 3month, 6month, 1 year, 3, 5, 10 year for a given etf/fund is so crucial but lacking in this app. 4) having visibility with reinvesting dividends and when the next ex-div dates are happening for my company needs to be present as well (and isn't but is in other 401k apps like voya). Developers please give this app some love as its extremely lacking in core features that are present in other competitor apps (like voya etc)
Needs a overhaul pros vs cons
I put this app on my phone to help manage my fiancé's retirement plan here are the pros and cons I've found it is very simple and easily navigated and pretty straightforward Easily make changes change your investments increase or decrease contribution amounts only would recommend it To you anyone with an account way easier Then trying to manage your account from their website which need serious work and being more user-friendly go with the app. Con However not being Able to see who your money is invested with is a major drawback if you press the managed account button it tells you you don't have authorization but it is your money so who is this authorized person managing the account. con two it doesn't show you the money that you contribute versus the money your employer contributes. Con three it is incredibly slow to update my fiancé's has been showing the same amount for a month and finally went up one dollar today when she got paid I would say both their app and their website need a major overhaul.
Excellent App, Frustrating Internal Advertising
The app works very well and has a lot of useful features, probably almost as many as you would have logging in to the Empower website. I appreciate the sturdy functionality of this app. I have had zero glitches or problems with this app. My only frustration with this app (and Empower) is the "front-and-center" internal advertising for financial advisory/management services—Not only do I personally not need these services, but it would be too easy to sign up for them accidentally. IMO this advertising should be off to the side somewhere and definitely not on the landing page of the app and website. But functionally this is a great app for managing my Empower investments. I would recommend it for any current Empower customers.
Developer Response ,
We appreciate your review and will definitely take your feedback into further consideration. Thank you!
Get Empower Retirement from App Store
What is your opinion about Empower Retirement
Bitcoin
Ethereum
MetaMask (ETH)
Xrp
Polkadot
Binance coin
Stellar
Dogecoin
Tron
Elrond
Donate Bitcoin to this address
Scan the QR code or copy the address below into your wallet to send some Bitcoin
Donate Ethereum to this address
Scan the QR code or copy the address below into your wallet to send some Ethereum
Donate Xrp to this address
Scan the QR code or copy the address below into your wallet to send some Xrp
Donate Polkadot to this address
Scan the QR code or copy the address below into your wallet to send some Polkadot
Donate Binance coin to this address
Scan the QR code or copy the address below into your wallet to send some Binance coin
Donate Stellar to this address
Scan the QR code or copy the address below into your wallet to send some Stellar
Donate Dogecoin to this address
Scan the QR code or copy the address below into your wallet to send some Dogecoin
Donate Tron to this address
Scan the QR code or copy the address below into your wallet to send some Tron
Donate Elrond to this address
Scan the QR code or copy the address below into your wallet to send some Elrond