(Game) Royal Match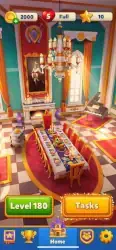 Game Description :
King Robert needs your help to restore Royal Castle's former glory.
Break the obstacles and combine amazing power-ups to beat joyful and challenging levels! Keep unlocking wonderful areas by playing fun match-3 levels! Come along now and join the fun!
Once you play, you will come for Royal Match every day!
Game Features :
A new unique taste in match-3 levels with amusing obstacles and fun levels!
Collect loads of coins in bonus levels!
Lots of powerful boosters await for you to unlock them!
Open amazing chests to win magnificent rewards!
Restore the Royal Castle into an amazing and wonderful place!
Explore the new rooms, royal chambers, splendid gardens, and many more exciting areas!
Additional Information :
Size 255.3 MB
Requires iOS 10.0 or later.
User Reviews :
Amazing and addictive! One suggestion…
I instantly became addicted to this game the second I started playing. The levels are fun and building the rooms gives it a point so your not just playing levels to play them. I've played other puzzle matching games like this in the past and some levels have been extremely difficult, causing me to quit trying. This game has hard levels but not so hard that I would quit the game. The bonus levels where you collect the coins are fun to and appear quite often. The one thing I would suggest is that the kings nightmare levels appear more often because when I first downloaded, I was so happy to see the nightmare level like shown in the ads. After the level, I was constantly waiting for the next one to appear but it was until around level 45 maybe that I saw the next one. I wish there was more because those are my absolute favorite levels of the game and I'm sad to say that I have only played a few of them out of the whole time I've had this game. I hope to see more of these in the game soon. Other than that, I completely love this game and would definitely recommend downloading this!!!
RoyalMatch
I really like playing this game but it is so expensive to play it's ridiculous. You have to spend 1900 coins just to get three helps with the hammer, and most of the other ones run about 3900 coins. I have spent so much money on this game trying to pass these levels it's ridiculous. I can't keep doing it so sometimes I'll just spend time going over and over again on it trying different ways, but like I said even though it's a fun game it's very expensive and I'm sure the developers, etc, are making a ton of money off this game. They need to lower the amount of coins that you need to spend to get helps. Then if you want to buy helps with your own money that can be expensive. 1000 coins for $1.99 can go super quick, as well as $4.99 to $6.99 for some of the lower price packets where you might get anywhere from 5000 to 14,000 coins, but again that could go in about five minutes if you're trying to pass a level. I think the most I spent at one time was $9.99 for some coins and some hops and like I said it doesn't last long. The game isn't really designed to help you progress, especially as you go up each level where it gets harder and harder, and don't give me all the algorithms are designed for this or that. I've been playing this game long enough that I can see how it works. You keep saying that all levels are beatable without having to buy anything or using boosters, but only certain levels are.
Developer Response,
Hello, we appreciate your review.
An enjoyable game with some quirky background mechanics
It's a pretty standard match 3 game like many others. Has some fun and interesting gameplay mechanics and so more frustrating ones that quickly get left behind after their section is over (thank goodness). Many of the more difficult levels are dependent on having powerups. The game is fairly generous with powerups and if you join a good team you shouldn't be lacking in them.

However if you do run out you will be stuck on certain missions for ages. They make them just possible enough that they can be beaten without spending money but you have to get insanely lucky with the RNG. If you're willing to whip out your wallet then you're in luck! No matter how little or how much money you spend the game will reward you by making the levels trivially easy for a short time period. I was stuck on a "very hard" level for ages, attempting it at least 100 times with and without powerups, I purchased 1 USD worth of coins and my next attempt I beat it with more than half of my attempts left. For about an hour after that the game pretty much played itself, dropping combos in a cascade never seen before purchasing those coins. I would beat levels in 3 turns out of 30! Exact same scenario happened the next time I was stuck on a level and purchased 1 USD worth of coins. So if you're ever stuck just remember to whip out the old wallet and you'll be rewarded with free wins.
Developer Response,
Hello, thank you for the review.

We are sorry to hear that you felt that the game was too difficult. We are trying our best to keep Royal Match fun and challenging for everyone.

Some levels are more challenging than others, but all levels in the game are beatable without using any boosters or spending any coins.

We appreciate your feedback to help us improve Royal Match.
Get Royal Match from App Store
What is your opinion about Royal Match
Bitcoin
Ethereum
MetaMask (ETH)
Xrp
Polkadot
Binance coin
Stellar
Dogecoin
Tron
Elrond
Donate Bitcoin to this address
Scan the QR code or copy the address below into your wallet to send some Bitcoin
Donate Ethereum to this address
Scan the QR code or copy the address below into your wallet to send some Ethereum
Donate Xrp to this address
Scan the QR code or copy the address below into your wallet to send some Xrp
Donate Polkadot to this address
Scan the QR code or copy the address below into your wallet to send some Polkadot
Donate Binance coin to this address
Scan the QR code or copy the address below into your wallet to send some Binance coin
Donate Stellar to this address
Scan the QR code or copy the address below into your wallet to send some Stellar
Donate Dogecoin to this address
Scan the QR code or copy the address below into your wallet to send some Dogecoin
Donate Tron to this address
Scan the QR code or copy the address below into your wallet to send some Tron
Donate Elrond to this address
Scan the QR code or copy the address below into your wallet to send some Elrond