Popscene (Music Industry Sim) game by MDickie Limited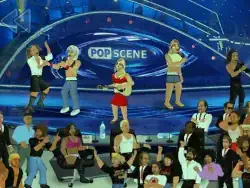 Game Description :
Bring your music collection to life with animated performances as you embark on a career in the industry!
Form your own band by recruiting talent from over 100 artists across 6 unique labels. Then record hits that will top the charts and take them on the road to over 20 different venues – complete with real reviews that scrutinize your strengths and weaknesses. With an endless schedule of possibilities before you, and an ever-evolving industry to immerse yourself in, Popscene captures the highs and lows of music in the palm of your hand!
Please note that this game's use of MP3s may not be compatible with some devices. If this affects you, consider turning off MP3 music in the options.
Game Features :
PLAYING GUIDE:
Popscene divides the music making process into entertainment (represented by stars) and artistry (represented by hearts). As in real life, popular music is more likely to shoot up the charts and draw fans – but without substance, the success may be short-lived. Each of the game's many artists has the following attributes that influence this process:
POPULARITY is the artist's ability to draw fans to entertaining content.
REPUTATION is their ability to draw fans to artistic content.
PERFORMANCE is their ability to perform entertaining songs live.
TALENT is their ability to perform artistic songs live.
PRODUCTION is their ability to compose entertaining music.
WRITING is their ability to compose artistic music.
HAPPINESS is the pleasure they currently get from their work.
ATTITUDE indicates how likely they are to either contribute or cause trouble.
Each week, depending on the size of your team and their collective attitude, new songs may be recorded. Each member of the team contributes their score to a new song, and whoever scores the highest will be credited with making it. Members who are dedicated backstage staff will contribute twice instead of once – increasing the chances of a good song being written.
Once songs exist, it is the on-stage performers who must bring it to life. As with writing, each band member on stage contributes their score and the highest determines how well the song was received in each category. This time, it is the "frontman" who gets to contribute twice instead of once – so consider who is at the forefront.
The overall rating for a show is the average of all the songs performed – albeit slightly more generous so that perfection is not required. This is also true of album reviews. A 5-star performance may consist of consistent 4-star contributions. Reviews are where your performances feed back into the stats that produced them, because each attribute will rise or fall to reflect what just happened.
When booking venues, you must consider how much it will cost versus how much you are likely to recoup. Tickets are sold at $5 per song so it depends how long your set is. You will receive a percentage of this revenue, and must then use that to pay your employees and any other expenses. Singles are sold at $1 each whereas albums are sold at $1 per song for a maximum of $10. If you have a week of inactivity, you may find that you make a loss because of the expenses of your lifestyle (which reflects your wealth).
I regret there is more to this game than I could ever explain here, so enjoy figuring some things out for yourself!
Additional Information :
Age Rating 9+
Size 44.9 MB
Requires iOS 6.1 or later.
User Reviews :
Fixes
I'm a huge fan of all of your games! This one especially, but I feel like it has so much untapped potential, first off I feel like you should work on making a massive update to the game so that money is actually able to be spent on things like cars and such and you should transfer it from what it is now to a game set in a neighborhood or some kind of setting where like you can buy different houses and when you want to make a new song you can physically GO to your studio in the car that you BUY for yourself with your career earnings. Aside from that I wish you would fix the MP3 crashing issue because despite the game music being straight heat, I'd love to be able to use my own music. Thanks for taking the time out of your day to read this and I hope that you consider my proposals
Awesome Game, Chart System Needs Fixing
So this game is amazing and everything I've asked for, but the one thing that bothers me about the game is how screwy the charting system is. Like, how you can only have one single out at a time, the album chart being the same as the single chart, or how after an album is released you can't release any more singles. I mean, it's not the worst thing in the world, it's just annoying when you want to have multiple songs in the top 10 or have a number one album AND number one single.

Also, there should be like Gold and Platinum rewards and such. That's all.
Get Popscene from App Store
What is your opinion about Popscene
Bitcoin
Ethereum
MetaMask (ETH)
Xrp
Polkadot
Binance coin
Stellar
Dogecoin
Tron
Elrond
Donate Bitcoin to this address
Scan the QR code or copy the address below into your wallet to send some Bitcoin
Donate Ethereum to this address
Scan the QR code or copy the address below into your wallet to send some Ethereum
Donate Xrp to this address
Scan the QR code or copy the address below into your wallet to send some Xrp
Donate Polkadot to this address
Scan the QR code or copy the address below into your wallet to send some Polkadot
Donate Binance coin to this address
Scan the QR code or copy the address below into your wallet to send some Binance coin
Donate Stellar to this address
Scan the QR code or copy the address below into your wallet to send some Stellar
Donate Dogecoin to this address
Scan the QR code or copy the address below into your wallet to send some Dogecoin
Donate Tron to this address
Scan the QR code or copy the address below into your wallet to send some Tron
Donate Elrond to this address
Scan the QR code or copy the address below into your wallet to send some Elrond