Piano Tiles 2 game by Cheetah Technology Corporation Limited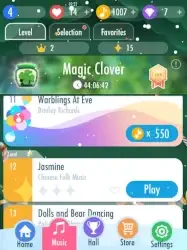 Game Description :
More rhythmic music, more exciting gameplay, more challenging levels, etc.
Play the anniversary carnival of Piano Tiles 2™ with 1.1 billion players around the world!
Game Features :
1. Simple graphics, easy to play and everybody gets playing the piano!
2. Breath-taking rhythm will challenge your handspeed limit!
3. Top challenge mode gives you thrill and risk!
4. Update of numerous songs, original, classic, bangs and all the style to satisfy different taste.
5. Share your record with your friends, and compare with world-wide players on the ranking list!
6. Sound of high quality makes you feel like in a concert.
7. Save your progress via Facebook account and share the progress in different devices.
8. More challenge, more bonus and a better self.
Gaming mode: Don't tap the white tiles! Tap the black tiles according to the melody and don't miss any tile! Concentrate yourself and maximize your reaction!
Support: If you have any question, please send it to gpfeedbackpt2[at]gmail.com, or you can go to the settings – help and support to contact us. We will solve your problem asap.
Business Corporation: Cheetah Games is willing to cooperate with all the top game developers world-wide to create games. We are looking forward to your excellent games.
Please contact us: cheetahgames[at]cmcm.com.
Privacy Policy: www.cmcm.com/protocol/site/privacy.html
TOS Privacy:www.cmcm.com/protocol/site/tos.html
Ad Choice:www.cmcm.com/protocol/site/ad-choice.html
Additional Information :
Age Rating 12+
Size 183.5 MB
Requires iOS 11.0 or later.
User Reviews :
Amazing game but some issues
I used to play this game all the time a few years back, but I ended up deleting it a few times for storage and all that. I decided to get it again because I used to spend hours on this game all the time cause it was so fun. And don't get me wrong, it is still fun!! This game is so addicting, like I can't describe it. But, there are some issues I've noticed with it now that weren't there before. First off, though I know this is intentional, the ads after every single song are kind of annoying, but I can handle that (though it used to never be like that). But what is REALLY frustrating is how when I'm playing a song, it'll suddenly glitch and get like really slow out of nowhere, before going back to normal speed and when I'm doing the endless mode that is really hard to adjust to out of nowhere. So then, I go to maybe watch an ad to continue cause this glitch messed me up. After the ad is over there is like no sound on the song!! It's just silent, but of course the ads have sound. A simple leaving the app and coming back fixes that on, but it's still very frustrating. I don't know if anyone else is experiencing this, but if this gets fix, I'm definitely rating five stars!! I love this game so much so I would love for these problems to be resolved
THE GLITCHESSSS
Ok one thing: I love this game. But the ads and glitches, seriously? I don't really mind ads, but today when I was playing a level on it, I got an ad and after 1 level, there was always an ad. I really wanted it to stop, but there was nothing I could do about it. And next thing, the glitches. I messed up at the end of the level, and I wanted to use and ad to revive. But when I clicked the button, it wouldn't pull up an ad to revive me. I clicked again and again, because I needed it and I didn't have the other thing that would revive me. Nothing worked, I just had to restart. This has been happening to me when I have internet and it doesn't have the glitch when I have no internet. And one more glitch. So you know how you can get prizes when you get t stars? Well, I got 8 stars and it is still saying I have 3. It won't stop! Every time I try to get the prize, it says "you need 2 more stars to get the prize." IDK why it is doing that… So please, could you cut back on the ads, and fix the glitch? If you could, I would greatly appreciate it. Also, I am so sorry that this review is very long…
best game I ever played! 
This game is one of my FAVORITE games I love it. You get coins really easy, it helps you type WAY faster, the first level, SUPER easy for beginners. You build your way up into new levels, and get 3 new songs along the way, I have to warn you though, it has lots of ads.. I don't really notice though. Sorry there a lot of comas btw lol. I just love this game there's new songs to unlock, challenges to be in #1 place, you can favorite the songs you like to! I do recommend using both fingers wall you play it makes it way easier. I prefer (don't know if I spelled that right) piano tiles 2 better because it's not like the other apps where they put the original songs in there adds but when you play it's just a fake version of the song this game has classy songs, Christmas songs, they have the real Alan walker songs, (it's money for Alan walker songs) I just love it  I have not seen any bugs either! You can use power ups such as slowing it down, a shield, and doing it for you! This is just my favorite you should get it! It's completely free! And I assure you THIS WILL BE WORTH your time
Get Piano Tiles 2 from App Store
What is your opinion about Piano Tiles 2
Bitcoin
Ethereum
MetaMask (ETH)
Xrp
Polkadot
Binance coin
Stellar
Dogecoin
Tron
Elrond
Donate Bitcoin to this address
Scan the QR code or copy the address below into your wallet to send some Bitcoin
Donate Ethereum to this address
Scan the QR code or copy the address below into your wallet to send some Ethereum
Donate Xrp to this address
Scan the QR code or copy the address below into your wallet to send some Xrp
Donate Polkadot to this address
Scan the QR code or copy the address below into your wallet to send some Polkadot
Donate Binance coin to this address
Scan the QR code or copy the address below into your wallet to send some Binance coin
Donate Stellar to this address
Scan the QR code or copy the address below into your wallet to send some Stellar
Donate Dogecoin to this address
Scan the QR code or copy the address below into your wallet to send some Dogecoin
Donate Tron to this address
Scan the QR code or copy the address below into your wallet to send some Tron
Donate Elrond to this address
Scan the QR code or copy the address below into your wallet to send some Elrond