Smart Life app by Volcano Technology Limited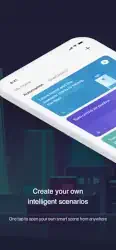 App Description :
Smart Life is a smart device management App for you to control and manage your intelligent home products easier and to live smarter.
App Features :
Smart Life has integrated with HealthKit. It allows you to seamlessly connect your health records using the body fat scale to Apple Health, where BMI, weight, height, fat percentage, and more can be found in Apple Health's body measurements, giving you a clear and comprehensive picture of your health. You'll need to enable health privacy permissions for Smart Life.
During the use process, how to ask questions and comments can be feedback to us in the "FAQ & Feedback" in the app.You can also contact us in the following ways:
Official email: volcano[at]volcano-smart.com
Additional Information :
Age Rating 4+
Size 225 MB
Requires iOS 11.0 or later.
User reviews :
App has worked very well!! Couldn't ask for a better automation app for free!!
This app dev has squeezed the most use with minimal bugs or issues out of the open source software it's based on. My use over a years + time span has been nothing but fantastic. I also have extensive use with two other apps based on the same open source software and while they have had minimal bugs or other issues as with this app they didn't quite have the same expanse of use. This goes for shear range of devices that could be controlled, not to mention how many different ways/signal types could be used to control devices, but also the main use I enjoy is the breadth of color I have to select from with the color changing light. Lighting is my largest use for this app next to power consumption monitoring devices and I have only one complaint about the lighting. I would love a feature that allows my color change lights to change colors in conjunction with the music I have playing with just a couple basic hue settings to keep the color in one area of the color wheel, so in one song I'm not getting every single color available at a strobe lights pace because that just is not pleasant. In synopsis, this is a fantastic automation app that takes advantage WiFi, Bluetooth and WiFi signal variations all while charging not a cent.
Works great!
Smooth system with great extended coverage as it seems all devices link! If something ever fails, just redo it like it was new without changing the name, and it will reconnect in an instant. I use all the features including several groups, timers, all of the settings offered on the light bulbs, and others. If power goes out temporarily, in a few minutes your devices will automatically be back on line w/o any input from you! I like the energy monitoring switches in various brands that work with this system and they all work very well! Of the colored light bulbs, I have found that the ones that are a dollar or two more than the cheapest will mimic the really expensive colored bulbs! Remember to get WiFi extenders or similar when you add lots of devices so that everything runs smoothly! When I add an extender, every device seems to be much quicker and no bobbles! Last note I will mention is that in 99% of any failures is your WiFi not this program! However, remember to reinstall any device that is not working per instructions that came with the device! BTW, I have around 35 bulbs and switches on this system and about 60 other devices and they all work fine because of an upgraded router designed to handle many devices as well as three extenders!
What happened
First the app work as expected although pairing some of my plugs was difficult and time wasting. After a couple months the APP got stuck and would not open. After a few days I removed it. In the APP store I found an app that looking identical but it's name was 'Smart Life+. I installed it. It work just like this app and the only noticeable different was the main splash screen was a larger tree of devices, etc. Today, not this new version (so I thought) is not in the APP and maybe that explains why the APP would not open.

So, now for the third time I have to pair all my plugs and recreate scenes or activities, whatever.

Alexa seems to be working as usual. So. I don't understand how the Smart Life+ app was working in the background.

Now I've installed this Smart Life app and there must not be a data storage for these apps. I need to pair everything again, recreate scenes and get Alexa to detect my plugs. This is such a mess with duplicate in my Alexa APP for every time I've had to start all over again. Crawling on the floor, moving my bed to get to plugs behind it. So tired and even more confused. Developer, Help!

What happened to this APP? Where did the + version go?
Get Smart Life from App Store
What is your opinion about Smart Life
Bitcoin
Ethereum
MetaMask (ETH)
Xrp
Polkadot
Binance coin
Stellar
Dogecoin
Tron
Elrond
Donate Bitcoin to this address
Scan the QR code or copy the address below into your wallet to send some Bitcoin
Donate Ethereum to this address
Scan the QR code or copy the address below into your wallet to send some Ethereum
Donate Xrp to this address
Scan the QR code or copy the address below into your wallet to send some Xrp
Donate Polkadot to this address
Scan the QR code or copy the address below into your wallet to send some Polkadot
Donate Binance coin to this address
Scan the QR code or copy the address below into your wallet to send some Binance coin
Donate Stellar to this address
Scan the QR code or copy the address below into your wallet to send some Stellar
Donate Dogecoin to this address
Scan the QR code or copy the address below into your wallet to send some Dogecoin
Donate Tron to this address
Scan the QR code or copy the address below into your wallet to send some Tron
Donate Elrond to this address
Scan the QR code or copy the address below into your wallet to send some Elrond