Papa Louie Pals game by Flipline Studios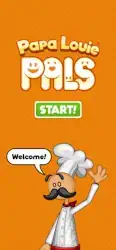 Game Description :
Let your creativity shine in Papa Louie Pals, where YOU create the characters and stories in Papa Louie's world! Design and save a collection of your own unique Pals, and use them to build scenes and stories to share.
CREATE TONS OF PALS
It's now easier than ever to design your own characters! Use sliders to adjust your Pal's body, choose from a wide range of skin tones and hair colors, and add extra details like freckles and makeup to your Pal. Find just the right hairstyle for that perfect look, and change the mouth and eye styles to give them some personality. Switch to the clothing section at any time to choose from hundreds of unique shirts, pants, skirts, jackets, hats, and accessories for your Pal, and change the colors of each item to create an amazing outfit.
BUILD SCENES AND TELL STORIES
Creating Pals is only the beginning! Combine your Pals with scenery, word bubbles, and props to arrange your own custom scenes. You can place Pals anywhere you like in a scene, and use gestures to rotate and resize them. Choose from a wild assortment of poses for each character, and change their facial expressions to match their mood. There are a variety of backgrounds you can use in your scenes to help tell your story, and dozens of props that your Pals can hold in their hands. If you Pals have something to say, you can also add word bubbles and captions to the scene!
ADD PAPA LOUIE AND HIS FRIENDS
Are your Pals looking for even more friends? You can also include Papa Louie and his famous customers from his many restaurants like Papa's Freezeria! Multiple Customer Packs are available that include a handful of customers, tons of new backgrounds and props for your scenes, as well as new clothing that any of your custom Pals can use. Customers can use all of the same poses and props as your Pals, and they even come with their own unique alternate outfits
SAVE AND SHARE
Once you've created a scene, you can save an image to your device, or share it with your friends through messages or on social media! You can also go back and edit any of your saved scenes and Pals whenever you like.
ENDLESS POSSIBILITIES
Use the images of your scenes for all sorts of things like comic strips, memes, or visual fan fiction. Showcase your character designs, create crazy situations for your Pals, or tell a story across multiple scenes.
Game Features :
Creation tool based in the Papa Louie universe
Design custom characters with hundreds of clothing items, hairstyles, and more
Build scenes with the Pals you create
Choose from multiple backgrounds including patterns, outdoor areas, and indoor scenes
Give props to your Pals in your custom scenes
Add word bubbles and captions to tell a story
Get Customer Packs to add poseable customers, new backgrounds, and more themed props and clothing
Additional Information :
Size 78.9 MB
Requires iOS 10.0 or later.
User Reviews :
To the creators of the game,
This game is a great character creator and scene creator and I've been playing it since I was little. But, I think these would make the game better. 1. The option to make the bangs a different color than the rest of the hair or to make ombre hair with out owning the freezaria, sushi game etc. 2. More props or prop categories like every day object props ( like more objects for jobs that the characters might have if a story creator/ player was to give their characters jobs) 3. The option to give players pets for scene making. When I say that I mean adding an on off button for pets, poses that let you interact with that pet ( making it look like you are petting a dog of sum) and selecting a pet like a bunny or a cat that will appear next to the characters. Read someone else's review if you want to know more about the game and I hope you have a good day!!

To the creators *again*

These "requests" are optional. You don't have to add these to the game they would just make it better. *also no hate intended* thanks for reading, all the best, Flora-
Please read ( it's not about the game)
This game is amazing but… it's not about it.. I was thinking maybe you could do papa's freezeria or cupcakeria or hot

Doggeria or burgeria for free… it's just I played them in computer and I was so happy! They were amazing! And sooo good! I would play it everyday!

It filled my childhood with happiness whenever I was sad… I would play it and I would laugh so hard at the character's reaction when I make a burger that she or he doesn't like! I would always love the look of the food!

But sadly… the computer.. it's ruined because I played games on it.. I felt so awful I knew I wouldn't Play these games anymore…

until I got an iPad! I was so happy! But I'm super upset that the other games are not free on iPad.. so I'm asking! Please please make only one game free of the cooking games! I really want to

Play them! And my parents would never ever buy me a game so I'm just asking this little favor! I hope you understand! Or at least make it free for a limited time… and then put it back on sale! Thx for reading!
Get Papa Louie Pals from App Store
What is your opinion about Papa Louie Pals
Bitcoin
Ethereum
MetaMask (ETH)
Xrp
Polkadot
Binance coin
Stellar
Dogecoin
Tron
Elrond
Donate Bitcoin to this address
Scan the QR code or copy the address below into your wallet to send some Bitcoin
Donate Ethereum to this address
Scan the QR code or copy the address below into your wallet to send some Ethereum
Donate Xrp to this address
Scan the QR code or copy the address below into your wallet to send some Xrp
Donate Polkadot to this address
Scan the QR code or copy the address below into your wallet to send some Polkadot
Donate Binance coin to this address
Scan the QR code or copy the address below into your wallet to send some Binance coin
Donate Stellar to this address
Scan the QR code or copy the address below into your wallet to send some Stellar
Donate Dogecoin to this address
Scan the QR code or copy the address below into your wallet to send some Dogecoin
Donate Tron to this address
Scan the QR code or copy the address below into your wallet to send some Tron
Donate Elrond to this address
Scan the QR code or copy the address below into your wallet to send some Elrond