(Game) PAC-MAN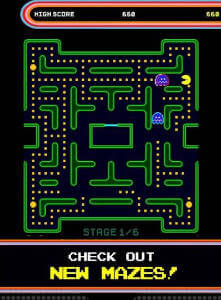 Game Description :
THE GLOBAL VIDEO GAME ICON TURNS 40! JOIN THE PAC!
Celebrate PAC-MAN's 40th Anniversary with a new UI highlighting the five bold colors of PAC-MAN and the Ghosts. Coming out of the video game world, they will paint your life with fun and excitement. PAC-MAN IS FOR EVERYONE!
Enjoy the world famous arcade videogame, PAC-MAN, for FREE! Earn high scores as you guide PAC-MAN through the maze to eat all the pac-dots and fruits while avoiding the pesky Ghost Gang! Or turn them blue by eating a power pellet to chomp on them!
Who can forget the retro addictive gameplay of this pop culture icon? Remember all those countless hours of free time and quarters spent at the local arcade back in the '80s? Re-live those classic gaming moments on your mobile phone!
PAC-MAN is the retro arcade game you know and love, now better than ever before! Join millions of fans and experience this classic along with new features* such as original mazes, weekly tournaments, and token rewards!
Game Features :
CLASSIC 8-BIT ARCADE ACTION
Now everyone can play the original coin-op icon, PAC-MAN
Pixel perfect – Looks, sounds, and feels just like you remember!
Addictive old school gameplay – Run away or chase the ghosts!
NEW MAZES
Unique challenges await with brand new mobile exclusive mazes!
Easy to learn, hard to master – Just one more game!
The definition of simple and timeless game design
DAILY PAC-MISSIONS!
Earn token rewards by completing daily gameplay challenges
Eat 20 ghosts, eat 4 fruits, get 1000 points, etc. the list goes on and on!
TOURNAMENTS
Take the weekly tournament maze challenge to earn tokens!
Compete at your own pace with 3 difficulty levels
Get high scores and climb the leaderboards!
TOKEN REWARDS
Spend earned tokens to unlock new mazes, or earn more tournament attempts!
Earn free daily rewards
Rediscover the retro classic all over again! Bring the old school arcade action of PAC-MAN anywhere you go! Did we also mention that PAC-MAN was inducted to the World Video Game Hall of Fame in 2015?
Download PAC-MAN for FREE today!
Additional Features:
Achievements and Leaderboard support
Insider Pro-Tips on how to be the best maze runner in the world
Like us on Facebook: www.facebook.com/PACMANForMobile
Check out our website: www.bandainamcoent.com/home.html
* = Some terms and conditions may apply.
Supports iOS 10.0 or later
The NBA identifications are the intellectual property of the NBA. © 2020 NBA. All Rights Reserved.
Additional Information :
Size 177 MB
Requires iOS 10.0 or later.
User Reviews :
Love the Game
As like many reviewers here I am one of those old school gamers that actually remembers and loves the classic arcade version, I'm sure that is precisely why we keep purchasing this game over every single mobile phone! I personally have had this game on every mobile since my first flip phone. This version is great regarding replicating original graphics and gameplay (swipe control only) however and I'm sure that I'm not alone on this I want to be able to purchase a version that only focuses on the classic portal version I really don't care for all the extra "bloatware" unnecessary mazes for just ruin the experience all I want is what I had in 1980 That would be One maze not countless mazes 1 maze that increased difficulty level each time the mazes are cleared, I'm sure there is some sort of marketing reasons but for folks like myself I only want the original game nothing else.

Bandai Namco
Top Retro Game Of Mobile
To be honest there is not much to say. This game takes us all back into the past where gaming started out. But this version of the game of awesome it has all kinds of mazes and difficulties as well witch to me gives mobile gamers like me to get a look at the game your about to play. The game itself is awesome and I believe this game can make Editors Choice on App Store. To be honest I play Fortnite and PUBG mobile and they are boring compared to what game this is. I mean who hates good old retro gaming it brings memories back. For people who give this game a 1 star ya better think again or are you a real retro gamer. For all adults or kids who knows about retro gaming and history of gaming ya know what I'm talking about. We have all have had some history with PAC Man before this game but this is probably as far as a modern PAC Man can go. Once again it's not one of those pay to win games. For instance Roblox is a big pay to win game and it's stealing people's money but this game is the opposite of that and that's why this game and Bandai Namco deserve awesome awards for this game. Thank you for your attention and PAC Man lovers continue with this game it is an awesome and mostly all around best retro game. Thank You
Love it a lot
Hi my name is Jade and I love this game a lot you can like choose mazes or something and there's a PAC-MAN and I like the ghost it's like you have five lives or something and then you eat all the pellets and me and my brother just played it and we like to have a competition to see who finishes the maze first and you also get to choose skins of the PAC-MAN but there's another version of PAC-MAN called Mrs. Pac-Man I love it and it's like so cool right now and you have to download it and we have Mrs. Pac-Man on the PS4 and also The game is like Mrs. Pac-Man except on the mrs. Pac-Man version when you complete all the levels on Mrs. Pac-Man miss Pac-Man and Pac-Man kiss together that's kind of disgusting but I love the PAC-MAN game it is so cool really cool and there's also a people who says it's bad you should download the game Love it a lot you should download it and also Jalen loves it besides Jalen's my brother I just saw my brother playing PAC-MAN now he's playing a different game and every time he sees my iPad he takes it and plays Pac-Man and download this game please please please please please download it I know you are about to download it and don't forget read my comment bye-bye
Get PAC-MAN from App Store
What is your opinion about PAC-MAN
Get more free apps & games daily
Subscribe to our mailing list and get free apps & games daily to your email inbox.
Thank you for subscribing.
Something went wrong.
Bitcoin
Ethereum
MetaMask
Xrp
Polkadot
Binance coin
Stellar
Dogecoin
Tron
Elrond
Donate Bitcoin to this address
Scan the QR code or copy the address below into your wallet to send some Bitcoin
Donate Ethereum to this address
Scan the QR code or copy the address below into your wallet to send some Ethereum
Donate Xrp to this address
Scan the QR code or copy the address below into your wallet to send some Xrp
Donate Polkadot to this address
Scan the QR code or copy the address below into your wallet to send some Polkadot
Donate Binance coin to this address
Scan the QR code or copy the address below into your wallet to send some Binance coin
Donate Stellar to this address
Scan the QR code or copy the address below into your wallet to send some Stellar
Donate Dogecoin to this address
Scan the QR code or copy the address below into your wallet to send some Dogecoin
Donate Tron to this address
Scan the QR code or copy the address below into your wallet to send some Tron
Donate Elrond to this address
Scan the QR code or copy the address below into your wallet to send some Elrond