(Game) Knights of Pen and Paper 2
 iphone games download free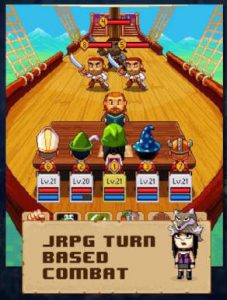 Game Description :
Prepare to join Knights of Pen & Paper 2 in a turn-based, retro style, pixel-art adventure full of danger, intrigue, and semi-appropriate cultural references!
The game is now free, with a fully reworked combat balance and ingame economy. More of everything! We will continuously improve the game, be sure to keep the game updated!
Players portray both party and game master playing a tabletop RPG, and must assemble both their characters, and the challenges they will face.
There's something genuinely pleasant about Knights of Pen and Paper 2, especially if you're a fan or tabletop role playing. It pokes fun, but it's always warm towards its subject matter.- Pocket Gamer
a great little RPG that presents excellent value for money with much to love.- Continue Play
Game Features :
The ultimate retro role-playing simulation – again!
Fully customizable party, from the players to the game room.
Expanded equipment and crafting systems.
All-new campaign featuring dozens of locations, sidequests, and dynamic dungeons.
Additional Information :
Size 453.9 MB
Requires iOS 9.2 or later.
User Reviews :
Fun game
This game is really fun in my opinion, it's hard to find a decent retro RPG game for A WHILE, but this game is is amazing. While yes, there is the diamonds and the parts that can screw you over, the game makes up for it in its creative jokes, great story, and just over all fun ness to play! I love how you can unlock new characters along the way, but I don't like how you have to pay diamonds, which cost real money (aside from achievements) to get them and the DLC. Overall, I LOVE this game, but if you are planning on playing it, be ready to have to grind/play it often to get far into it. Also, you may get stuck at a part but it's not all that bad, the game gets better and better the further you go into it. Thx for reading this whole lengthy review! Hope it helped decide whether or not to download it. Also there are links online that are risk free from viruses and such that are older versions of the game that don't rely so heavily on the use of diamonds.
Disappointed
This game used to be my favorite game on iOS, yet sadly I had to delete it to make more space on my phone. Now that I've freed up more space I thought it would be fun to download the game again. However, after a week of trying to get it to start after the screen would just fade to black and not change from that, I finally got it up and working and what I walked into was not the game I remembered. It asked me to create an account and then to buy gems once it started, and I was a little peeved but I was willing to overlook this. Then all the room pieces, dlc, and expansions, of which I had purchased and acquired throughout the game beforehand, cost gems, gems that cost real life money. Now restoring my items wouldn't work and so I decided to overlook this too, hoping that the gameplay would allow me to breeze over that. Wrong. I started playing, and it was fine for the most part, until I took a wrong turn and was completely out of money. I had to fight the monsters there to get money to travel, right? However I stumbled into an area that was 12 levels ahead of me. With my heroes all dead, I had 2 options. A) Constantly revive the goth until I defeated one set of monsters and then speed away, or B) pay actual money to get gems to get coins. That was the last straw. I uninstalled the game on the spot. Sorry this was long, I just had too much frustration to vent. That concludes my TED Talk.
I really appreciated this game in its prime.
This game was downright perfect. I cannot express how much of a masterpiece this game was. I've been a huge fan of KoP&P ever since I bought the first one (however I can't play the first one anymore because it has not been updated for the current iOS, would really appreciate it if they could get on that). The gameplay was super fun and got me into DnD in the first place. I loved the character design that they builded on after the first game and it all just seemed to go together…then I took a hiatus….. I came back to play another run for old times sake and was greeted with a free to play version of the game. I thought it was great at first. It's always good to see more players being able to play one of my favorite games and having the same fun I did. Then I realized how much of a money grab this game was. I didn't have any of the DLC anymore and instead I have to buy the game AGAIN but for more this time. The gameplay is kind of the same more or less, but still doesn't feel like it did before. This game went from perfection to a corrupted shell of what it was. I hope to see Paradox either revert these changes, or create a new game to the series that can be a happy medium between the money grabbing and the perfect game it once was. I wish the best to Paradox, but I can't play this game anymore.
Get Knights of Pen and Paper 2 from App Store
What is your opinion about Knights of Pen and Paper 2
Bitcoin
Ethereum
MetaMask (ETH)
Xrp
Polkadot
Binance coin
Stellar
Dogecoin
Tron
Elrond
Donate Bitcoin to this address
Scan the QR code or copy the address below into your wallet to send some Bitcoin
Donate Ethereum to this address
Scan the QR code or copy the address below into your wallet to send some Ethereum
Donate Xrp to this address
Scan the QR code or copy the address below into your wallet to send some Xrp
Donate Polkadot to this address
Scan the QR code or copy the address below into your wallet to send some Polkadot
Donate Binance coin to this address
Scan the QR code or copy the address below into your wallet to send some Binance coin
Donate Stellar to this address
Scan the QR code or copy the address below into your wallet to send some Stellar
Donate Dogecoin to this address
Scan the QR code or copy the address below into your wallet to send some Dogecoin
Donate Tron to this address
Scan the QR code or copy the address below into your wallet to send some Tron
Donate Elrond to this address
Scan the QR code or copy the address below into your wallet to send some Elrond