(Game) My Oasis – Anxiety Relief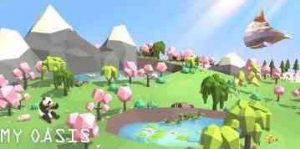 Game Description :
My Oasis: Anxiety Relief Game is a relaxing game that helps in calming your mind, relieve your stress. This anti anxiety game helps in relaxation and calm sleeping.
Why do you need a Stress Relief or Anxiety Relief Game?
Nowadays, relaxation is very much hard to find because we have too much little time to spend in the relaxation of our soul to heal.
So, My Oasis: Anxiety Relief Game is a calming Game which is developed for relaxing your mind. Without wasting time on gameplay and stressful content, it provides a zen environment and calming atmosphere specially built for stressed people for their stress relief.
DO YOU WANT TO TAKE A BREAK FROM YOUR LIFE?
Find Stress relief in our relaxing game. Download 'My Oasis: Calming, Relaxing & Stress Relief Game' now and release your stress in seconds by tapping the screen!
Game Features :
My Oasis: healing game helps you in stress relief, relaxing & calming your mind. It is an idle clicker and tapping game, there are no intense controls, just easy gameplay, and a relaxing environment.
Realistic brain exercise, relaxation and satisfaction to sleep peacefully
Different mind freshness activities in this anti anxiety satisfying game
High quality relaxing sounds to release stress and leave you anti stress mind
Realistic experience of release stress in seconds with this Stress relief game, chill game
Smooth controls to play this meditation game that helps you in relaxation.
Peaceful sounds and calming music that helps you remove your stress and calm your mind
How 'My Oasis: Anxiety Relief Game helps in Stress Relief' and how it works?
In this game play you will collect hearts to collect various animals such as fox, deer, elephant, giraffe, penguin, and whale and complete the oasis.
Peaceful sounds and calming music help bring you to a zen state in My Oasis: Anti Anxiety Relaxing Game
There is an island builder that lets your Oasis gradually expand when you interact with the surrounding life in a relaxing and calming atmosphere. This simple tapper gameplay is designed for Relaxation to calm your mind within seconds. It works like an anti anxiety game, relaxing game or calm game.
Island Builder
The Island Builder is the main feature of this calm game that helps you forget all the stress
The island will expand and create new life such as trees, flowers, and animals
Your island is the virtual zen garden that you would build through Island Builder
Build your island now in the Island Builder and adjust it with musical chords
Tapping Game (Tapping helps in relaxation)
Easy Tapping Game that helps you in relieving your stress
Tap the screen to upgrade your oasis with this easy UI of Tapping Game and calm yourself
Tapping Game or clicker game controls let you do everything by tapping the screen
Tapping game continues without any need to do anything – So, relax and enjoy
Relaxation Game (Calming game, Anti Anxiety Game)
Through the calming sounds, calm interface this anxiety relief game helps you in relaxation
Soothing idle gameplay lets stress fade away and calm your mind by playing this game
Relaxing music that calms your mind after a long day of stress
Calming visuals to help you find peace of mind and helps you relax your mind, calm your mind
Sleep more peacefully after relaxing in your oasis | Game of Satisfaction
Calming Sounds
Healing Sounds in this relaxation game helps you enter the world of peace
Play relaxing melodies by interacting with the environment of this relaxing game
Calming music chords can control the weather and time
Soothing music to help you sleep, relax your mind, satisfy your soul, calm yourself
Calm your mind, release your stress, relieve your anxiety and find relaxation at the end of every day by visiting 'My Oasis: Anxiety Relief Game'
Download Endless Anti-Stress, Anxiety Relief Game (Relaxing Game, Chill Game, Calming Game) for FREE and start satisfying your mind & soul.
Additional Information :
Size 266.5 MB
Requires iOS 10.0 or later
User Reviews :
This game does help my anxiety.
At first, since I'm a very anxious person, and old, it was scary and frustrating to figure out how to do things, but after a few days I learned some things and became more comfortable with playing. Every day I learn something new and enjoy it more. The tapping is helpful for my anxiety but also taxing. You can pay to make your tapping automatically increase, but I just decided I wouldn't play as long because my arm got tired, but when I play, the relaxing music, the animals and the affirmations are really helpful. The elephant is so funny and cute sometimes he takes off running all over the place and other times he stops, falls over and takes a nap. And the whale that swims in the sky is so peaceful. I do have a couple of suggestions about the affirmations. I don't think it's a good idea to tell people who are playing this game for anxiety to "always do what you're scared to do", just in case they have suicidal thoughts. Also, "buck up", "just be happy" , etc. are not helpful but 98% of the affirmations are uplifting and/or funny. Thank y'all for making this game and it makes me feel you really care about us.
Thanks for creating this game
Unlike other games, this game isn't frustrating and it has calm music which relaxes my mindset to a more less stressed brain. However, other games have a lot of ads and stuff and it annoys me, and also they end up really hard and put lots of pressure on me. But, this game has no ads so thank you! I'm touched. Another thing I like about this game is it haves you make pictures of images of animals and stuff, not just plain old things like a table, or cup. Also, the game isn't that perplexing and uhhh yeah that's it! Anyways, this game helps with my stress ness and doesn't get me all like mad. Bye, lemme tell you a question: WYR write or play something with your non-dominant hand or play with one finger?(Ik I'm weird but it's something I always keep in mind to tell people.) Btw, this game is kinda similar to poly island and poly sphere, which is really cool and funny at the same time.

Thanks for reading my review whom ever, and hope you good luck in your future!

Your friend,

New name: Cookiessss
Get My Oasis from App Store
What is your opinion about My Oasis
Get more free apps & games daily
Subscribe to our mailing list and get free apps & games daily to your email inbox.
Thank you for subscribing.
Something went wrong.
Bitcoin
Ethereum
MetaMask
Xrp
Polkadot
Binance coin
Stellar
Dogecoin
Tron
Elrond
Donate Bitcoin to this address
Scan the QR code or copy the address below into your wallet to send some Bitcoin
Donate Ethereum to this address
Scan the QR code or copy the address below into your wallet to send some Ethereum
Donate Xrp to this address
Scan the QR code or copy the address below into your wallet to send some Xrp
Donate Polkadot to this address
Scan the QR code or copy the address below into your wallet to send some Polkadot
Donate Binance coin to this address
Scan the QR code or copy the address below into your wallet to send some Binance coin
Donate Stellar to this address
Scan the QR code or copy the address below into your wallet to send some Stellar
Donate Dogecoin to this address
Scan the QR code or copy the address below into your wallet to send some Dogecoin
Donate Tron to this address
Scan the QR code or copy the address below into your wallet to send some Tron
Donate Elrond to this address
Scan the QR code or copy the address below into your wallet to send some Elrond