(Game) My Mini Mart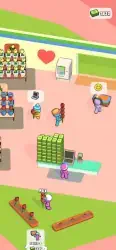 App Description :
Embark on a relaxing yet challenging journey of running your own Mini Mart.
App Features :
Grow organic plants, tend to your animals, & sell produce to customers.
Hire, Build and Expand!
Can you grow your Mini Mart to an empire?
Additional Information :
Size 166.4 MB
Requires iOS 11.0 or later.
User Reviews :
This is amazing
Honestly this was a really fun game but the thing that kind of bothered me, was when ads just started popping up 24 seven it kind of annoyed me because I was trying to play and it just they just kept on popping up the same one same one same one and so that kind of annoyed me but otherwise it was a really fun game I really recommend it but also another thing, is it kept on booting me out of the game and so that just is something that was just sometimes it wasn't all the time but otherwise I really recommend that I give it a five star rating I'm really glad I watch this ad and got this game it's really fun it's so addicting I can't stop. So if you're the creator of this game I just wanted to say if you're looking at this just could you fix that the ads are so many because it's really annoying and I don't think other players like that either but anyways this was a really good game. Other games from this creator are also really fun they're really cool and one of them I think it's an online game and it's really fun to play with your friends and so yeah you should just look at those bye.
Very addicting, but some cons
I absolutely love this game. Basically, it's about a boss building their business from ground up and multitasking while trying to keep the shelves full and then collecting the money for more products. There are multiple levels/marts once you finish one. Number 1. I don't hate this game. I play it almost every single day and it's a game that isn't like the other 3D random games that you get non-stop ads for.

Number 2. There are some annoying features. Like your not able to play with no WiFi. It's not too much of a problem, but if I'm on a long road trip with my family and I'm in the passenger seat I definitely want something to keep me busy for 3 hours. I get that they still need to make money off the ads, but it's irritating at times. Also, the ads aren't too much of a problem for me but I bought the "10,000 cash and no ads" thing, and I didn't get it. It said I bought it but it never gave me no ads, and it didn't give me the 10k. Every time I open the app a little box pops up saying "perchase is deferred" I've had this game for about a month. I've still never gotten my stuff. But beside those, this game still is really fun. I play it almost every chance I get when I'm bored and it really is much better than I thought. All in all, I give it a 4star.
Great game but…
Hey, I don't want to be one of those people who rate a game worse then it should be rated due to the amount of ads that are in it but there are SO many! I timed the amount of time you get to play before another ad pops up, it was 59 seconds. So basically you only get to play for 59 seconds until an ad will pop up and every time and ad pops up I just close the game because it makes me not want to play. So besides there literally being adds every 59 seconds the game is super fun and addicting. You start out with only a few tomatoes and a hundred bucks but you gradually start buying more things and earning more money. You can buy and upgrade workers/ machines to make them faster and allow them to carry more items making the game easier and there are always things to do like restocking your shelves, feeding the chickens, upgrading your workers/machines etc. I only got it yesterday and I love it ofc besides the ads. The ads are literally ruining the game for me. That being said, I would've gave this a five star easily if the ads were less frequent but they aren't, there for I'm only giving it four even though it deserves another.
Get My Mini Mart from App Store
What is your opinion about My Mini Mart
Bitcoin
Ethereum
MetaMask (ETH)
Xrp
Polkadot
Binance coin
Stellar
Dogecoin
Tron
Elrond
Donate Bitcoin to this address
Scan the QR code or copy the address below into your wallet to send some Bitcoin
Donate Ethereum to this address
Scan the QR code or copy the address below into your wallet to send some Ethereum
Donate Xrp to this address
Scan the QR code or copy the address below into your wallet to send some Xrp
Donate Polkadot to this address
Scan the QR code or copy the address below into your wallet to send some Polkadot
Donate Binance coin to this address
Scan the QR code or copy the address below into your wallet to send some Binance coin
Donate Stellar to this address
Scan the QR code or copy the address below into your wallet to send some Stellar
Donate Dogecoin to this address
Scan the QR code or copy the address below into your wallet to send some Dogecoin
Donate Tron to this address
Scan the QR code or copy the address below into your wallet to send some Tron
Donate Elrond to this address
Scan the QR code or copy the address below into your wallet to send some Elrond