(App) My Data Manager VPN Security
 iphoneapps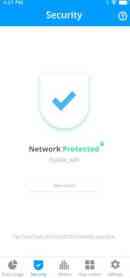 App Description :
Distimo, an App Annie company
Trusted by over 14.8 million users worldwide, My Data Manager VPN Security, is the best app to help you protect your online privacy and take control of your mobile data usage at the same time. My Data Manager VPN Security secures your internet traffic with VPN technology, encrypts your unprotected data and tracks how much data you use per app.
App Features :
With My Data Manager VPN Security you can:
Add an extra layer of security and data encryption
Secure your personal information and browse safely on public WiFi
Monitor your data usage on mobile, WiFi, and roaming
Find out which apps are eating up your mobile data
Get alerts before you reach your data limit to avoid overage fees
Set up a shared or family plan and track usage across all members of your data plan
An app from App Annie
Trusted by more than 1 million users, App Annie is the leading global provider of mobile performance estimates. In short, we help app developers build better apps. With your consent, we collect information about your app and web activity to create market research on mobile behavior. For instance:
Which apps & websites are used in your country?
How many people use a specific app or website?
How much time spent on social networking?
How many times per day is a specific app being used?
We do this with the help of this app.
What are people saying about My Data Manager VPN Security?
My Data Manager is an incredibly convenient tool – CNET
Monitoring your data use has become an essential task … which is why apps like My Data Manager are becoming so important. – ZDNet
We value your feedback and would love to hear from you. Please contact us using the feedback button in the app.
Additional Information :
Size 63.5 MB
Requires iOS 11.0 or later.
Compatible with iPhone, iPad, and iPod touch.
User Reviews :
One of my most useful Apps
Providing a breakdown of total plan usage between our four devices gives a quick way to locate where a high use probably occurred.

An added capability would be a graph showing each day's total over the period of the plan.

Also if the total usage of the last period was still available after the transition to the next plan period could be posted that would be useful as I often forget to check the usage near the end of the last day of my plan period. And even my provider doesn't show that data for the previous period without more than a few "clicks" on its website. More than just one would also work for some.
Does not function in the background
I thought this app was pretty good until I realized that you have to keep the app open in the background for it to work and keep track of your data. But for those of us who like to close our apps occasionally, it's a pain to have to try to keep track of which apps you close in hopes of not accidentally closing this up in the background because once you do, it stops keeping track of your data. There is a toggle in the settings app to turn on background data for this, but that doesn't Change whether or not this app actually functions in the background it just allows it to use data in the background. The app itself needs to have a function to where you can make it run without even being open or elect not to if you choose not to. I know this is possible because I have other apps that can do the same thing for other purposes. They allow a toggle button to allow it to run in the background continually if you so choose. This issue needs to be addressed or else the app is pointless.
A pleasant surprise
I've been using My Data Manager for quite some time, mostly just to keep track of my data usage. I found it very useful for that, especially the alarms, because I'm on a prepaid plan.

But I hadn't enabled the VPN (for no reason that I can recall) but, after a conversation with a friend a couple of months ago, I decided to enable it (hey, it's free).

One thing I noticed right off the bat, most of those horrible inserted browser ads, that throw video at you and are so difficult to get rid of, pretty much disappeared. That in itself would be enough to recommend using the VPN, but I've recently noticed that (probably due to blocking those ads) I'm using data a lot more slowly than I used to. I buy 2 GB at a time for three months, which would typically last me two. But that was OK. However, now, there's only about three weeks left in my current period, and I still have over 1.3 GB of available data. I consider that quite a bonus.

There is a downside, it takes a little longer to make a https connection. But a small price to pay, I feel. Thank you, My Data Manager.
Get My Data Manager from App Store
What is your opinion about My Data Manager
Bitcoin
Ethereum
MetaMask (ETH)
Xrp
Polkadot
Binance coin
Stellar
Dogecoin
Tron
Elrond
Donate Bitcoin to this address
Scan the QR code or copy the address below into your wallet to send some Bitcoin
Donate Ethereum to this address
Scan the QR code or copy the address below into your wallet to send some Ethereum
Donate Xrp to this address
Scan the QR code or copy the address below into your wallet to send some Xrp
Donate Polkadot to this address
Scan the QR code or copy the address below into your wallet to send some Polkadot
Donate Binance coin to this address
Scan the QR code or copy the address below into your wallet to send some Binance coin
Donate Stellar to this address
Scan the QR code or copy the address below into your wallet to send some Stellar
Donate Dogecoin to this address
Scan the QR code or copy the address below into your wallet to send some Dogecoin
Donate Tron to this address
Scan the QR code or copy the address below into your wallet to send some Tron
Donate Elrond to this address
Scan the QR code or copy the address below into your wallet to send some Elrond