MINUS Music Adventures game by ARIHANT TEXCHEM PRIVATE LIMITED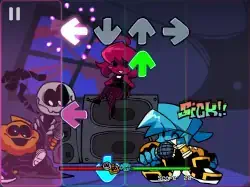 Game Description :
MINUS Music Adventures Game is an amazing Music Rhythm game where you should face multiple opponents in some cool rap duels.
How to play:
The screen is devised into 4 large panels. Each panel represent an arrow.
Tap the right panel in the right moment to match the notes.
The notes are represented by colored arrows (Up, Down, Left, Right)
Game Features :
Easy Controls
Multiple Weeks (Levels)
Character Selection
Different opponents with different music styles
Have fun playing, and don't forget to leave your feedback to improve the game.
Additional Information :
Age Rating 4+
Size 175.4 MB
Requires iOS 11.0 or later.
User Reviews :
Really good!
I went into this game thinking this was another ripoff, but this game actually turned out to be way better! This is just like the real game! I have been playing for almost an hour and no ads! I managed to complete the whole game. I would recommend this to any person who wants to play fnf but doesn't have a computer. 10/10. Would play everyday
Rlly good game but there's some things you might need to fix
This game is rally good but there is some things you might could use adding to the game or fixing. There is no difficulty bar and I play the original fnf a lot so ik that that every song is literally on easy mode so I could rally use a difficulty bar and also it wont let me play week 2 so pls fix that also I could rally use some mods this one is optional but once you beat all 7 weeks it becomes boring so adding mods will rally halp us. Also I need more options like maybe smaller hitboxes for those ones who do better with smaller ones and the down scroll for the ones who do better with it being able to see the arrows at the bottom. If you do at least one of these suggestions I will give 5 stars
It's good but…
So I've been playing this game for about a month now and I really don't like it that much. Because somehow when I tried to battle Skid and Pump, (Spookeez AND south) it would not work. This happened with tank man too. (Just Ugh). It also happened with Daddy Dearest (Bopeebo and Dadbattle). It also happend with Senpai. (Roses) It will just kick me out of the app for no reason. Also whenever I try to press a note it will either miss or kick me out of the app. Also WE NEED MORE CHARACTERS.I don't really like beta boyfriend, blue boyfriend, and red boyfriend being my only characters I can choose from. I really want the regular boyfriend in these options. Blue boyfriend is the only one that ACTUALLY looks like the real boyfriend.
Cool, but uh….
Okay, so I gave this only 3 stars because I was scrolling through F.N.F apps because, y'know, I wanted to play Friday Night Funkin' related apps… I come upon this app and think "Well, seems like a cool app, let's try it!" Once I download it and get it working, I go to play a song from the Mom battle and… It worked at first, but then whenever I pressed a button note a tiny bit later, it would say I either missed the note or wouldn't even let me tap the note buttons. I would exit out of the app and then get back out, in hopes for it to work after a reset, but then it just does the same exact thing… Maybe, if you could fix this, it would function a lot better for other people!!!
It's good but there's issues
It's a good game I love the avatars I like the beta bf the most and I love the other characters avatar and how it's different from the actual game but there is some fixes you need to fix like if you get close to the bot like if a little part of it touch it would count as a bad when you press on it instead of not doing it confused so it makes me lose a point or few second when I press it sometimes it won't work and say I didn't hit the note and it's very annoying and after that the game is amazing just plz see this and fix it
Very nice game justttt three things..
The game is very nice, although its missing three things. 1. Its the difficulty bar, since it only plays…normal? Yeah I think. Its kind of boring playing same difficulty bar over and over again in each song so maybe add a difficulty bar to nit make the game so boring..? Idk lol

2. Theres too many ads, theres like ads every time i click something.

3. You are missing a song in week 7 but thats ok.

PS. I like how you put MILK on mommy mearests song lol
Get MINUS Music Adventures from App Store
What is your opinion about MINUS Music Adventures
Bitcoin
Ethereum
MetaMask (ETH)
Xrp
Polkadot
Binance coin
Stellar
Dogecoin
Tron
Elrond
Donate Bitcoin to this address
Scan the QR code or copy the address below into your wallet to send some Bitcoin
Donate Ethereum to this address
Scan the QR code or copy the address below into your wallet to send some Ethereum
Donate Xrp to this address
Scan the QR code or copy the address below into your wallet to send some Xrp
Donate Polkadot to this address
Scan the QR code or copy the address below into your wallet to send some Polkadot
Donate Binance coin to this address
Scan the QR code or copy the address below into your wallet to send some Binance coin
Donate Stellar to this address
Scan the QR code or copy the address below into your wallet to send some Stellar
Donate Dogecoin to this address
Scan the QR code or copy the address below into your wallet to send some Dogecoin
Donate Tron to this address
Scan the QR code or copy the address below into your wallet to send some Tron
Donate Elrond to this address
Scan the QR code or copy the address below into your wallet to send some Elrond