Mend – Self Care For Breakups app by Mend Tech, Inc.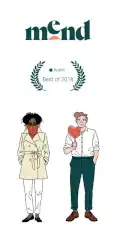 App Description :
We are here to support your journey inward. You are resilient and you have a deep well of wisdom that is always available to you. And yet, you will still experience difficult moments in life that cause suffering and confusion. This is part of being human. Change is inevitable but growth is optional. You can resist the pain or you can go within. Our mission is to support you through personally curated wellness courses and trainings.
App Features :
We've been featured in The New York Times, The Wall Street Journal, The Washington Post, The Guardian, Fast Company, Forbes, Men's Health, Vogue, Elle, Therapy Today, Psychology Today, Playboy, Glamour, Wired, Goop, and Refinery 29.
Please call 911 in the US (or your local emergency line) immediately if you believe that you or someone you know will harm themselves. Mend is not intended to be a substitute for professional advice, diagnosis, treatment, medical treatment, psychotherapy, counseling, or mental health services.
Apple Terms of Use:  www.apple.com/legal/internet-services/itunes/dev/stdeula/
Additional Information :
Size 38.4 MB
Requires iOS 12.0 or later.
User Reviews :
easy to use and really works but not enough self care
I just resumed my subscription for a second break up. I found mend a few years ago when I was truely heart broken when I broke up with the man Who was my soul mate. I really do attribute mend and the journals to helping me get back on the horse and in another healthier relationship just 4 months after. I honestly don't think I would have said yes to him and I would have missed so much love.

So here I am, break up again. Different reason different circumstances and mend is bringing new and different things out in me.

The only thing that really irks me about the app is how few "self care" choices there are. I wish there was a "fill in the blank option" I would love to keep track of my self care but there what they have doesn't fit me and what I do. Like spa. Spa should totally be an option.
Built with love, needs work
Sometimes this app says exactly what you need to hear. Sometimes it makes you think of things you never would have thought of, teaches you about yourself, tells you everything will be okay and makes you believe it. These are beautiful things. However, it's undercut significantly by glitches within the app. Although the interface is incredibly simple (it looks like a chat between you and your friend), it glitches almost daily by duplicating responses and questions. This is annoying, but fine. Today, my training was a disaster. I specified that I was broken up with, and that the reason was "fell out of love", meaning my partner no longer loved me and broke up with me. Today, my training was taken from the switched perspective, and I had to listen to two minutes of "maybe if you're willing and your partner is willing, you may fall in love again!". It was cruel to hear about a reality that is not possible, but one I want. To top it off, the journal prompt was "What factors contributed to me falling out of love with my partner?". My answer: "I didn't."

The app should make sure trainings like this are not available to those who have been broken up with, because otherwise, it makes a crappy day so much worse for it's paying users.
A LIFE SAVER!
MEND app has helped me grow tremendously! It has saved me from my first heartbreak- which was after a 2 year relationship, both of us in our mid fifties. So not a "typical first heartbreak ".

It has helped me heal, taught me to love myself, taught me about what actually happens to the body during a heartbreak including explains the constant physical ache in my heart and gut. It has given me tools to use to move forward and help me cope, as well as help me understand all the issues behind why it didn't work and what I can learn from that. It has given me hope for my future as well as taught me what I want to look for in a future relationship. It has also taught me that it's perfectly wonderful to NOT be in a relationship and that my single life can be wonderful and FULL of happiness!!

(Something that I NEVER thought possible as my lifelong dream has been to be in a "happily ever after" relationship!

MEND is an honest to goodness LIFESAVER!! It is absolutely invaluable and PRICELESS! and WORTH EVERY PENNY you spend!!
Developer Response,
Thank you so much for taking a moment to share your story with us, and for inspiring others with your words of encouragement. We cannot thank you enough for your support and we're glad you're loving Mend! If there's any way we can improve the experience for you, don't hesitate to email us at hello@letsmend.com or let us know @letsmend. Sending you a hug and wishing you the very best as you continue on your Mending journey xo Team Mend
Get Mend from App Store
What is your opinion about Mend
Bitcoin
Ethereum
MetaMask (ETH)
Xrp
Polkadot
Binance coin
Stellar
Dogecoin
Tron
Elrond
Donate Bitcoin to this address
Scan the QR code or copy the address below into your wallet to send some Bitcoin
Donate Ethereum to this address
Scan the QR code or copy the address below into your wallet to send some Ethereum
Donate Xrp to this address
Scan the QR code or copy the address below into your wallet to send some Xrp
Donate Polkadot to this address
Scan the QR code or copy the address below into your wallet to send some Polkadot
Donate Binance coin to this address
Scan the QR code or copy the address below into your wallet to send some Binance coin
Donate Stellar to this address
Scan the QR code or copy the address below into your wallet to send some Stellar
Donate Dogecoin to this address
Scan the QR code or copy the address below into your wallet to send some Dogecoin
Donate Tron to this address
Scan the QR code or copy the address below into your wallet to send some Tron
Donate Elrond to this address
Scan the QR code or copy the address below into your wallet to send some Elrond