Block Puzzle game by Doodle Mobile Limited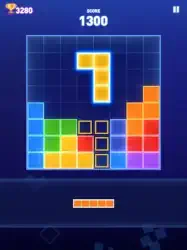 Game Description :
Drop the blocks to create vertically or horizontally lines of blocks without gaps. When such a line is created, it gets destroyed. Keep your board clear and keep your cool as things heat up in this simple but addictive puzzle game!
Game Features :
Beautifully easy and simple, no pressure and no time limit
Visually stunning graphics and amazing soundtrack
Easy to pick up, but hard and challenging to master
Perfect brain-teasing game & perfect for little pocket of time
Create the perfect strategy and keep your lines clear with endless of blocks
Additional Information :
Size 147.4 MB
Requires iOS 9.0 or later.
User Reviews :
The best game ever
If there is ever a game that would feel like "home" it would be this one. Every time I open this app, an overwhelming feeling of comfort soothes my troubles. No matter how bad my day was, Block Puzzle always guaranteed to put a smile on my face. I'd say about half the time I spend on this game, is on the toilet. The other half? That is when I feel down, low energy, and gloomy. The comfort that this game gives me is immaculate, no other game has ever compared. Now, I know what you're thinking, "oh it has ads, you have to pay to remove ads". big deal, Just throw your phone in airplane mode and vibe out. "Oh I can't text my friends blah blah blah" so what if you're playing block puzzle, block puzzle is all that matters. Playing this game without internet is a benefit because you enter the realm of the game.
Addicting, but…
This game is so much fun and so addicting that I literally imagine shapes fitting into everyday spots (in my real life). It's so fun and the great thing is, it's not timed and provides for a relaxing but brain-building activity.

In my addiction to Block Puzzle and extensive hours playing the game, I've come to want to beat my high score each time. However, the problem with this is that the game KNOWS I'm getting close and intentionally gives me pieces that may fit in my puzzle, but will not clear the way for the "gray" pieces that "won't fit." It's quite infuriating as one time I was 20 points away from beating my high score (at the time, 2819, but it is currently 3140) but physically unable to destroy any more blocks. I know one of the "helpful tips" is to "always leave room for more blocks" (Block Puzzle, 2021), but this is not always a possibility, or I was working on a bigger block to gain more points.

Thus, I'd really like to see an update in which the game doesn't stop the player from beating their high score. Also, I personally find the ads a bit obnoxious, so I'd love an option to buy an ad-free version of the game. It would be a perfect opportunity to use my iTunes credit lol.
Love the game, but ADS and glitches…
Love this game. I love the organizing, the risk taking to get higher points, and especially the way it holds your place when you need to close it so you don't have to start over when you come back to the game. BUT, the ads annoying. A forced 5sec ad before the game, a forced 5sec ad after the game… the same ad 4 or 5 times in a row… even more annoying, it shuts down in the middle of the game and takes you to safari, then to the App Store to purchase other games.

I get ads make money, but enough is enough.

The glitches are also a problem. The game closes when loading and sometimes when I close out an ad, and it freezes during play. The freezing causes the pieces to be dropped in the wrong place and can cost points or even worse, losing the entire game. I don't know how to fix this. I've tried both closing the game and reloading it, and completely deleting the app to reinstall it several times. It just keeps happening and seems to be getting worse.

Love the game, but I've given up on it and deleted it from my phone. Between the ads and glitches, I'm done. I would've been happy to pay for a low or no ads version this game.
Perfect game for middle-of-the-night feedings!
I have literally never left a review for anything on the App Store before, but felt like I needed to add my opinion. This is THE PERFECT GAME to whip out during those middle-of-the-night feedings with a baby. Seriously. Here are my reasons:

 There aren't many ads at all, and the ones that do come up are skipable within seconds.

 It's slow-paced and not timed. Timed games cause way too much stress at 2am while you're just trying to stay awake long enough to feed a hungry baby.

 **My favorite aspect** is that you can close the app in the middle of a game and the next time you open it it is right where you left off. When it's 3:23am and the baby is finally asleep again, usually the last thing you'd want to do is HAVE TO keep playing a game just so you don't lose your progress. You can put that baby down, put the phone down, crawl back into your warm bed, and the game pauses for you until an hour later when the baby is awake again.

Seriously. This should be marketed to new parents.
Get Block Puzzle from App Store
What is your opinion about Block Puzzle
Bitcoin
Ethereum
MetaMask (ETH)
Xrp
Polkadot
Binance coin
Stellar
Dogecoin
Tron
Elrond
Donate Bitcoin to this address
Scan the QR code or copy the address below into your wallet to send some Bitcoin
Donate Ethereum to this address
Scan the QR code or copy the address below into your wallet to send some Ethereum
Donate Xrp to this address
Scan the QR code or copy the address below into your wallet to send some Xrp
Donate Polkadot to this address
Scan the QR code or copy the address below into your wallet to send some Polkadot
Donate Binance coin to this address
Scan the QR code or copy the address below into your wallet to send some Binance coin
Donate Stellar to this address
Scan the QR code or copy the address below into your wallet to send some Stellar
Donate Dogecoin to this address
Scan the QR code or copy the address below into your wallet to send some Dogecoin
Donate Tron to this address
Scan the QR code or copy the address below into your wallet to send some Tron
Donate Elrond to this address
Scan the QR code or copy the address below into your wallet to send some Elrond