Logic Puzzles – Clue Game by Easybrain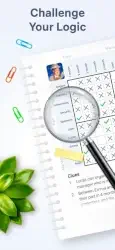 Game Description :
Welcome to a brand-new logic game from the developer of the prominent Sudoku.com and Nonogram.com free puzzle games. Dive into exciting stories with cross logic puzzles, challenge your brain, and unravel mysteries!
This fun yet challenging brain puzzle game with simple rules may help to strengthen logical thinking and deductive reasoning. Try to solve all the smart riddles grouped into thematic stories that are sure to delight. Help Detective Grapes investigate a necklace theft, participate in vacation planning for a young couple, or even go on a space expedition. You will find many mind-bending stories with varied plots and tricky solutions. If you are interested in solving logic problems, play this engaging game and have hours of fun!
Game Features :
How to play a logic puzzle game:
Each puzzle contains several categories and an equal number of parameters within each category
The goal of these brain teasers is to match all parameters in the grid correctly
Each parameter can be matched to only one other parameter in each category
A logic grid puzzle is solved by making conclusions based on a limited number of clues
Read clues and put ticks in the table accordingly
Rule out incorrect options and place crosses
Use reasoning, elimination, and pure logic to fill the remaining cells and deduce the whole brain puzzle!
What you get:
Easy to learn logic grid puzzles
Tons of free brain-teasing logic riddles for you to enjoy
Unique puzzle pages grouped into various entertaining stories for every taste
Hints to help you reach the goal faster
No time limit, take your time and focus on the details playing cross logic riddles
Top-notch quality from a top puzzle developer!
Try Logic Puzzles now, put your gray matter to work, and have fun!
Additional Information :
Age Rating 12+
Size 159.3 MB
Requires iOS 12.0 or later.
User Reviews :
Great fun game, but really disappointing.
I got this game and was really excited. I started playing it and had so much fun. It was the absolute perfect game to play when relaxing or at the beach, and I was really excited to play it on vacation. After finishing the first level it told me I had to 'get keys' to unlock the next level. Levels need a lot of keys to unlock, and you have to play Blockdoku to get them. It's really frustrating and doesn't give much keys even if you played really well. I've heard this is called Bait and Switch. I already have Blockdoku, but this was just really disappointing to me as I was really excited to play. I don't understand why they have to do this, can't they just do what's advertised? They honesty ruined it for themselves. I love the advertised logic puzzle part of the game but you don't play it much at all. I do not recommend.
Developer Response,
Hi. Thank you for your feedback and for sharing your experience with our Logic Puzzles app. We apologize for any frustration you have encountered with the unlocking system. We understand that the requirement to collect keys through Blockdoku can be challenging and disappointing. We appreciate your suggestion and will take it into consideration for future updates. We strive to provide the best user experience and are constantly working on improving our app. Thank you for your support!
Kinda bait and switch
I play easybrain's sudoku game and absolutely love it and need to go give it a great review.

My issue with this game isn't with the logic puzzles or the fact that you have to earn keys to advance to the next set of puzzles. My issue is the ratio of logic puzzles to obtaining keys. It takes at least 30 keys and at 1 key per 100 points that takes also by playing a game they already have. At the end of the day you are playing their other game Blockdoku more than the logic puzzles themselves. This is my issue. I have to play an entirely different game more than the actual game itself. It's due to a lack of skill but number of keys. If it were say 5 keys that wouldn't as bad. But 30 keys means you need 3000 points just to unlock the next level. That's a lot of game play of an entirely different game in order to play the actual game. Especially when I can just download the actually Blockdoku game from them. The least they could do was to make mini logic puzzles to earn keys to play the bigger ones. Or have a way to earn keys based how quickly you finish the logic puzzles or or how many mistakes you did or didn't make. Getting the keys was tied into playing logic puzzles it would good.

Until that's fixed I'll stick to Easybrain's excellent Sodoku game. I do highly recommend that game
Developer Response,
Hi! Thank you for leaving your feedback and expressing concern about the key system in our Logic Puzzles. We appreciate your suggestions and will take them into consideration. We are always looking for ways to improve the game and make it more enjoyable for our players. We hope you will continue to enjoy our other games and check back for updates on this one.
Get Logic Puzzles from App Store
What is your opinion about Logic Puzzles
Bitcoin
Ethereum
MetaMask (ETH)
Xrp
Polkadot
Binance coin
Stellar
Dogecoin
Tron
Elrond
Donate Bitcoin to this address
Scan the QR code or copy the address below into your wallet to send some Bitcoin
Donate Ethereum to this address
Scan the QR code or copy the address below into your wallet to send some Ethereum
Donate Xrp to this address
Scan the QR code or copy the address below into your wallet to send some Xrp
Donate Polkadot to this address
Scan the QR code or copy the address below into your wallet to send some Polkadot
Donate Binance coin to this address
Scan the QR code or copy the address below into your wallet to send some Binance coin
Donate Stellar to this address
Scan the QR code or copy the address below into your wallet to send some Stellar
Donate Dogecoin to this address
Scan the QR code or copy the address below into your wallet to send some Dogecoin
Donate Tron to this address
Scan the QR code or copy the address below into your wallet to send some Tron
Donate Elrond to this address
Scan the QR code or copy the address below into your wallet to send some Elrond