Baby Tracker – Newborn Log app by Nighp Software LLC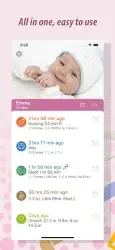 App Description :
Introducing the redesigned Baby Tracker app version 4, the all-in-one scheduling resource for new parents.
Baby Tracker features native user interface for both iPhone and iPad, and is the only log for your baby's health that allows syncing among multiple devices without compromising your privacy.
Designed by busy parents, for busy parents, Baby Tracker offers a simple, streamlined way to track your baby's daily habits, health, and exciting "firsts" of those precious early days and months. Record feedings, diaper changes, and sleep patterns with a quick one-handed tap, then feel free to go back later and add details and even photos.
Baby Tracker makes it simple to track all of your child's important information for doctors and caregivers, as well as share all the exciting milestones of his or her development with friends and family. Perhaps most importantly, Baby Tracker handles all the details so you never have to take significant time away from the joys of parenting.
App Features :
Comprehensive Feedings Tracker
Start and stop nursing timer with one tap for convenience and accuracy
Settings for nursing, formula, solids, or any combination.
Track time nursing per breast and total for full nursing session
Tracks pumping totals as well as feedings
Notes section allows you to enter details on formula brand, preferences, or allergic response
Track Diaper Changes
Summary screen shows time of last changing, along with feedings, and sleep schedule
Accurate records mean faster response time for concerns like dehydration, constipation, or diarrhea
Easily share documentation on bowel habits with doctors or caregivers
Sleep Schedule
Know exactly the date that your baby starts sleeping through the night
Recognize nap time and nighttime sleep patterns to better plan your day or share with caregivers
Compare against other data to more easily track down potential causes for baby's fussiness
Set alarms for putting baby down or to create more structured nighttime feeding sessions
Growth Records
Enter measurement data and compare against World Health Organization averages
See baby's progress and growth over weeks, months, and years
Look at logs to compare them for a more comprehensive overview of your baby's health and wellbeing.
Milestones
Make custom categories for baby's first smile, first tooth, or first step
Snap a picture on the spot, or add one from your existing library
Use photos for a gallery-style album of baby's goals and achievements
Create an entry with a quick tap, or include journal notes for more detail
Health
Log medical history such as medications, vaccine shots, and temperature checks
Data Interpretation
View logged data by day, week, or month
Shows previous 7 days and previous 30 days
Quickly identify data patterns, habitual trends, or abnormalities
Export data via email as a PDF
Print directly from app to add physical copies to your personal records
Data Sync and Auto Backup
Works with iCloud or Dropbox for secure, cloud-based auto backup
Sync data among multiple devices for all caregivers or easy sharing of your baby's progress with others
Clone data to another device using AirDrop for a fast transfer that doesn't eat up your data plan
Additional Information :
Age Rating 4+
Size 112.9 MB
Requires iOS 12.0 or later.
User Reviews :
Love it
I think they have thought of everything when developing this app. You can tell parents developed this and that they really considered every last bit of information new parents might want. Especially helpful is the fact that my husband and any other caretakers can also download the app and be on the same account. This way, while I'm at work I can see the baby's activities including when and how much she took her bottle, when diaper changes occurred and their condition, when she napped, and really anything else the caretaker wishes to log. It's really helpful in discovering patterns in baby's eating, sleep, and other behaviors. Also helpful when trying to remember when something last happened (say the doctor wants to know when the last dirty diaper was), you don't have to remember because you can look.

One suggestion I would make is to add a feature for tracking and reminding mom's medications. Having had a c-section, aside from having to keep track of everything to do with baby, I also had to keep track of my own pain management meds. It would have been nice to just track them in the same app where I tracked baby. Perhaps it could be a feature you turn on in settings to use while needed and then turn off once it's no longer needed so it's not bogging down the main entry page once mom is healed. However, this critique isn't enough to lessen my love for this app- it would just be an amazing above-and-beyond feature.

Thank you for this app!
A newborn necessity
I don't write reviews, but this app is a must have with a newborn. We have only been using it for the past 4 days but it has added some organization and sanity to our lives. Our son had jaundice and we needed to pay attention to what kind of diapers and when/how much he was feeding. Being so exhausted, it is easy to not pay attention to what time the baby ate last or was changed last. I remember at my last appointment I was trying to calculate how often the baby fed and how much etc. I'm ready for our 1 month appointment now. I can literally show his doctor how often he eats, is having wet/dirty diapers, and how much he is sleeping. I tried writing all this down on a log, but we kept forgetting to do it and was guesstimating times. At 4 am in the morning I can just press the plus sign and log how much and it records the time etc. I haven't played with too many features, but have noticed you can log activities like tummy time, the babies weight/ length. I love that there is a chart to see where he is on the charts with growth. I wish I had looked or found an app like this with my last baby. I also love that this app doesn't cater to just breastfed babies or formula fed, but both. This is also great for moms supplementing as they can log both very easy. It gives an option to log pumping sessions as well. You can also add notes with all of your logs.
Get Baby Tracker from App Store
What is your opinion about Baby Tracker
Bitcoin
Ethereum
MetaMask (ETH)
Xrp
Polkadot
Binance coin
Stellar
Dogecoin
Tron
Elrond
Donate Bitcoin to this address
Scan the QR code or copy the address below into your wallet to send some Bitcoin
Donate Ethereum to this address
Scan the QR code or copy the address below into your wallet to send some Ethereum
Donate Xrp to this address
Scan the QR code or copy the address below into your wallet to send some Xrp
Donate Polkadot to this address
Scan the QR code or copy the address below into your wallet to send some Polkadot
Donate Binance coin to this address
Scan the QR code or copy the address below into your wallet to send some Binance coin
Donate Stellar to this address
Scan the QR code or copy the address below into your wallet to send some Stellar
Donate Dogecoin to this address
Scan the QR code or copy the address below into your wallet to send some Dogecoin
Donate Tron to this address
Scan the QR code or copy the address below into your wallet to send some Tron
Donate Elrond to this address
Scan the QR code or copy the address below into your wallet to send some Elrond