(App) KuCoin – Bitcoin Trade & Invest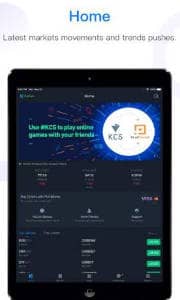 App Description :
KuCoin is one of the Top 3 crypto exchanges with 500+ coins to trade. As a global leading blockchain-based asset financial services provider, we provide professional, secure digital assets trade and management services. Trusted by millions of users worldwide, you can start here and buy Bitcoin (BTC), Ethereum (ETH), Litecoin (LTC), Ripple (XRP), KCS and even some meme coins! We offer the lowest fees in crypto.
App Features :
Easy To Use Crypto Trading Platform
Buy Crypto
1.Fast Buy: Buy USDT with VISA and Master card
2.P2P: Bank transfer and 20+ options
3.Third Party: Banxa, Simplex, BTCDirect
Trade
1.Spot Trading: Trade cryptos with all tools
2.Margin Trading: Magnify profits with leverage
3.API: Exclusive privileges for API users
4.Trading Bot: Earn profits without monitoring the market
Derivatives
1.Futures Lite: Simple to start, fast future trade
2.Futures PRO: Full trading tools, support up to 100x leverage
3.Future Brawl: Go long or short to battle and win prizes
4.Leveraged Tokens: Enjoy increased leverage, no loans, no liquidations
Finance
1.Crypto lending
1)Lend out cryptos to earn interest, USDT annualized profit rate 12%-300%
2.Pool-X Earn
1)Invest to earn stable profits. Your professional asset manager
3.KCS Bonus
1)Hold KCS and get bonus every day
4.Mining Pool
1)Empower Hashrate to achieve capital appreciation
Provide 500+ COINS, 48 Fiat Supported
COINS
1)We provide 500+ coins for you to trade. You can find all the popular cryptos here:
BLOK/KDA/BTC/SHIB/ELON/KCS/ETH/XRP/BNB/CERE/DOGE/TRX/MOVR/ADA/FLUX/HTR/SOL/VRA/AVAX/ISP/MATIC/DOT/VET/XLM/CAKE/FTM/CRO/SLP/MANA/QRDO/ALGO/LUNA/LTC/HERO/HAI/LINK/SAND/DREAMS/ICP/TRIAS/IDEA/ONE/TEL/ENJ/NAKA/DYDX/ERG/BTT/EXRD/KAI/LRC/CHZ/AI/SCLP/MTV/NFT/JASMY/CPOOL/AOA/ATOM/XPR/RNDR/HBAR/THETA/LSS/XYO/UBX/SENSO/TARA/ALICE/RFOX/SWASH/POLX/NTVRK/HYDRA/EOS/UMA/HAKA/SOUL/WIN/POLK/COTI/SYLO/DODO/UNI/DFYN/EDG/GRT/PBX/SUPER/FIL/BOSON/GENS/XTZ/TCP
Fiat
1)We supported 48 Fiat for you to trade: USD/AED/ARS/AUD/AGN/BGN/BRL/CAD/CHF/CLP/COP/CRC/CZK/DKK/DOP/EUR/GBP/GEL/HKD/HUF/ILS/INR/JPY/KRW/KZT/MAD/MDL/MXN/MYR/NAD/NGN/NOK/NZD/PEN/PHP/PLN/QAR/RON/RUB/SEK/SGD/TRY/TWD/UAH/UYU/UZS/ZAR
Security
Security is our highest priority when it comes to safeguarding your Bitcoin and other cryptocurrencies.
Become Affiliate and Earn High Commissions
Invite friends to trade on KuCoin to earn up to 40% Come and join us to make more money! And here is the link if you want to lean more:  www.kucoin.center/referral
Join Global Community To Share Industry Information
Share trading strategies and industry information with crypto traders across the world and enjoy 24/7 online customer service! Come and share your opinions with all the crypto traders. We have communities in English/Chinese/ Spanish/Turkish and other 16 languages and here is the link: https://www.kucoin.com/land/community-collect
The Website You May Need:
Official Website:  www.kucoin.com/
Help Center: support.kucoin.plus/hc/en-us
Additional information :
Size 150 MB
Requires iOS 10.0 or later.
User Reviews :
THE best low market cap exchange!
I don't know why more people take advantage of this app!? It has all the best low market cap gems to buy. A LOT of money can be made using it, and the KCS coin is a great utility token you can earn while just holding a few. If you are in the U.S. just do what they ask of the KYC docs KuCoin requests you to do, you will still be able to use the exchange regardless, the main thing is only transfer in stable coins (USDT, USDC, UST) don't go adding your debit card number or any of that. Do not listen to the FUD you read here in the reviews, yes they were hacked back in 2020, but have since remitted every penny and then some with insurance and restitution money. Not only that, they're security has become 10 fold stronger since the incident. It has leverage on all the best coin PERPs, though I highly recommend getting used to the app first. It will take time but once you get the hang of it, you will LOVE KC!
Customer Service is PREMIUM!    ‍
I was new to crypto and made some rookie errors. After lots of panicking and googling, I assumed it was a mistake that I would just have to learn from. I figured why not give customer service a shot (assuming it would be like most…..very "not-my-problemish" but boy was I wrong! Not only was the representative very helpful….they were understanding and truly seemed like getting me my money back was as important to them as it was me. Long story short, I got MOST of my money back (a blessing considering I thought it was gone forever) and learned a valuable lesson. This isn't crypto for beginners……do your research and don't be afraid to overdo it. After this situation I'm pretty nervous about dabbling into it again but one thing is for sure….if I do it will be with these people! Thanks again!
  One of the best exchanges out there  ‌  ​ ‎
‎Been user on CDC for some years now and my experience has been phenomenal. From crypto wallet, earn, defi and cronos chain all these product has been fire. I especially love the visa card and the reward it come with. CDC is an absolute game changer once your all set up. I gave many other exchange a try and none compares to CDC. Sure you may find higher APY on some coins but CDC has most with competitive apy and with the visa card u earn even more. Lock up feature may be a turn off but i found it to be beneficial as i cannot panic sell. 10/10 definitely recommend to everyone
Get KuCoin from App Store
What is your opinion about KuCoin
Bitcoin
Ethereum
MetaMask (ETH)
Xrp
Polkadot
Binance coin
Stellar
Dogecoin
Tron
Elrond
Donate Bitcoin to this address
Scan the QR code or copy the address below into your wallet to send some Bitcoin
Donate Ethereum to this address
Scan the QR code or copy the address below into your wallet to send some Ethereum
Donate Xrp to this address
Scan the QR code or copy the address below into your wallet to send some Xrp
Donate Polkadot to this address
Scan the QR code or copy the address below into your wallet to send some Polkadot
Donate Binance coin to this address
Scan the QR code or copy the address below into your wallet to send some Binance coin
Donate Stellar to this address
Scan the QR code or copy the address below into your wallet to send some Stellar
Donate Dogecoin to this address
Scan the QR code or copy the address below into your wallet to send some Dogecoin
Donate Tron to this address
Scan the QR code or copy the address below into your wallet to send some Tron
Donate Elrond to this address
Scan the QR code or copy the address below into your wallet to send some Elrond